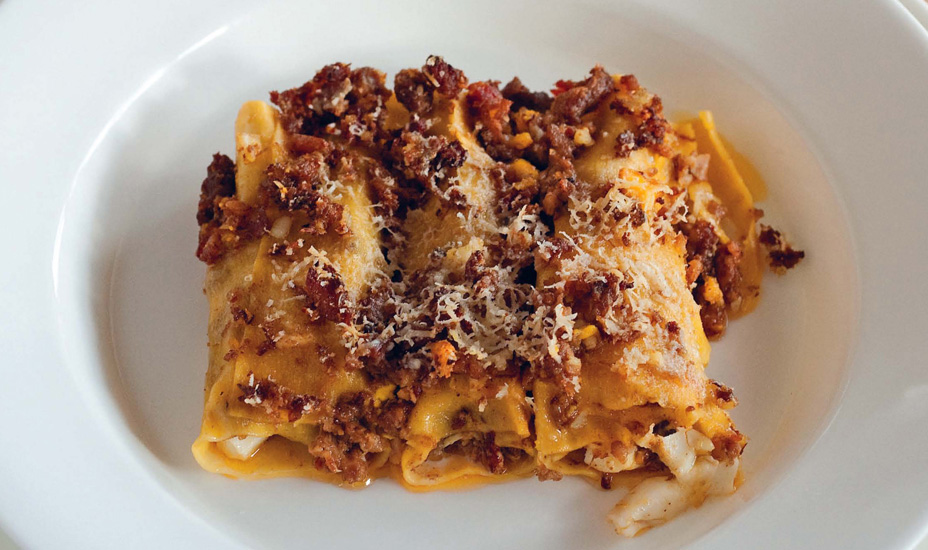 Cannelloni napoletana
A recipe from The Silver Spoon: Pasta
Preparation: 40 minutes
Cooking: 1 hour 5 minutes
Serves: 4 people
Ingredients:
1 quantity Cannelloni
butter, for greasing
25g (1oz) (⅓ cup) pecorino cheese, grated
olive oil, for drizzling
salt
For the filling:
350g (12oz) lean beef or pork or a mixture
80g (3oz) Neapolitan salami
2 tablespoons olive oil
100g (3½oz) Italian sausage, skinned and cut into pieces
2 hard-boiled eggs, chopped
salt and pepper
Method:
To make the filling, finely chop the meat with the salami. Heat the oil in a flame proof shallow earthenware dish.
Add the meat mixture and pieces of sausage, season lightly with salt and pepper and cook over a low heat, stirring occasionally, for 30 minutes until thickened.
Remove the dish from the heat and leave to cool. Preheat the oven to 180°C/350°F/Gas Mark 4 and grease an ovenproof dish with butter.
Stir the hard-boiled eggs into the cooled meat mixture. Reserve a quarter of this mixture and divide the rest among the cannelloni squares, then roll them up.
Put the cannelloni into the prepared dish, spoon the reserved fi lling over them, sprinkle with the pecorino and drizzle with a little olive oil.
Bake for about 20 minutes until golden brown. Remove from the oven and leave to stand for 5 minutes, then serve.