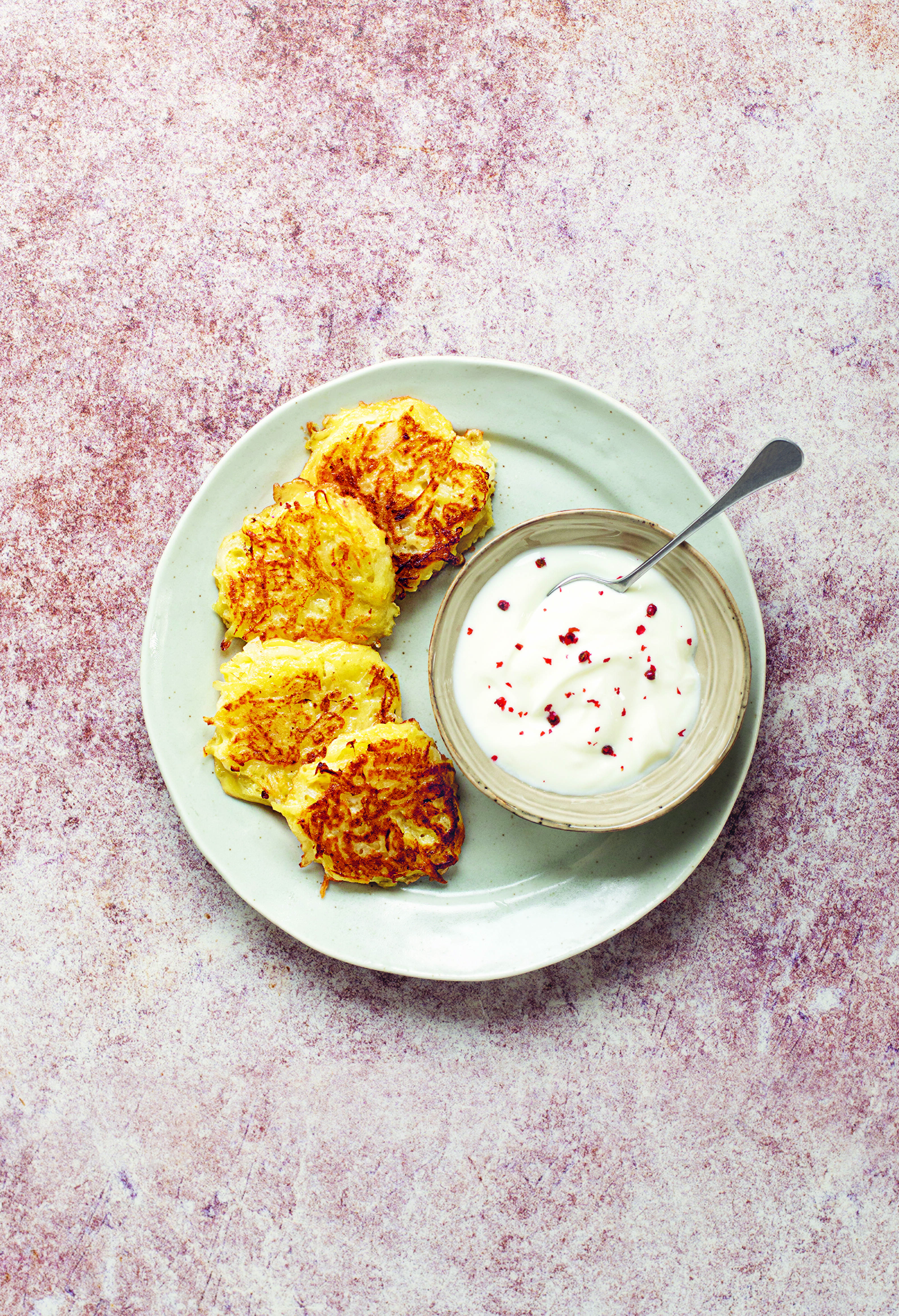 The hearty taste of gluten-free Israeli cuisine
These gluten-free dishes might be small, but they'll satisfy a big appetite
One of the great things about The Gluten-Free Cookbook is the way its very specific criteria draws a range of unusual dishes together. In his foreword, the Italian chef and author, Cristian Broglia, makes it clear that he doesn't want to adapt familiar recipes to suit a gluten-free diet. Instead, this extremely well travelled chef has selected ones from across the globe that naturally suit gluten-free diners. The national cuisines of such places as Mexico or Indonesia, where staples such as rice or maize are favoured over wheat, feature quite prominently in the new book. Yet other countries, such as Israel, put in a surprisingly strong showing too.
Despite being known for gluten-rich foods such as matzah flatbreads and challah loaves, it has some small, yet hearty dishes that are entirely gluten-free. In the book's breakfast section, Broglia includes latkes, the classic potato pancakes that are commonly served during Hanukkah.
"They can be served with many toppings, including the classic combination of sour cream or crème fraîche, dill, and smoked salmon—and often, in the U.S., with applesauce," he writes. His version calls for yellow potatoes; an onion; eggs; cornstarch (cornflour); sea salt and freshly ground black pepper; as well as vegetable oil, for frying; sour cream, for serving; and rose pepper, to garnish.
First peel and grate the potatoes and set them in a colander to drain for 15 minutes. At the same time, grate the onion and set it in a sieve to drain for 15 minutes. In a large bowl, combine the potatoes, onion, eggs, and cornstarch (cornflour). Season with salt and pepper to taste and gently mix to combine. Pour oil into a Dutch oven (casserole). Heat the oil, then working in batches, spoon some of the potato mixture carefully into the oil. Fry the pancakes until golden on both sides, about 5 minutes total. Drain on paper towels. Top with sour cream and sprinkle with rose pepper.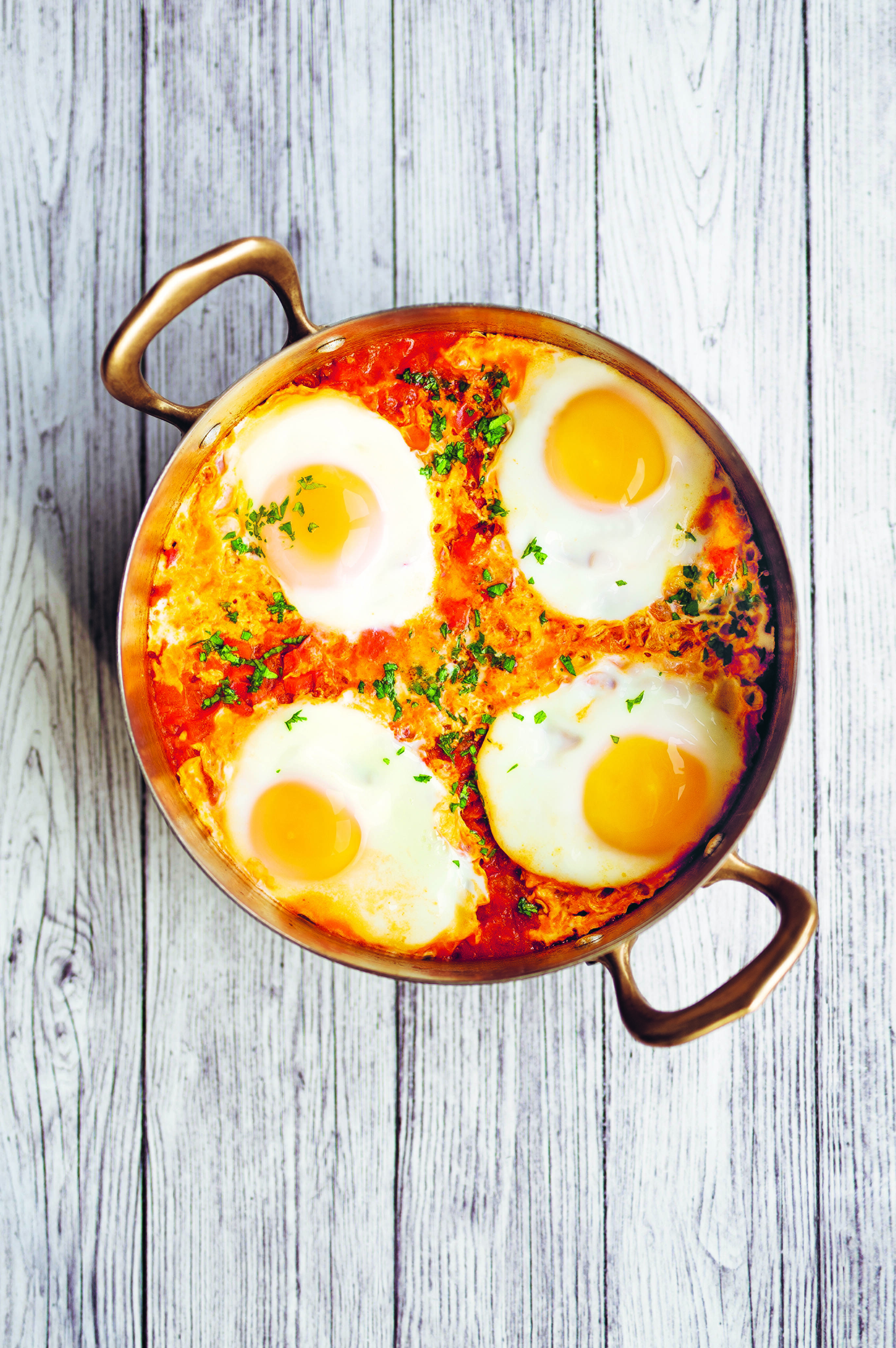 Shakshuka
Another filling option from the book's breakfast section is Israeli shakshuka, a North African dish of eggs in a spicy tomato sauce, that was brought to Israel by Maghrebi jews. To make this dish you'll need eggs; olive oil; onions; garlic, a red bell pepper; diced tomatoes; tomato paste (tomato purée); mild chili powder; ground cumin; paprika; cayenne pepper; sugar; sea salt and freshly ground black pepper; and chopped fresh parsley, to garnish.
In a frying pan, heat the oil over medium heat. Add the onion and sauté until translucent. Add the garlic and sauté until fragrant. Add the bell pepper and sauté until softened. Stir in the tomatoes, tomato paste (tomato purée), chili powder, cumin, paprika, cayenne, sugar, and salt and black pepper to taste. Stir and simmer over medium heat until it starts to reduce.
Crack the eggs into the tomato mixture. When you add the eggs will depend on if you want the eggs cooked soft, medium, or hard. For hard-cooked eggs you'll need to cover the pan and simmer until the eggs are fully cooked. Serve hot. Garnish with chopped parsley.
If you're after a little something for later in the day, you could also try the equally filling recipe for Israeli falafels. This world-famous street food was originally made from fava beans (broad beans), and some versions of the dish still favour this pulse. However, in Israel they go with chickpeas. The version in our new book calls for dried chickpeas; an onion; garlic; parsley; chickpea (gram) flour; cumin; ground coriander; cayenne pepper; ground cardamom; salt and pepper; and sunflower oil, for deep-frying.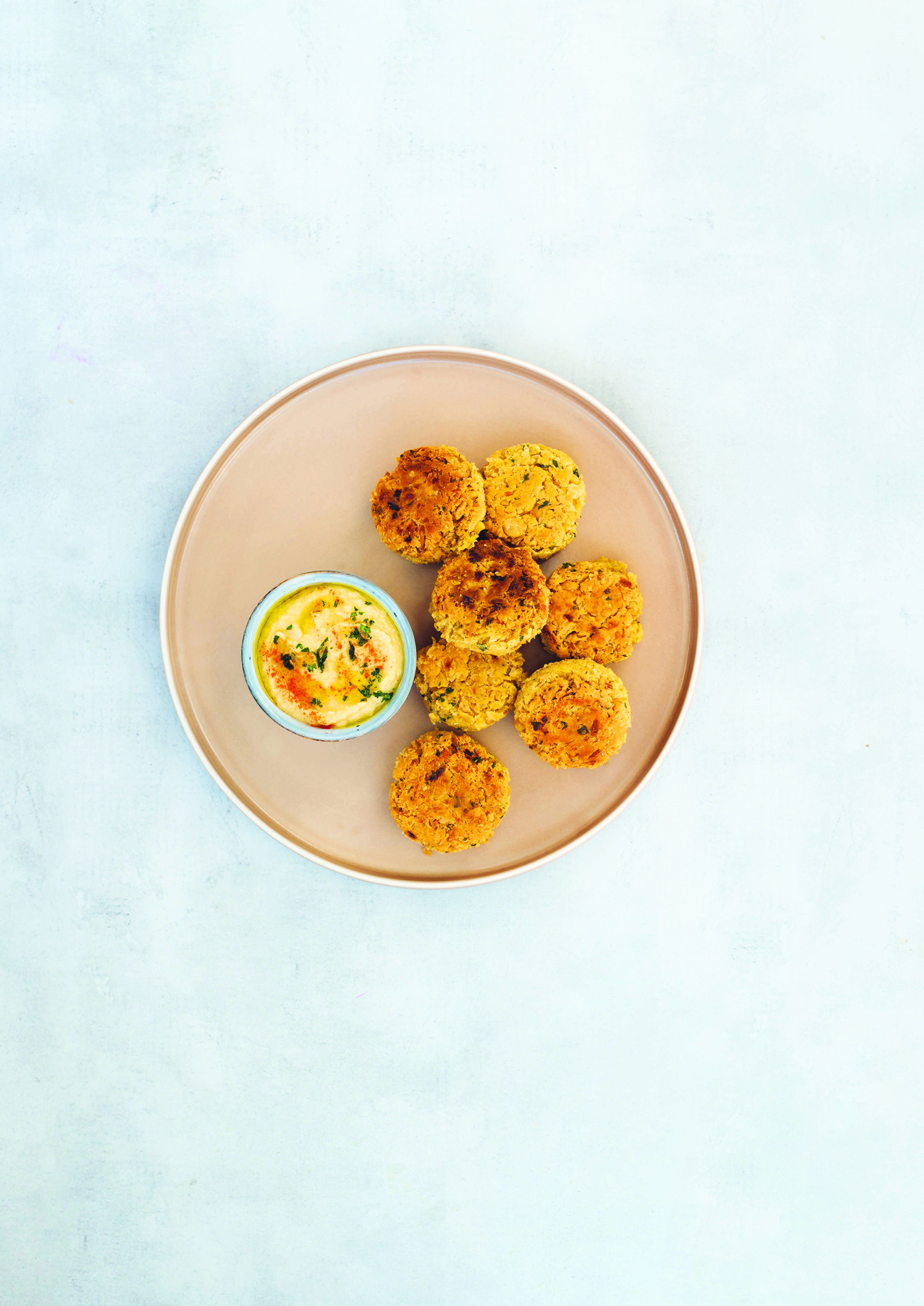 Israeli Falafel
In a bowl, combine the chickpeas and cold water. Soak overnight or until doubled in size. Drain the chickpeas and transfer to a food processor along with the onion, garlic, parsley, chickpea (gram) flour, cumin, ground coriander, cayenne, cardamom, and salt and black pepper to taste. Pulse until it's half paste, half small chunks. Pour the mixture into a bowl. Cover with plastic wrap (cling film) and refrigerate for at least 1 hour and up to 2 hours.
Pour the oil into a deep heavy-bottomed pot and heat over medium heat. With wet hands, roll small portions of the falafel mixture into balls. Be careful because the balls are delicate and there is a risk that they will stick to one another. Working in batches, fry the falafel until they are browned. Drain the falafel on paper towels.
The Gluten-Free Cookbook
For fuller recipes, including weights, times and other measurements, order a copy of The Gluten-Free Cookbook here..