The exotic taste of gluten-free Indonesian cuisine
Dislike gluten but like to travel? Then we have a cookbook for you...
For the Italian chef and author Cristian Broglia, writing The Gluten-Free Cookbook wasn't so much a journey of discovery, as rediscovery. "Searching through my large collection of cookbooks as well as consulting my extensive notes from my travels, I discovered many, many recipes that were already gluten-free," he writes in his new book's introduction. "Compiling and cooking through these recipes, I was reminded of the pleasures of my travels, the markets I visited, the restaurants where I dined, the foods and flavours I loved most, and the books I read.
"Of course, there were also the people that I met along the way and the many who shared stories and recipes from their home kitchens," he goes on. Now, as many of us rediscover our wanderlust, the collected recipes within The Gluten-Free Cookbook are a great way to try out new cuisines, without springing for a long-haul flight.
There's a wealth of Japanese, Korean, Chinese and European dishes in the book. For our first culinary trip within these pages, we've opted for Indonesian food, partly because in this – the world's fourth most populous country – gluten-free carbohydrates such as rice and tapioca, are favoured over gluten-rich alternatives, including wheat.
For breakfast you could try pisang bakar, or grilled plantain with palm sugar sauce (above). "It is a traditional Indonesian dish that is quick and easy to make," writes Broglia. "In Indonesia this would be made with a saba banana, which is a very starchy banana often called a cooking banana. Saba bananas are similar to plantains, which make a perfect substitute."
Butter the plantains, grill them for for about 20 minutes, and, in a saucepan, boil up a little water, coconut milk, sugar, makrut lime leaves, and some salt. (If the leaves are hard to find, you can just use lime zest). Drizzle some palm sugar sauce on top of the grilled plantains and serve immediately.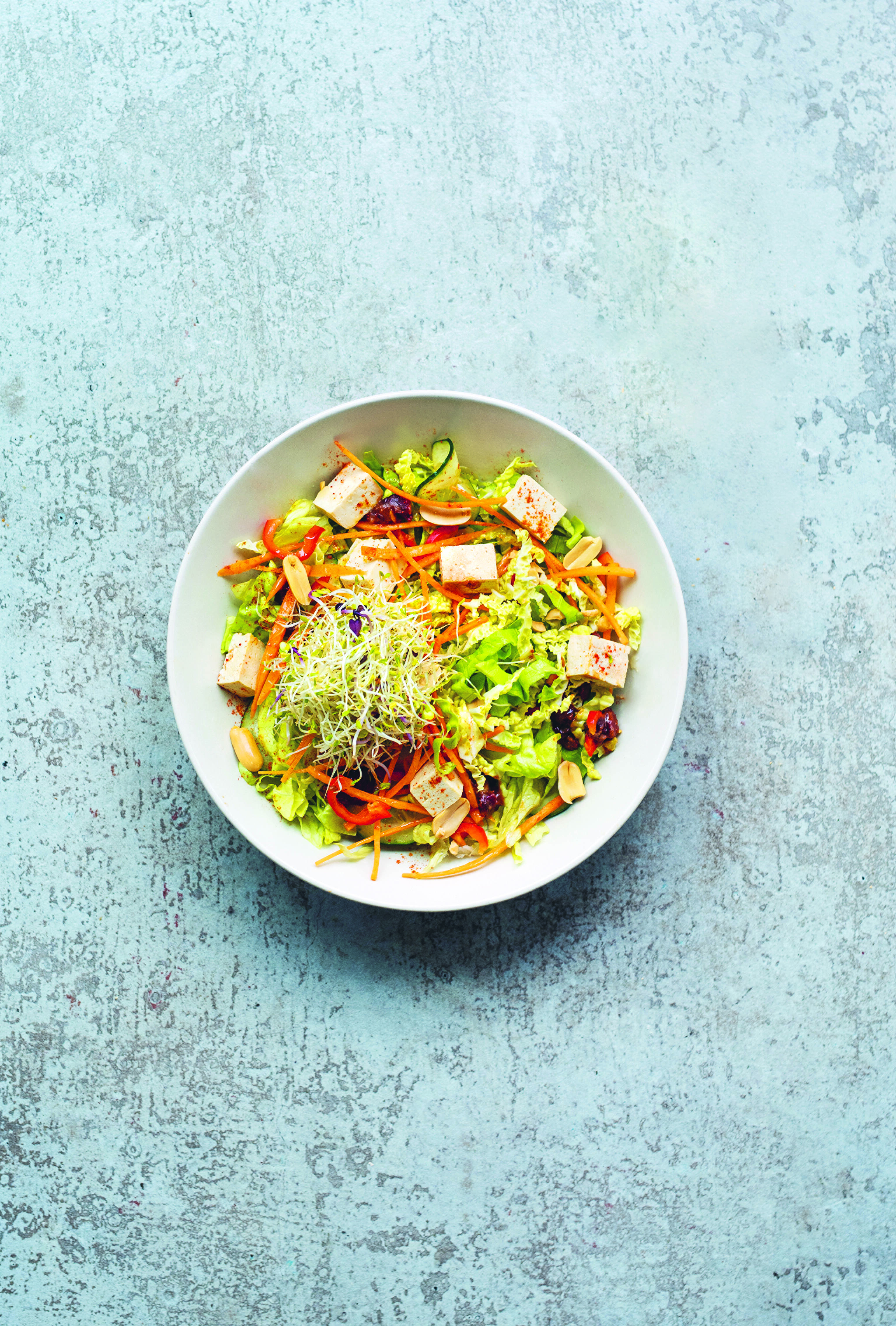 Asinan, from The Gluten-Free Cookbook. Photography by Infraordinario Studio.
If it's a little later in the day, try asinan, a medley of Indonesian pickled vegetables or fruits. "The name comes from the word asin, which means 'salty' and is a reference to the salt brine used as a preservative," explains the chef. "This type of asinan, called betawi, is made with a variety of vegetables tossed in a sweet, salty, and spicy dressing."
To make this version, you'll need shredded cabbage; alfalfa sprouts; sliced cucumber; sliced carrots; shredded lettuce leaves; cubed tofu; slice garlic; some seeded, sliced chilies; roast peanuts; coconut sugar; tamarind concentrate, as well as some cayenne pepper; vegetable stock; and a little sea salt.
In a large bowl, combine all the ingredients, adding them in the order listed. Mix carefully, then let it rest for 20 minutes before serving.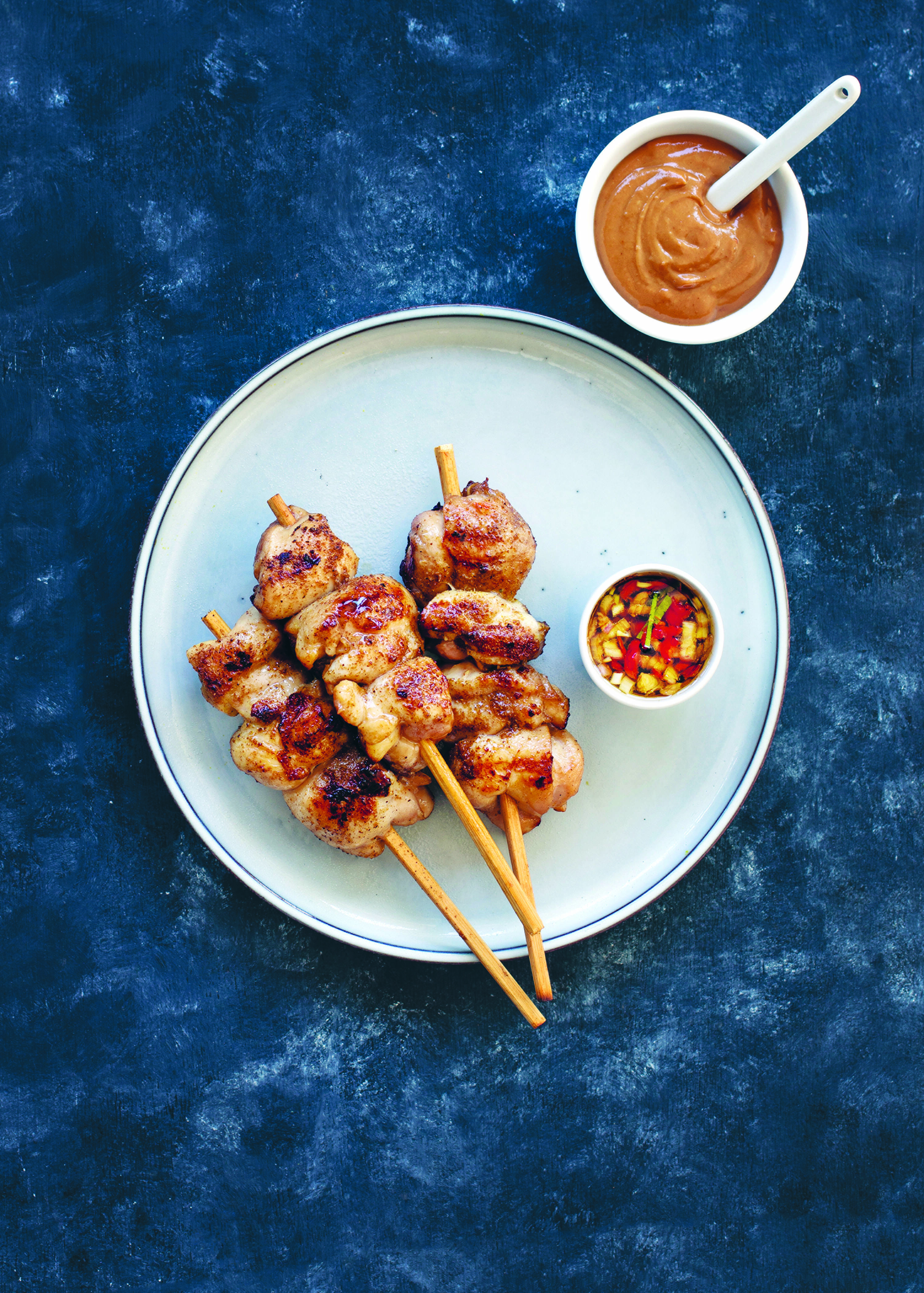 Chicken Satay with peanut sauce. From The Gluten-Free Cookbook. Photography by Infraordinario Studio.
Finally, for a more substantial meal, you could go for one of Indonesia's most popular exports: chicken satay with peanut sauce. "These chicken skewers, or saté ayam, are popular in Indonesia as well as Malaysia and Singapore and are served with a delicious peanut sauce called sambal pecel," says the Broglia. "In the countries of origin the skewers are a typical street food snack, but if served with cucumber wedges, red onion slices, and nasi impit (pressed rice cubes), they become a meal."
For the chicken you'll need some tamari; some ground coriander seeds; a little ground white pepper; and a few boneless, skinless chicken thighs.
To cook the chicken you'll have to combine the tamari, ground coriander, and white pepper in a bowl, then toss chicken in these spices. Cover the bowl and let marinate for 45 minutes. Preheat an outdoor grill or grill pan (griddle pan) to high heat. Thread the chicken onto skewers. Add them to the grill or grill pan and cook, turning them until each side is golden brown and crispy, about 10 minutes.
For the sambal, it's raw peanuts; palm oil; dried chilies; some scallions (spring onions); garlic; lemon leaves (lemongrass works as a substitute); palm sugar; and tamarind pulp.
Shell the peanuts, but leave the skins on. Rinse the peanuts and drain well, then pat them very dry on a paper towel. Heat the palm oil in a wok and fry the peanuts for 2 minutes, stirring constantly, then remove from the wok and drain on paper towels. In the same oil, fry the dried chilies, scallions (spring onions), garlic, and lemon leaves for 2 minutes, then remove from the heat. Drain off the oil. In a food processor, combine the peanuts, palm sugar, tamarind pulp, the chili/scallion mixture, and salt to taste.
Finally, for the accompanying lime sauce it's more tamari; lime juice; diced red chilies; a shallot; sugar; and more makrut lime leaves. Combine it all in a bowl and let it rest for an hour, before serving all three together.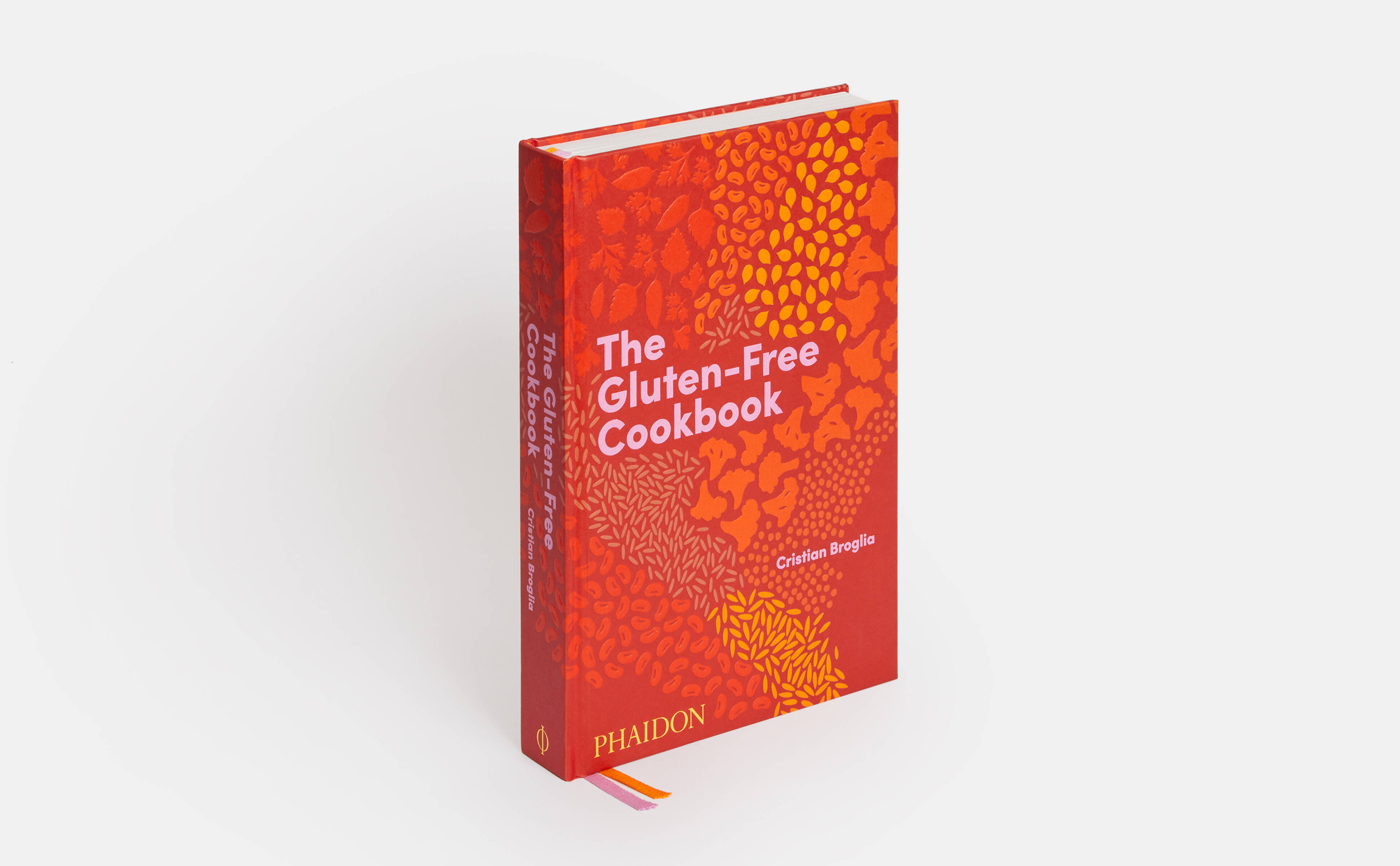 For more detailed instructions, as well as weights and other measurements, order a copy of The Gluten-Free Cookbook here.