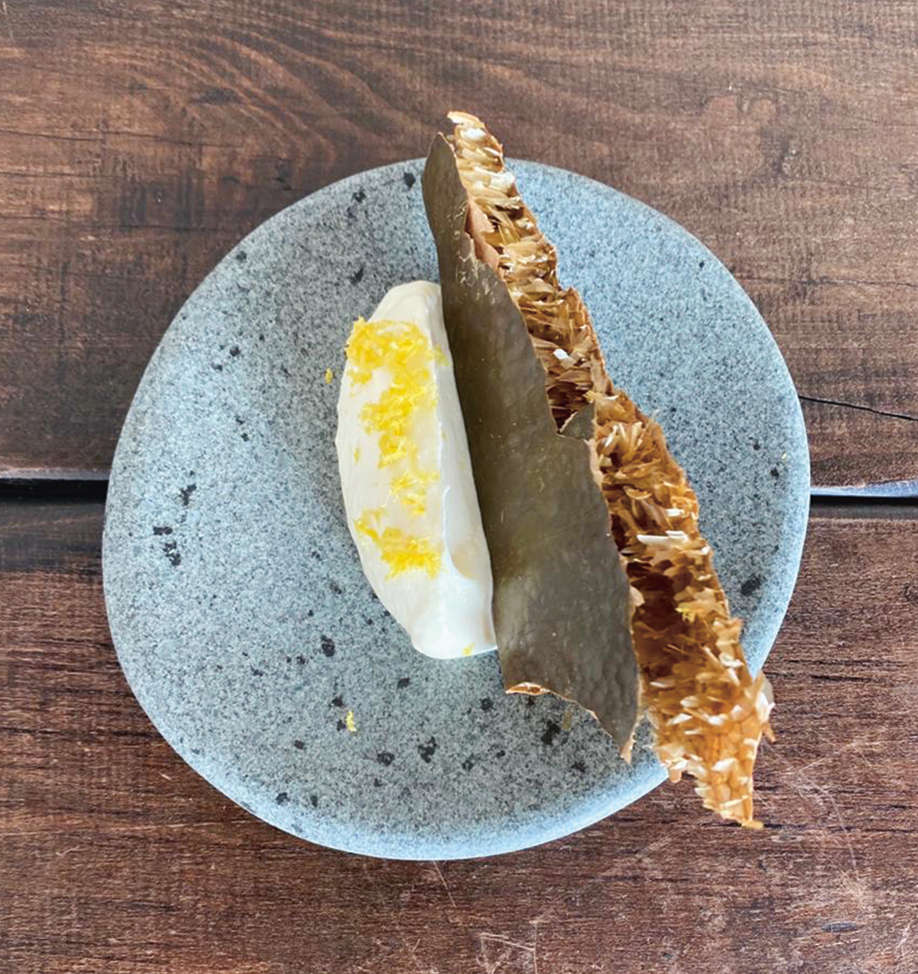 Cooking for Your Kids: child-friendly dishes that will impress the adults too
In our new book, star chefs reveal the recipes that get cries for 'more!' from everyone at the table
For some parents, lockdown has been an opportunity to perfect the comfort food they create for their kids. The local kid-friendly brunch place may be closed but that's no reason not to enjoy near-perfect weekend pancakes.
Now, as restrictions begin to lift in many countries, enabling some of us to mingle in one another's homes once more, we might be thinking a little less about how our food meets the needs of young palates, and more about how our culinary creations look to adult eyes.
This is where Cooking for Your Kids comes in. The book draws together a great collection of recipes professional chefs use when they're cooking for their kids. Sure, some of them are very much focussed on younger diners (one even includes formula milk!) but a great deal of them will impress the grown-ups too when they're set down on the table.
Take Rodolfo Guzmán's roasted kelp with pajarito cream (top). That's a pretty wild combination, even for adult diners, let alone children. What's Guzmán's secret? "I didn't tell them it was seaweed, I simply roasted the kelp and served it alongside a mixture of kefir and cream," he says in our book.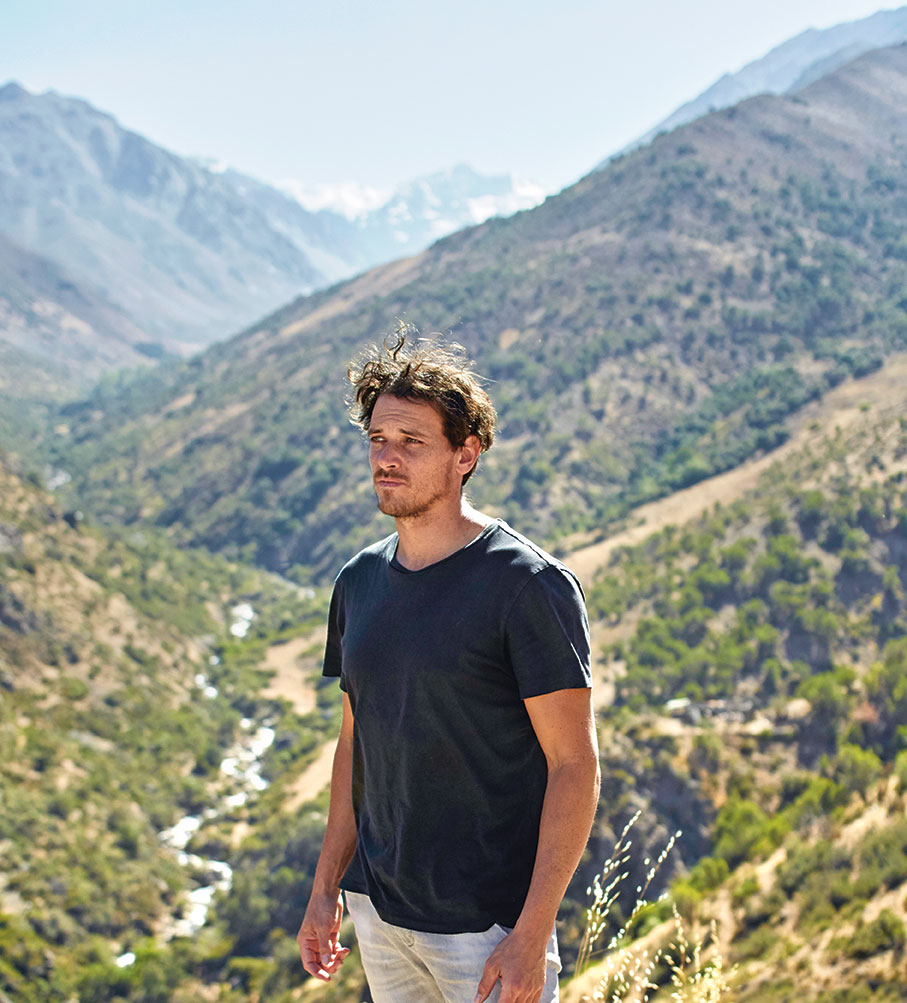 To make it you'll need 67 oz (200 g) of fresh kelp; 2⁄3 cup (140 g) pajarito cream (recipe follows); ½ cup (30 g) snipped chives; 6 fresh basil leaves, finely chopped; and ¼ teaspoon freshly ground pepper.
First, to make the pajarito cream take 2 generous cups (17 fl oz/500 ml) of heavy (whipping) cream; and a generous ¾ cup (7 fl oz/200 ml) of kefir. Mix it together and add it to a yogurt maker then leave to ferment for 7 hours. Remove and let cool for 2 hours.
Next, preheat the oven to 320°F (160°C/Gas Mark 3). Spread the kelp on a sheet pan and bake for 15 minutes. Remove and let it cool at room temperature. Break into big pieces. Whisk the pajarito cream vigorously and manually, until it looks shiny. To plate, drop a quenelle of pajarito cream on the plate and add the chives, basil, and fresh pepper. To finish, hide a piece of kelp in the quenelle.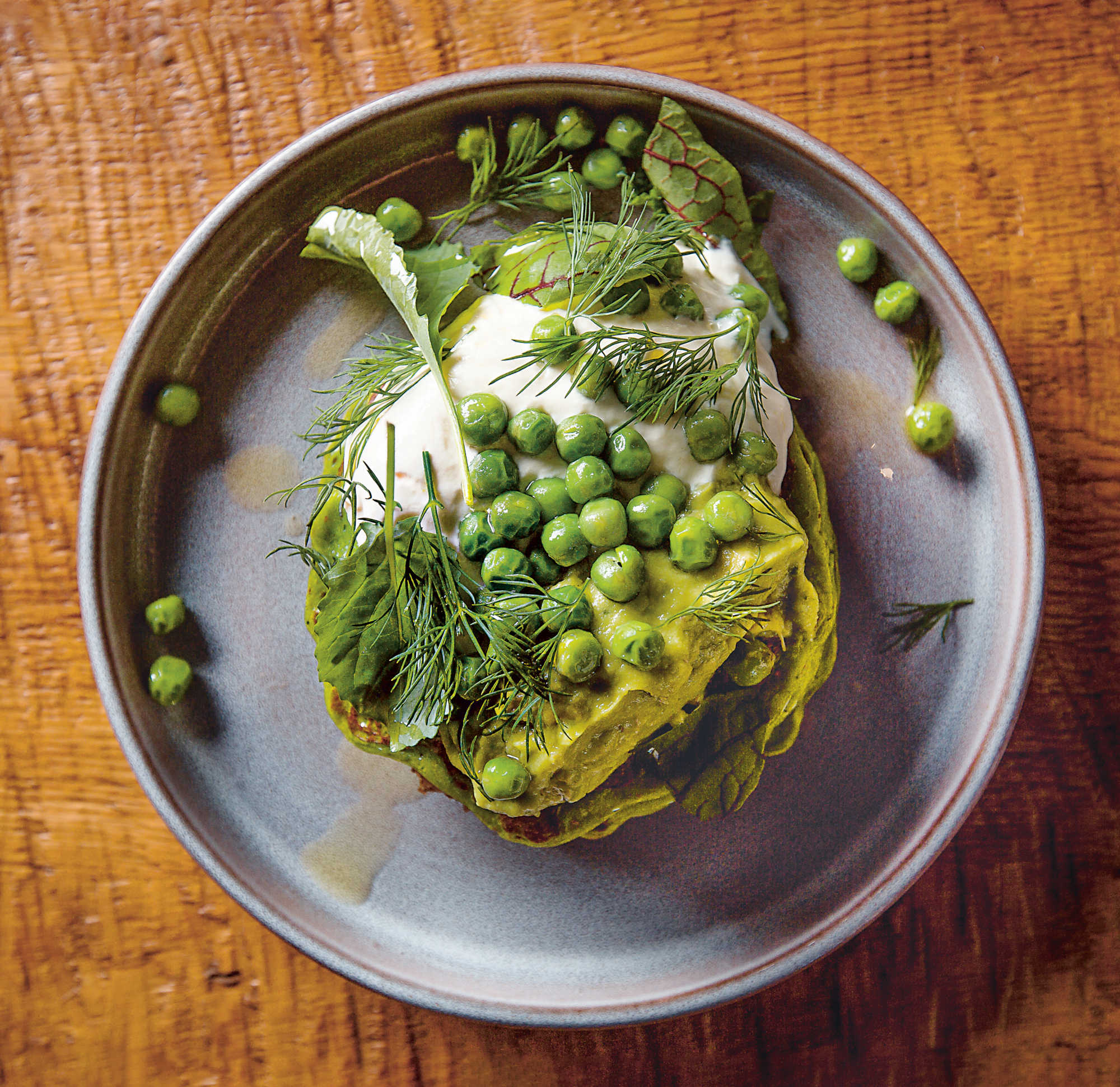 For a healthy lunch option that looks equally good on the plate, try Moscow chef Vladimir Mukhin's zucchini pancakes with guacamole. For the pancakes you'll need ½ cup (60 g) all-purpose (plain) flour, sifted; 1¼ teaspoons (5 g) granulated sugar; scant ½ teaspoon (2 g) baking soda (bicarbonate of soda); scant ½ teaspoon (2 g) baking powder; scant ½ teaspoon salt 1 oz (36 g) fresh spinach, chopped; 1 egg; 6 tablespoons (3 fl oz/90 ml) whole milk; 4 oz (110 g) zucchini (courgettes), peeled and grated.
For the guacamole get 1 (100 g) avocado; 4 teaspoons (12 g) finely chopped chili pepper; 4 teaspoons (12 g) fresh cilantro (coriander) leaves; 4 teaspoons (20 ml) extra-virgin olive oil; 1 teaspoon (4 ml) fresh lime juice; 1 teaspoon salt. Finally, for assembly you'll need 5½ tablespoons (2¾ fl oz/80 ml) sunflower oil; 2 tablespoons (4 g) dill, chopped; 1 oz (30 g) kale, washed, dried, and roughly chopped; and 2 oz (60 g) fresh green peas.
In a large bowl, mix together the flour, sugar, baking soda (bicarb), baking powder, salt, spinach, egg, and milk. Add the grated zucchini (courgettes) and stir. Set aside for 10 minutes. Then blend the avocado into a purée. Add the chili, cilantro (coriander), olive oil, lime juice, and salt. Blend again until smooth.
In a frying pan, heat the oil over medium heat until shimmering-hot. Add the batter by ¼ cup (2 fl oz/60 ml) and fry the pancakes on both sides until evenly cooked. Serve the pancakes sprinkled with dill, guacamole, green peas, and kale on the side.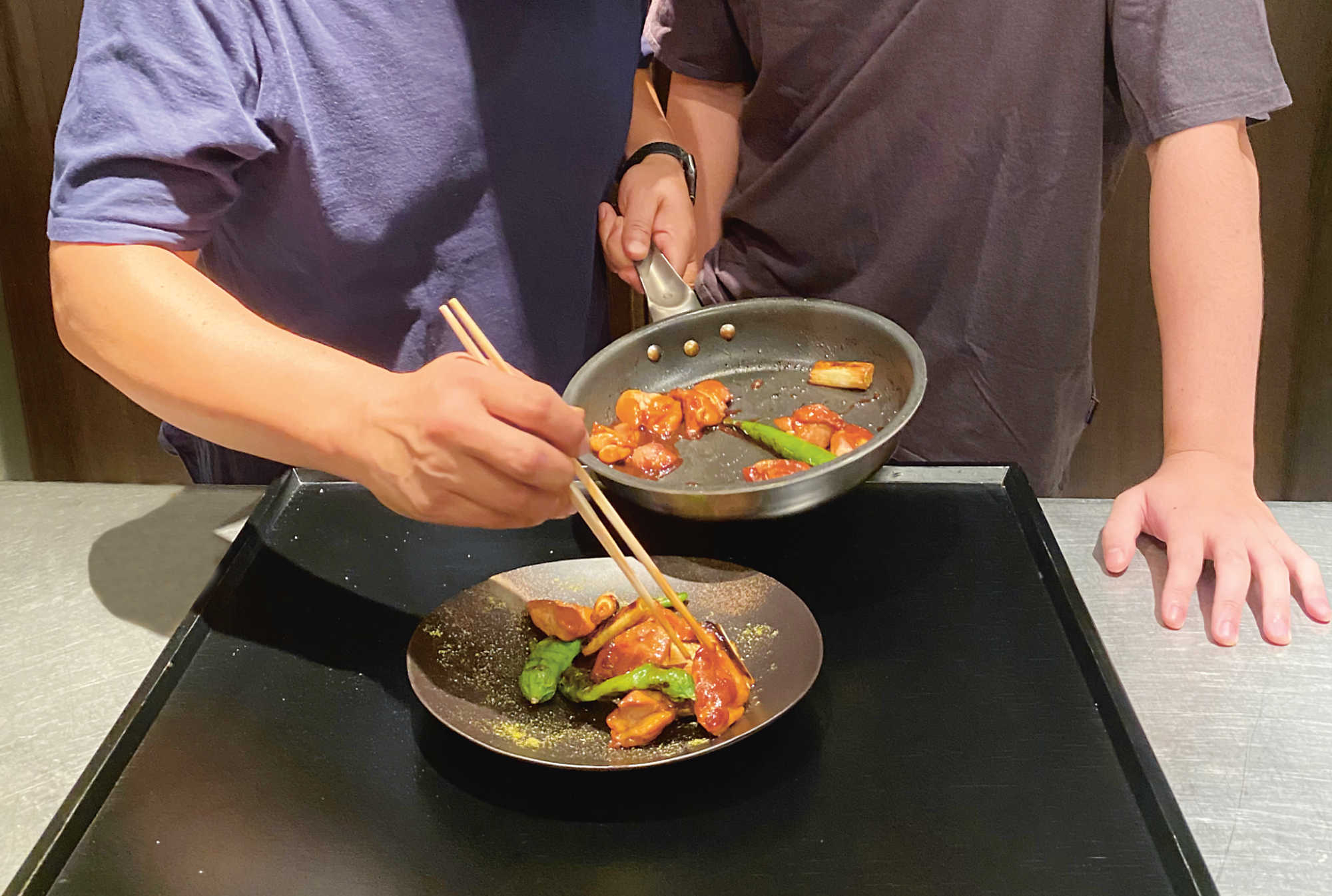 Finally, for a slightly exotic taste that both kids and parents will enjoy, try Yoshihiro Narisawa's recipe for chicken yakitori. "The most appealing part, my kids tell me, is the delicious salty soy sauce with the additional sweetness, thanks to honey," says the Tokyo chef.
You'll need 1⁄3 cup plus 1 tablespoon (100 ml) white wine; 1⁄3 cup plus 1 tablespoon (100 ml) soy sauce; 1 teaspoon (15 g) honey; 2 boneless, skinless chicken thighs; 1⁄3 cup plus 1 tablespoon (100 ml) sake; 1⁄3 cup plus 1 tablespoon (100 ml) mirin; 1 tablespoon cornstarch (cornflour); 2 eggplants (aubergines), each cut into eighths; 1 green bell pepper, cut into eighths; and 1 leek, cut into eighths lengthwise.
In a small saucepan, bring the white wine to a boil over medium heat to cook off the alcohol. Reduce the heat and stir in the soy sauce and honey until dissolved. Remove from the heat and let cool. Once cool, add the chicken to the liquid and marinate for 15 minutes. Remove the chicken from the marinade (reserve the marinade) and pat the chicken dry.
In a large frying pan, cook the chicken thighs over medium-high heat until cooked through, about 6 minutes per side. In a bowl, stir together the reserved marinade, sake, mirin, and cornstarch (cornflour). Add to the pan and cook until the sauce is thickened. Add the eggplants (aubergines), bell pepper, and leek and cook until the vegetables have softened and gained color, approximately 7 minutes. For serving, plate the chicken and vegetables together, with the sauce poured on top.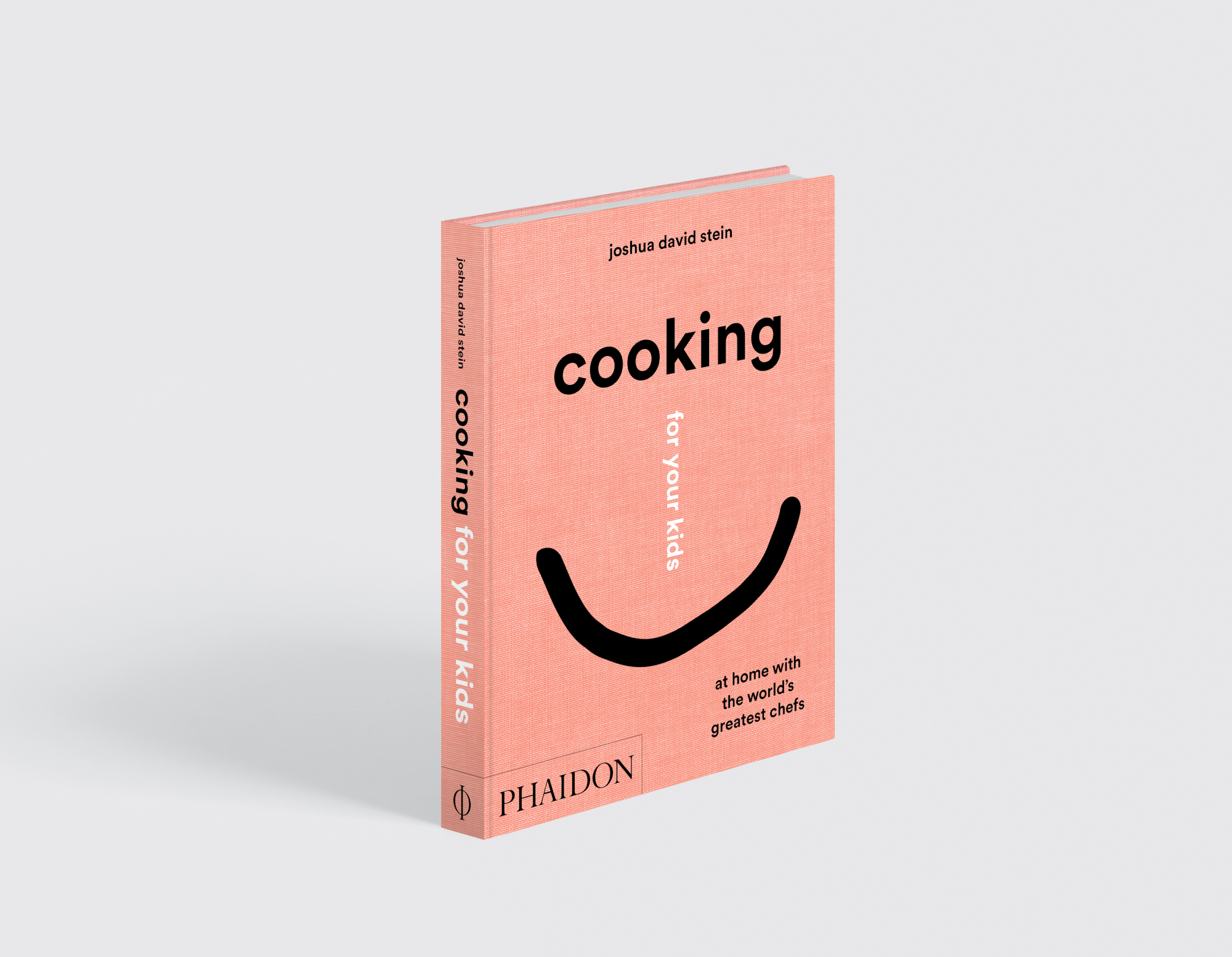 For fuller versions of these recipes as well as much more besides, order a copy of Cooking For Your Kids Here.