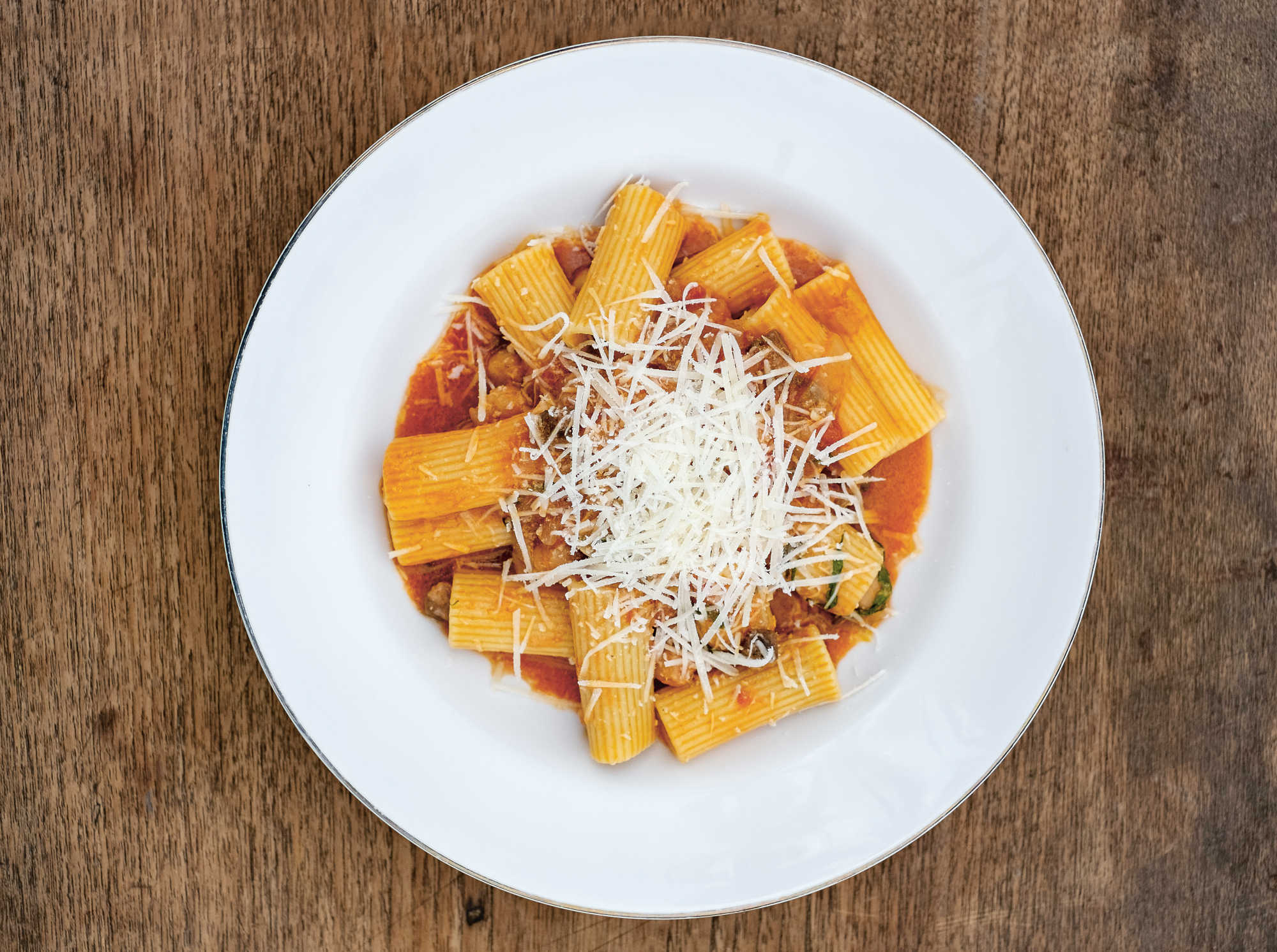 Cooking for Your Kids: Family meals for cultured kids and evolved adults alike
From pasta, to sandwiches to summer Sunday roasts, our book of chefs' recipes for children has it all
Can you satisfy adult tastes and kids' palates with the same recipes? The contributors to Cooking for Your Kids certainly believe so. This new book reproduces 100 recipes that famous chefs cook for their own children at home. Some pander to toddlers' tastes (Sean Brock has even contributed an omelette recipe that uses baby formula!), however, a great many of these dishes are things you can make pretty easily, and serve to both hungry adults, and ravenous children.
Take, for example, Will Goldfarb's pasta with chickpeas dish (top). The US-born, Bali based chef is best known for his incredible desserts, but also reaches for this savoury old favourite when cooking for his family. "I was first turned onto this dish by my wife, who grew up in Rome," he explains. "Although at first I didn't understand how you could have chickpeas and pasta together, eventually my daughter and I grew to love it, and now literally crave it."
To make it you'll need a quarter cup (2 fl oz/60 ml) of olive oil; a red onion, finely diced; salt; scant one cup (200 g) of canned chickpeas (half a 15 oz/425 g can), liquid reserved; two garlic cloves, smashed with the palm of your hand and peeled; a dash of pimentón or smoked sweet chili powder; a drop of sherry vinegar; thin slice stale bread, finely diced; scant one cup (200 g) of canned whole tomatoes (half a 14 oz/400 g can); Parmesan rind (optional; if handy), and a splash of milk (optional); as well as 5–6 oz (150–180 g) of rigatoni pasta; and olive oil, salt and Parmesan cheese, for grating.
In a large saucepan, heat the olive oil over medium heat. Add the onion, lightly salt, and cook down for approximately five minutes. Meanwhile, in a small pan, heat the reserved chickpea liquid with the garlic cloves.
At the same time, feel free to get a medium pot of heavily salted water to a rolling boil for the pasta. When your onion is all the way broken down, but still golden, season lightly with pimentón and a drop of vinegar. Fry the bread in the caramelized onion-and-oil base until golden. Add the chickpeas, moisten with a bit of plain or salted water, and bring to a good boil. Add the tomatoes and get it really going. (Feel free to add Parmesan rind if using.) If you find the acidity too strong, a splash of milk is always nice. Add the chickpea/garlic water and return to a boil. Simmer until the sauce just comes together, about 15 minutes.
Cook the pasta in the boiling salted water. Reserve a bit of the pasta cooking water, drain the pasta and return it to the same pan. Season with olive oil and salt. Hit the pasta with as much sauce as it can absorb. Bump it up with some of the reserved pasta cooking water if necessary. Bowl it up and top with as much grated cheese as you have.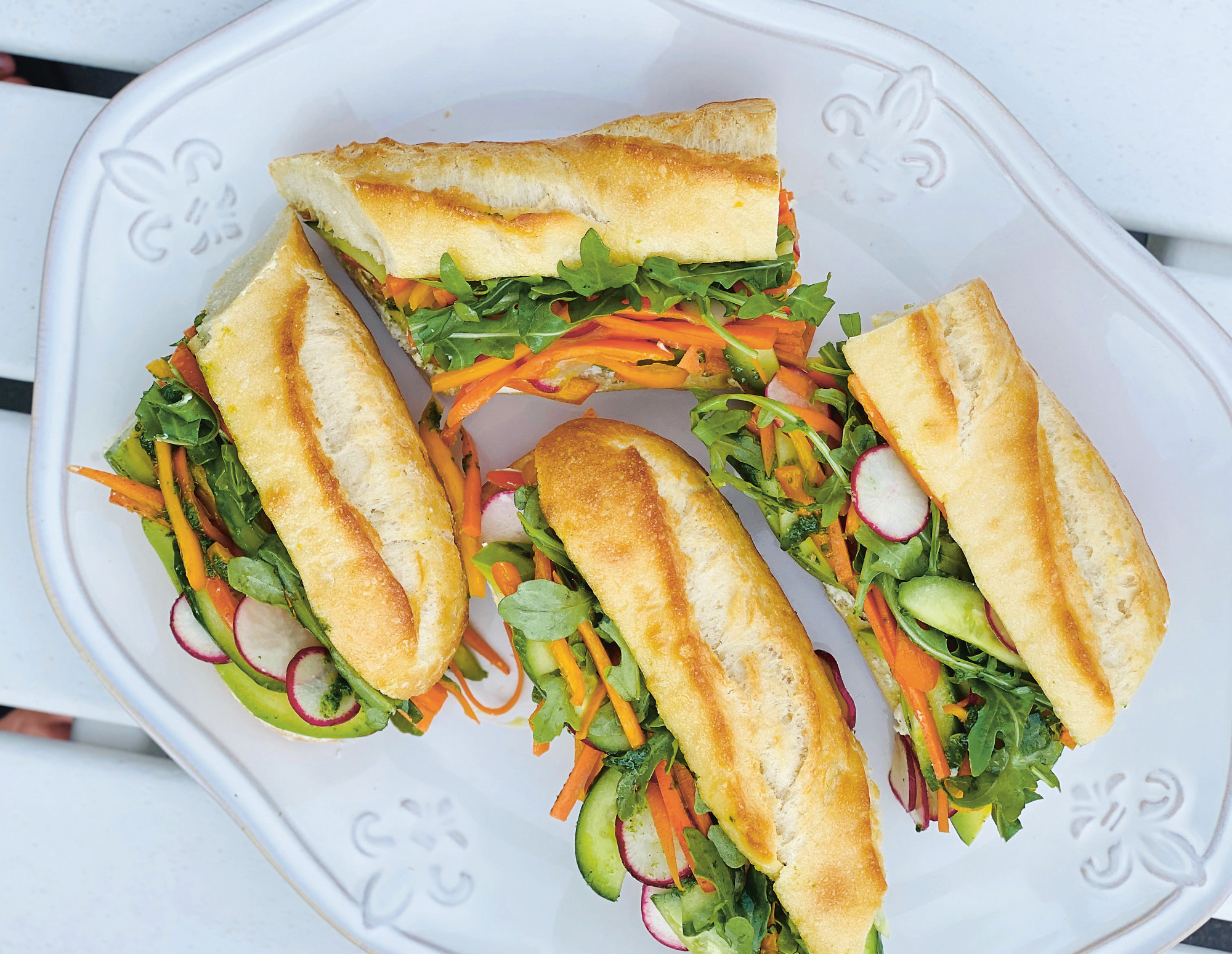 Are you pushed for time? Then maybe you want to try vegetable pistou sandwiches from the LA chefs Suzanne Goin and David Lentz. They recommend you get the kids involved in the preparation for these bright, juicy and satisfying baguettes.
First you'll need to make the pistou, a kind of French take on pesto, that you can keep in your fridge for about a week. You'll need a teaspoon of minced garlic; three quarters of a cup (20 g) of tightly packed basil leaves; half a cup (10 g) of tightly packed parsley leaves; three quarters of a cup (6 fl oz/175 ml) extra-virgin olive oil; as well as salt and freshly ground black pepper. In a blender, combine the garlic, basil, and parsley. Turn the blender on medium speed and drizzle in the olive oil. Season to taste with salt and pepper.
Once that's ready, you can make the sandwiches. You'll need two Persian (mini) cucumbers, julienned; one yellow bell pepper, julienned; one medium carrot, julienned; six radishes, thinly sliced; two tablespoons extra-virgin olive oil; one tablespoon of fresh lemon juice; salt and freshly ground black pepper; as well as one baguette; six ounces (170 g) of goat cheese; one avocado, peeled, pitted, and sliced three tablespoons Pistou, and one and a half cups (60 g) of arugula (rocket).
In a medium bowl, combine the cucumbers, bell pepper, carrot, and radishes. Add the olive oil, lemon juice, a teaspoon salt, and a generous grinding of black pepper. Halve the baguette horizontally, leaving the two halves attached. Spread the goat cheese on the bottom side and then shingle the avocado on top. Spoon half the pistou over the avocado and top with the vegetables and arugula (rocket). Spoon the rest of the pistou over the arugula and sprinkle with salt and pepper. Close the sandwich firmly but gently, so all the ingredients meld and stay inside the baguette. Then cut the baguette into four sandwiches.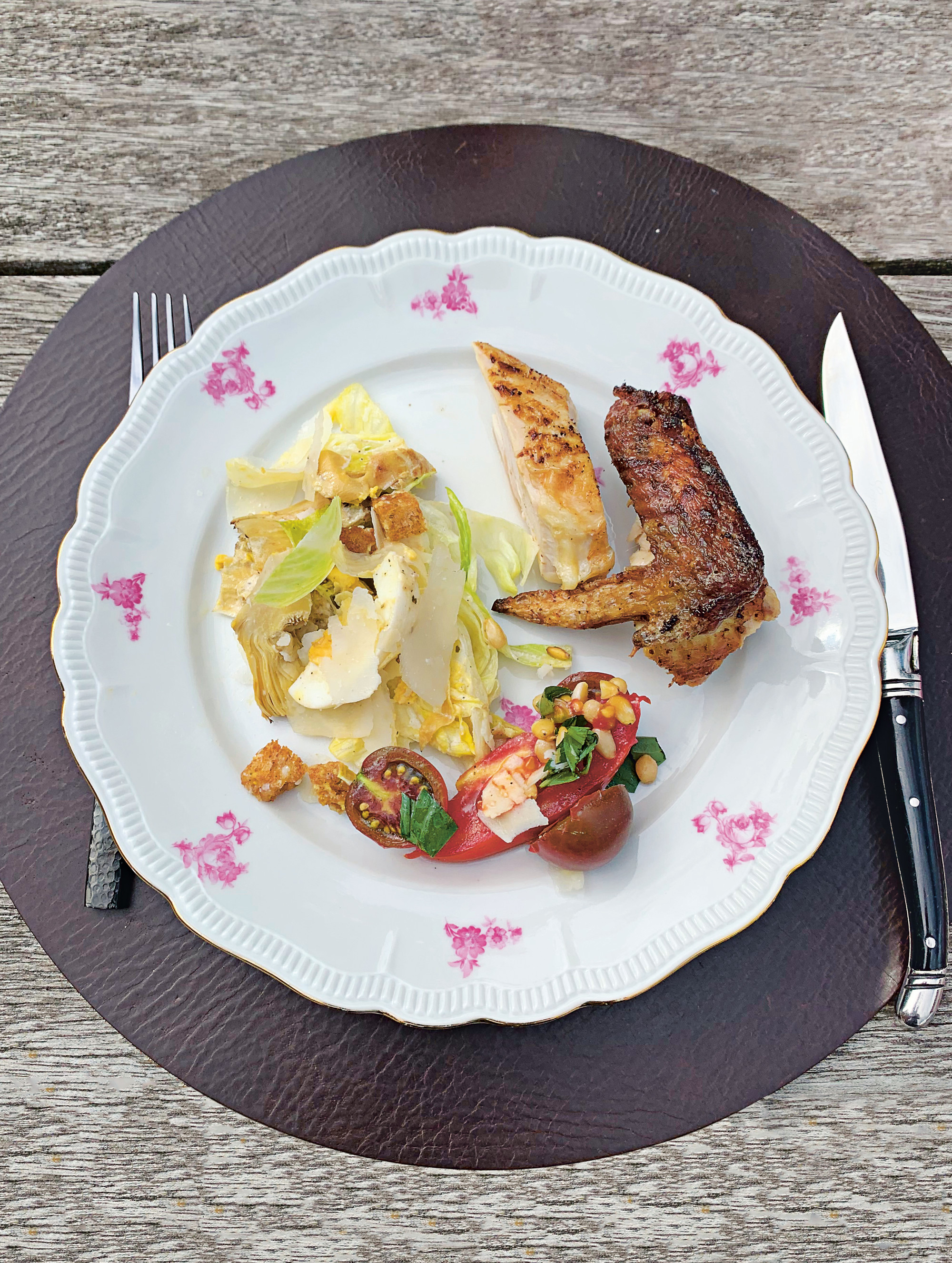 Finally, for a classy, summery dish that still goes down well with kids, reach for this roast chicken with artichoke salad recipe, by the Belgian chefs Sandra and Filip Claeys. It's one of Sandra's childhood favourites and it remains a family staple, now they have kids of their own.
For the meaty part of the dish you'll need a whole chicken; salt and freshly ground black pepper; half a lemon lemon; two thirds of a cup (150 g) of unsalted butter; a sprig fresh rosemary; a sprig of fresh thyme and an oz (20 g) of minced garlic.
For the salad you'll require a large onion, diced; a head of iceberg lettuce, washed and roughly chopped; 20 cherry tomatoes, halved; four marinated artichoke hearts, halved; four hard-boiled eggs, quartered; extra-virgin olive oil; sea salt and freshly ground black pepper; a teaspoon of Chardonnay vinegar; two tablespoons of roasted pine nuts; three and a half oz (100 g) of Parmesan cheese; three and a half oz (100 g) of croutons; as well as a generous third of a cup (3½ fl oz/100 ml) of yogurt dressing.
Season the chicken inside and out by rubbing with pepper, salt, lemon, butter, rosemary, thyme, and garlic. Preheat a kamado-style grill to 400°F (200°C/Gas Mark 6). (Alternatively you can simply roast the chicken at 350ºF (175ºC/Gas Mark 4) for 90 minutes. Place the chicken in a casserole, transfer to the grill, and let it cook for one hour. Remove and let rest before carving.
In a large bowl, combine the onion, lettuce, tomatoes, artichokes, and eggs and dress with some olive oil, sea salt, and black pepper. Give it some more flavor with Chardonnay vinegar. Add some roasted pine nuts. Finish with thin slices of Parmesan cheese and the croutons. You can add the dressing on top of the salad. Serve the chicken alongside the salad.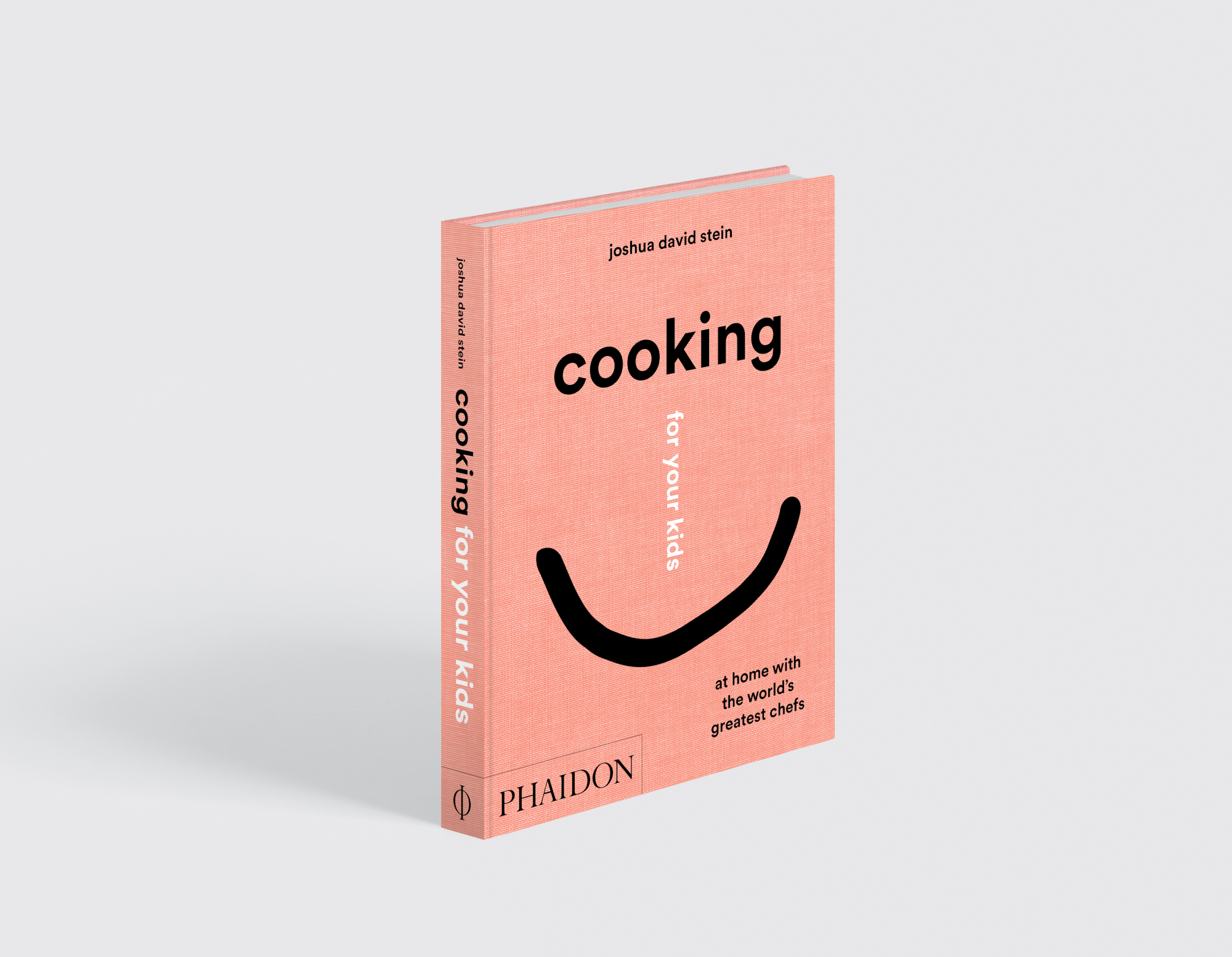 For more recipes that will satisfy sophisticated kids and evolved adults alike order a copy of Cooking for Your Kids here.