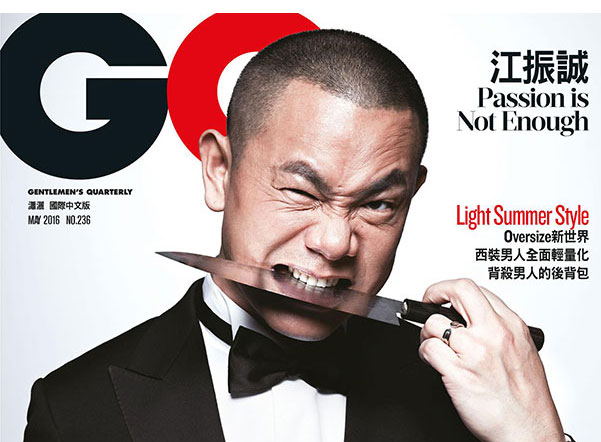 André Chiang makes the cover of GQ
The former model and Octaphilosophy chef defies kitchen health and safety regulations in new photo shoot
It's perhaps no surprise to see Octaphilosophy chef André Chiang gracing the cover of GQ Taiwan this month. While training to be a chef André supplemented his income as a menswear model, and even did some runway shows. He's obviously incredibly handsome, (form an orderly queue girls) and despite being a full on gastronomic innovator manages to still maintain a sample size frame. Naturally then, he slipped into dinner jacket and black tie effortlessly for the GQ men's mag shoot on sale this month. You can take a look at some behind the scenes photographs from André's GQ shoot here.
André is, of course, a superstar in Taiwan, his birthplace even his culinary skills have taken him around the world in his pursuit of excellence. The menu of Restaurant ANDRE in Singapore centres on his 'Octaphilosophy' and takes into account Chiang's eight elements of gastronomy: salt, texture, memory, pure, terroir, south, artisan and unique.
His new book Octaphilosophy explores 365 days in Chiang's Restaurant André in Singapore. It includes dramatic snacks, precisely crafted dishes and meticulous sweets over each season, and documents the stories and processes behind each dish, Chiang shares his unique approach to food, combining the technical precision of Asian gastronomy with the French culinary preference for produce, producers and seasonality. Learn more about Octaphilosophy and André here.