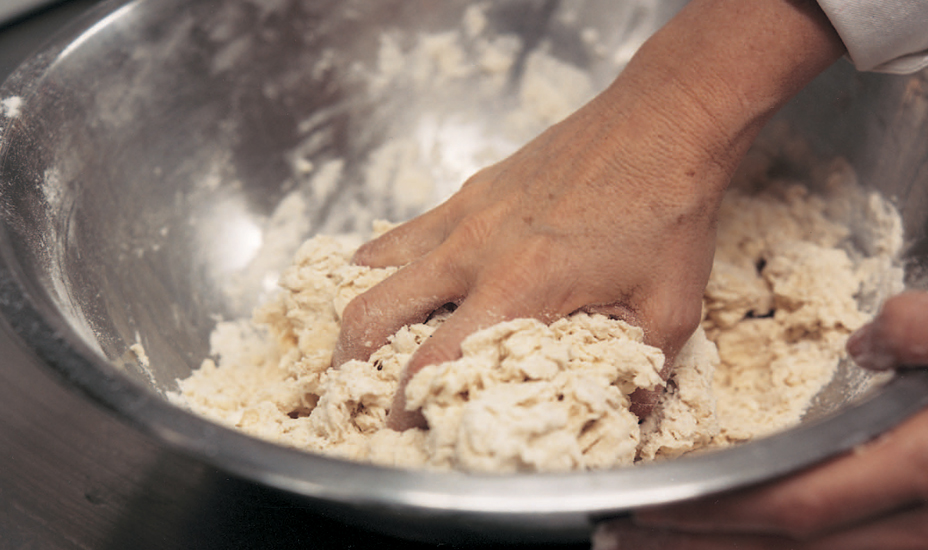 Shortcrust pastry
A recipe from France: The Cookbook
Preparation: 20 minutes plus resting time
Serves: 6
Ingredients:
250g (9oz) (generous 2 cups) flour, plus extra for dusting
1 tablespoon flavourless oil, such as sunflower or rapeseed
½ teaspoon salt
125 g (4¼oz) (½ cup) butter, chilled and diced
1 – 2 tablespoons ice-cold water
Method:
Put the flour into a bowl. Make a well in the middle and add the oil, salt and butter. Rub the butter into the flour. Moisten with the water to bring the dough together.
Briefly knead the dough by hand; the more quickly this is done, the better the pastry will be. Cover the pastry with cling film (shrink wrap) and leave to rest in the refrigerator for between 30 minutes and 24 hours.
Bring it back to room temperature before rolling out.
On a lightly floured surface, roll it out to a circle 5 mm (¼inch) thick and use to line a tart tin, preferably one with a removable base. The pastry may also be used to line small round or boat-shaped tins (barquettes).
To bake the pastry case blind, preheat the oven to 200°C/ 400°F/Gas Mark 6.
Line the pastry case with greaseproof paper and fill with baking beans or uncooked rice. Bake for 10 minutes, then gently remove the greaseproof paper and baking beans or rice and return the pastry case to the oven for a further 10 – 15 minutes, until it is light golden brown and cooked throughout.
Note: Keep the ingredients and utensils as cool as possible. This will help the pastry to retain a short, crumbly texture.