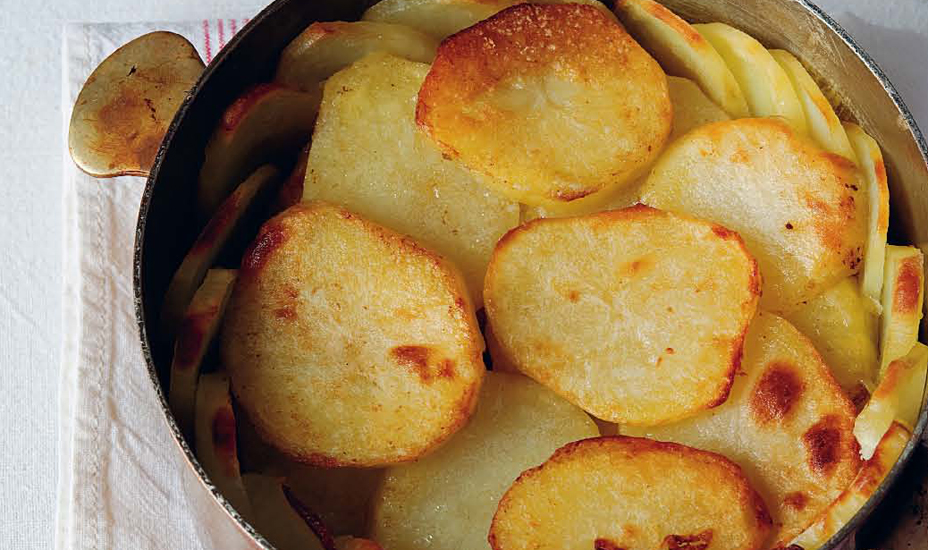 Anna potatoes
A recipe from France: The Cookbook
Preparation: 30 minutes
Cooking: 1 1/4 hours
Serves: 6
Ingredients:
1 kg (2¼lb) new potatoes
1 tablespoon goose fat or oil
100 g (3½oz) (scant ½ cup) butter, melted
salt and pepper
Method:
Peel or scrub the potatoes. Cut one-third of them into 2mm slices and place in a bowl of salted water for 10 minutes.
Meanwhile, heat the goose fat or oil in a solid-based round cake tin or shallow ovenproof pan until very hot. Drain the potato slices and dry with kitchen paper.
Protecting your hands with oven gloves, carefully tilt the hot fat in the tin to coat the sides and base, then pour any surplus out.
Arrange the potato slices neatly around the base and sides of the tin, overlapping them.
Preheat the oven to 200°C/400°F/Gas Mark 6.
Cut the remaining potatoes into 1cm slices. Heat some of the butter in a frying pan, add the potatoes and fry them over a high heat until they start to brown.
Arrange in the prepared cake tin in layers, pressing each layer down, seasoning them with salt and pepper and brushing with the remaining butter.
Continue until the tin is full. Cover and cook for about 1 hour.
Turn out and serve hot. The potatoes should form a golden-brown cake.