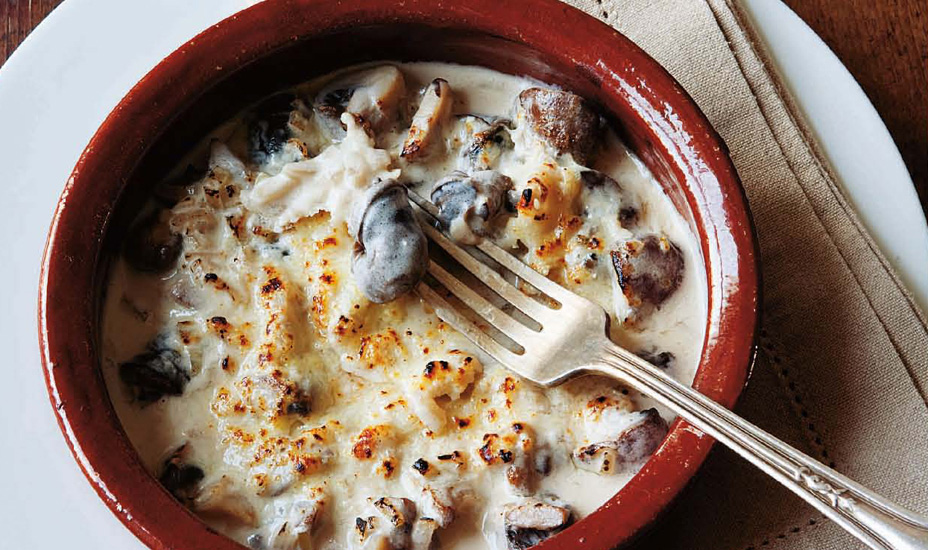 Snails with Chablis
A recipe from France: The Cookbook
Preparation: 15 minutes
Cooking: 25 minutes
Serves: 7-8
Ingredients:
20g (¾oz) shallot, finely chopped
1½ teaspoons finely chopped garlic
200ml (7fl oz) (generous ¾ cup) Chablis
250ml (8fl oz) (generous 1 cup) double (heavy) cream
90 prepared snails
Salt and pepper
100g (3½oz) (generous 1 cup) grated Parmesan cheese
Method:
Put the shallot and garlic in a pan with the Chablis and simmer over a gentle heat for 15 minutes. Add the cream and reduce the liquid over a gentle heat for another 15 minutes.
Stir in the snails, add salt and pepper, and reheat the snails very rapidly.
Divide the snails and sauce between 7 or 8 small ramekins. Sprinkle with the Parmesan and brown under the grill for 5 minutes.
Note: The dish can be varied by adding 100 g (3½oz) mushrooms, well wiped and cut into sticks, to the garlic and shallot mixture.