Christie's Strangest Sales – A salvaged £3m Spitfire
How a downed WWII fighter was saved from the coastal sands and went on to achieve seven figures at auction
Going Once: 250 Years Of Culture, Taste And Collecting At Christie's is a fabulously rich volume that you do not have to be fabulously rich to acquire. Alongside its lavish illustrations you can learn about the cultural significance of the items the auction house has sold over the years, including, for instance, a wrecked Supermarine Spitfire which went from the coast of Calais to the auction block.
In 1980, the death was announced of Flying Officer Peter Cazenove of 92 Squadron. He had had a remarkable, if not entirely victorious wartime career. He was one of the prisoners to have taken part in the "Great Escape"from the German prisoner-of-war camp Stalag Luft III.
Cazenove wasn't among those who managed to escape, however, and was only released when the camp was liberated. He had originally been captured in 1940 following a mission to provide air cover for British troops retreating towards Dunkirk. Unfortunately, after just an hour in the air, his Spitfire was hit by a single bullet from a German Dornier bomber and he was forced to "belly-land"in Calais, abandon his plane and walk into the town, where he was arrested. Shortly before he died, he wondered aloud what had become of his Spitfire and whether anyone would ever find it.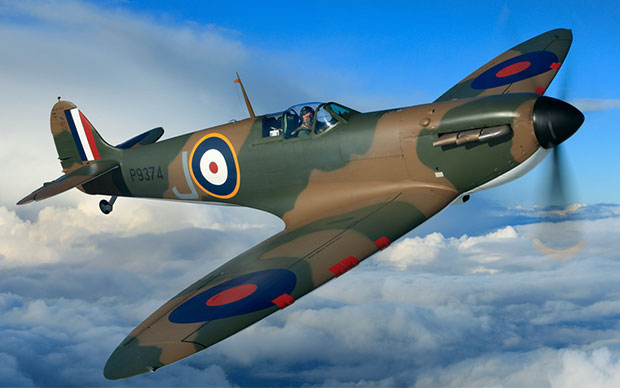 Just a few weeks after his death, they did. After 40 years beneath the sand and tide, encrusted with barnacles, the tail fin of the wreckage resurfaced at last, peeping up at low tide. An American collector Thomas Kaplan immediately acquired the corroded remains of the Spitfire, shipping the pieces back to England for repair by Historical Flying Ltd, a specialist team based at Duxford Airfield in Cambridgeshire. They restored it to its immaculate, original form. By 2011, it was even fit to fly again.
In 2015, however, Kaplan decided to sell the aircraft to raise money for the Royal Air Force benevolent fund and Panthera, his wildlife conservation charity. And so it was that Christie's found itself in the uncommon position of auctioning a World War II plane. This alone generated great interest, coupled with the fact that this was a Spitfire, that most iconic of aircraft, associated with the pivotal moment that was the Battle Of Britain, the plane piloted by what Winston Churchill dubbed the "few"who successfully repelled the Germans. It was out of gratitude to them, and the ultimate sacrifice many of them made, that Kaplan made his extraordinary, benevolent gesture. The plane sold for £3,106,500 ($4,777,025) a new record for a Spitfire.
This is just one of 250 fascinating and splendidly illustrated stories told in Going Once 250 Years of Culture, Taste and Collecting at Christie's. For more fascinating stories like this check buy a copy of the book in our store here.