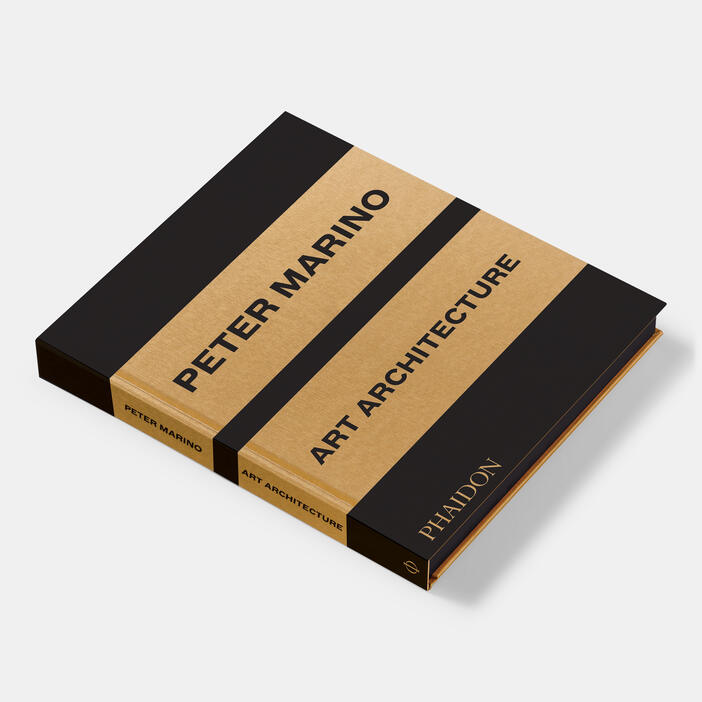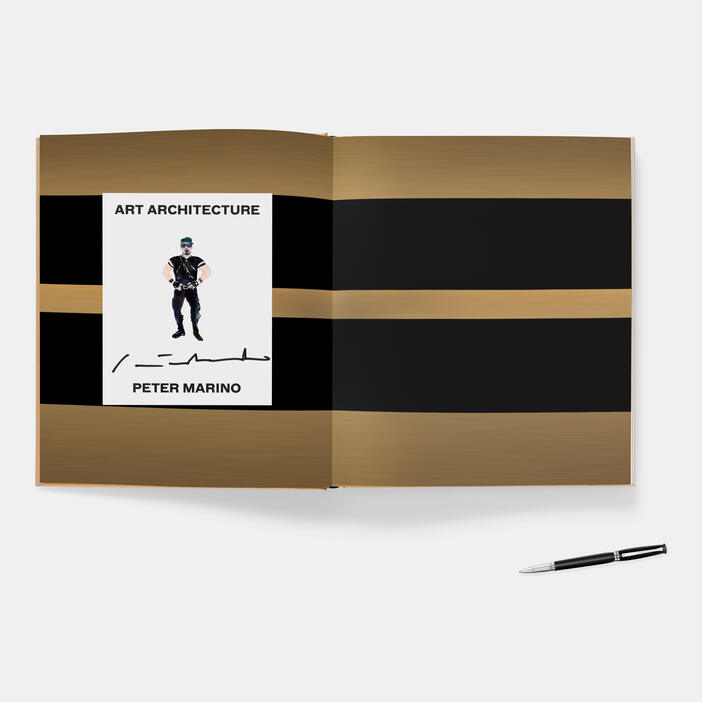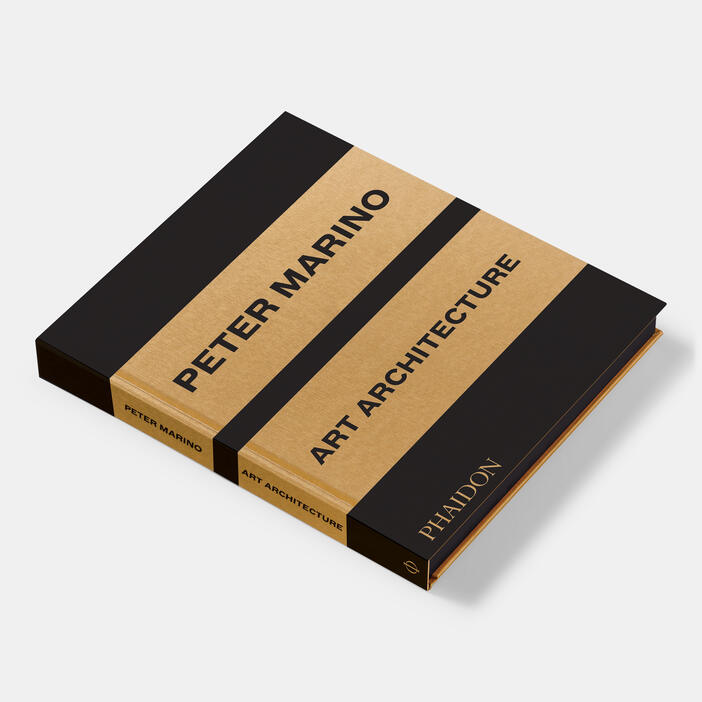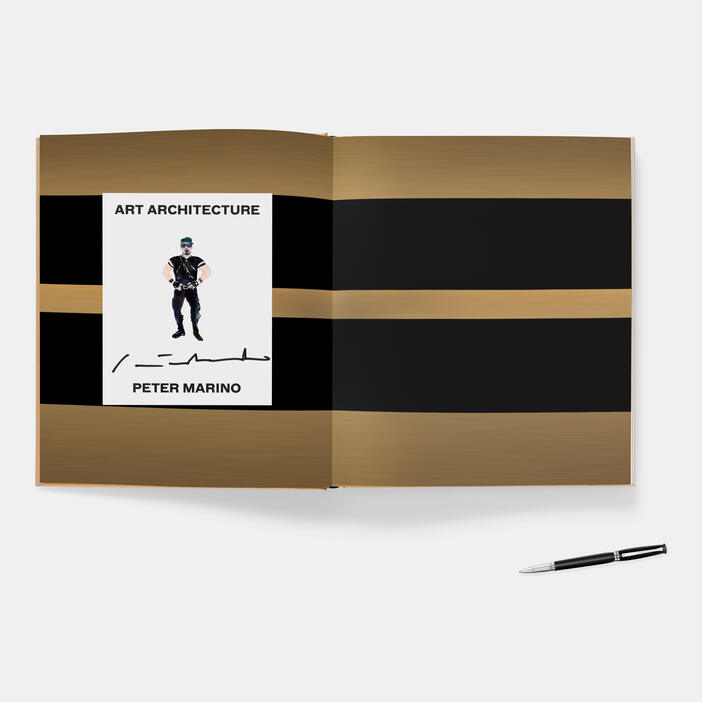 Peter Marino: Art Architecture
Price AUD$500.00 | Luxury Edition Price CAD$425.00 | Luxury Edition Price £275.00 | Luxury Edition Price T325.00 | Luxury Edition Price USD$325.00 | Luxury Edition
A visual exploration of the architect's creative process in a statement-making, oversized format
Limited to 750 editions, each one individually signed and number by Peter Marino, The Luxury Edition features a silk-screened acetate jacket and shiny metallic case with black gilded edges in an oversized format.
Dubbed 'The Leather Daddy of Luxury' by New York Magazine, Peter Marino is the go-to architect for the highest echelons of luxury design worldwide, perhaps best known for his work on luxury brand spaces, including for Chanel, Dior, and Louis Vuitton, in cities including Los Angeles, New York, London, Paris, Munich, Singapore and Tokyo.
This is the first book to look at the collaborative process by which Marino has commissioned site-specific works to live within his designs for luxury retail spaces from artists including Richard Deacon, Vik Muniz, Vanessa Beecroft, James Turrell, Not Vital, and Jean-Michel Othoniel. Marino's commissions explore the relationship between art and architecture. The process of these collaborations is documented here through personal anecdotes, notes, diaristic photographs and sketches, culminating in beautifully photographed images of the final work in situ.
Each chapter is dedicated to a single collaboration, following it chronologically through its developmental journey, with Marino giving his perspective on unifying themes, and the cross-pollination of the art and architecture.
Marino provides a narrative voice and vision – a knowledgeable guide to the creative world he inhabits.
Specifications:
Format: Hardback
Size: 394 × 317 mm (15 1/2 × 12 1/2 in)
Pages: 320 pp
Illustrations: 300 illustrations
ISBN: 9780714872773
Brad Goldfarb is a New York-based writer, as well as special projects editor at Architectural Digest. He was formerly Executive Editor at Interview magazine.
Peter Marino is the principal of Peter Marino Architect PLLC, an internationally acclaimed architecture, planning, and design firm based in New York City. In 2011, Marino received a MIPIM Architectural Review Future Projects Awards Commendation for a mixed use development in Beirut, Lebanon.
Gay Gassmann is a trained art historian and has had a career as an art consultant, writer, and editor spanning more than thirty years. She has worked with Peter Marino for almost as long.
As featured in Bloomberg, The Los Angeles Times, The New York Times, Robb Report, and T: The New York Times Style Magazine
"[Marino's] idiosyncratic limelight is celebrated throughout these artistic pages" —Wallpaper.com
"Short texts that tell the stories of the featured projects and accompany striking photographs of the artists at work. Through this book, you are invited to access the creative world of this great architect." —Azyaamode.com
"A lovely present... Its large-scale format allows viewers to go in-depth into some of Marino's more outlandish commissions." —Bloomberg Pursuits Online
"Beautifully designed." —Robb Report Online
"[T]his hefty visual history of Peter Marino's career is as luxe and grand as the architect's many projects." —T: The New York Times Style Magazine Online
"A chic, limited-edition tome of visionary collaborations... [Marino] wows not just with his designs but with his signature on-site artist commissions... Now Marino admirers can relish a selection of these artworks... Limited to 750 copies and with 300 colour illustrations, the luxury edition comes jacketed in silk-screened black and bronze acetate with gilded edges and a metallic case - in tune with the leather-loving, biker-chic Marino. A signed bookplate in each edition adds yet more character... Each section features personal anecdotes alongside stunning imagery." —FT.com