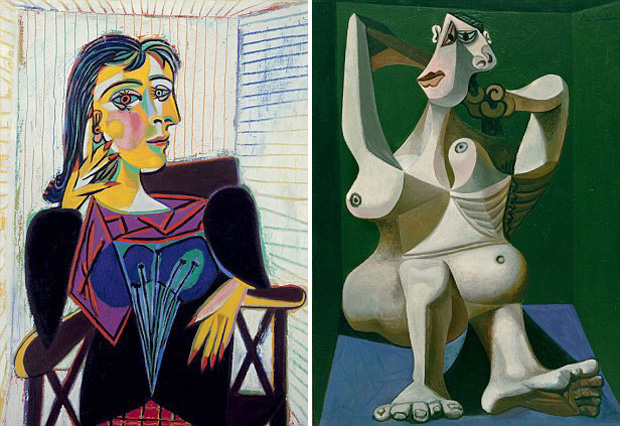 The woman who inspired Picasso
How the raven-haired Dora Maar became Picasso's most politically charged muse
We're always interested in what inspires or fires up an artist to create so we really enjoyed a recent piece in the Mail newspaper's You magazine in which Phaidon's Deputy Publisher and Editorial Director Amanda Renshaw writes about the women who helped inspire Picasso to acts of greatness.
Here's a brief taster from it which centres on Picasso's relationship with Dora Maar – the woman in three of his most famous paintings, Portrait Of Dora Maar (1937), Weeping Woman (1937) and Woman Dressing Her Hair (1940). Maar was an intelligent, good looking and acclaimed photographer when she and Picasso met - she in her late 20s, he in his mid-50s. She photographed the artist and his studio many times.
"On 26 April 1937, the city of Guernica in northern Spain was bombed by the German Luftwaffe. Guernica was the capital of the Basque region and the Basques had been some of the Nationalist leader General Franco's fiercest opponents during the Spanish civil war. Franco had very little air power, so he asked for Germany's help to teach his enemy a lesson.
"For two-and-a-half hours the bombers pounded homes and public buildings. The damage was devastating. The attack shocked the world. Picasso, although not a Basque, was understandably shaken. So many of the pictures he painted that year are of people in terrible anguish. In Weeping Woman, Dora's face is like cracked glass. The bright colours, thick black lines and contorted face are Picasso's way of expressing overwhelming feelings of terror and sadness.
"Three years later, Picasso painted another portrait, Woman Dressing Her Hair. Here Dora is grotesque: her ribcage like a hanging carcass of meat, her hands like goat's hooves wringing her hair, her skin hard and leathery, her body both bulbous and emaciated and her feet outrageously oversized. This frightening creature looks as if she might have been deformed at birth. She's trapped in a small room with a purple floor and green walls. This is recognisably Dora, but it is more than just a portrait of a strong woman with a stormy temperament. Picasso worked on this painting when Europe was in the frightening turmoil of the Second World War. His paintings in response to the bombing of Guernica had made him an enemy of his native Spain, and Germany had just invaded France where he lived. Woman Dressing Her Hair is clearly not just a picture of Dora, but Dora playing the role of a person trapped, haunted, hunted and made mad by the terror of war and invasion."
An exhibition of Picasso's women can be found in room 350 of The Art Museum