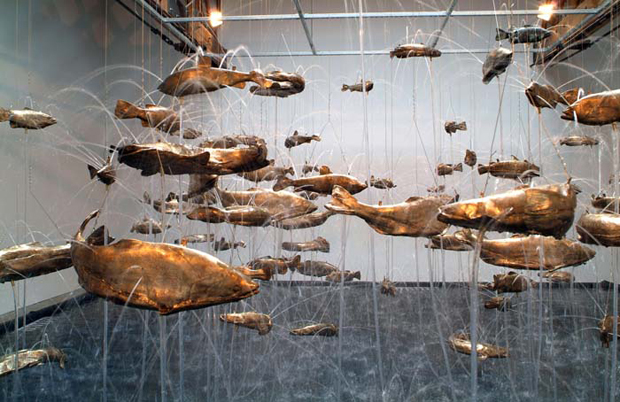 See Bruce Nauman's One Hundred Fish Fountain
A rare chance to see one of Nauman's largest sculptures - and, if you have $3 million, maybe the chance to buy it
If you're in New York this summer there's a rare chance to see one of Bruce Nauman's largest ever sculptures. One Hundred Fish Fountain is a fully functional fountain comprising 97 bronze casts of fish suspended throughout the air which noisily shoot water out of their mouths into a large basin below.
Measuring 25 feet and 28 feet on its sides, the sheer scale of the work alone is impressive. What's even more interesting though is that the work appears to be for sale, although no one has confirmed the fact. It's currently owned by hedge fund manager Adam Sender who paid $2 million for it in 2006 and whose curator Todd Levin (of the Levin Art Group) has called it "the most important artwork created in this century so far."
If it is for sale, its price tag is likely well in excess of $3 million - Nauman's auction record is $9.9 million, achieved for his 1967 plaster sculpture Henry Moore Bound to Fail at Christie's in 2001. Very few of Nauman's works have come up to auction and none other than uber dealer Larry Gagosian has been quoted as saying "Nauman's true value has yet to be realised." We urge you to see it while you can. Naturally it's on show at Gagosian 980 Madison.
If $3 million is a little out of your league Bruce Nauman is strongly featured in a number of Phaidon books, including notably Art And Electronic Media. Nauman, of course worked with Tate curator Emma Dexter on a fine installation in the Turbine Hall some years back. Emma, of course, is the author of Vitamin D.