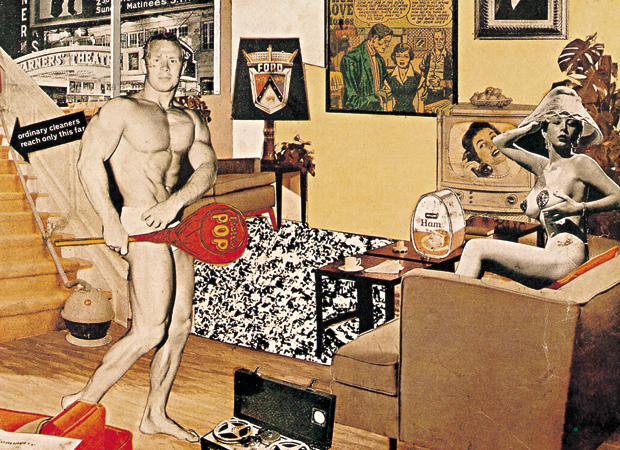 Richard Hamilton – father of Pop Art – 1922 - 2011
"People don't seem to understand that an artist is free to do whatever he wants, and I've always relished that possibility. I do whatever I feel like."
Richard Hamilton, the British Pop Art pioneer has died aged 89. His collage, Just What Is It That Makes Today's Homes So Different, So Appealing? produced for the This Is Tomorrow exhibition of the Independent Group in London in 1956, is considered by critics to be one of the earliest Pop Art works. Hamiliton is widely regarded as having created some of the most enduring pieces of art by any British painter.
René Magritte and Marcel Duchamp were among his close friends and David Hockney and Peter Blake among those he taught and influenced. The musicians of the Sixties all hung out with him. His silkscreen, Swingeing London, shows Mick Jagger (with Robert Fraser of the Indica gallery) in the back of a police car, shielding his face against photographers. Paul McCartney asked him to design The Beatles' White Album, a laminated white sleeve with the band's name subtly embossed on the cover.
He was born in Pimlico, central London, in 1922 and claimed that even as a child he already considered himself a "misfit".
"I decided I was interested in drawing when I was 10. I saw a notice in the library advertising art classes. The teacher told me that he couldn't take me – these were adult classes, I was too young – but when he saw my drawing he told me that I might as well come back next week. I used to follow him round like a dog. He was terribly kind to me, and by the time I was 14 I was doing big charcoal drawings of the local down and outs."
In the early 1950s Hamilton met Nigel Henderson, later a leading light in the Independent Group of artists to which Hamilton would also belong. Henderson introduced Hamilton to Duchamp's Green Box, and to D'Arcy Wentworth Thompson's 1917 book On Growth and Form which, for Hamilton, was to become a key text. Hamilton is widely credited in bringing Duchamp to a much wider audience.
In 1956 Hamilton created Just What Is It That Makes Today's Homes So Different, So Appealing? for the catalogue of This Is Tomorrow, the Independent Group's seminal exhibition at the Whitechapel Gallery. The show was a semi-ironic look at the mass-market imagery of the post-war age and the piece was made up of images from magazines including Ladies Home Journal. The bodybuilder featured in the collage is Irwin 'Zabo' Koszewski, winner of Mr LA in 1954.
The success of This Is Tomorrow secured him teaching assignments notably at the Royal College where Peter Blake and David Hockney were among his students. In the Sixties Bryan Ferry (Roxy Music), John Mark Lancaster (Conservative MP) and Tim Head (artist) were all taught by him in Newcastle.
Who exactly coined the phrase Pop Art is hotly contested. Hamilton always claimed he used it in a letter to architects Alison and Peter Smithson with whom he was in talks to stage an exhibition. "Pop Art," he wrote, "is Popular (designed for a mass audience), Transient (short-term solution), Expendable (easily forgotten), Low Cost, Mass Produced, Young (aimed at youth), Wicked, Sexy, Gimmicky, Glamorous, Big Business."
Recently, he told The Observer's Rachel Cooke: "The letter was not intended as a manifesto - I just listed the things I thought were most interesting. I'm rather bored with it but it's a nice little earner!"
In the 1970s he moved with his second Rita to North End, an Oxfordshire farm where he based his studio. Here his work became more political. In 1981 he began work on a trilogy of paintings based on the war in Northern Ireland after watching a television documentary about the protest organised by IRA prisoners in Long Kesh Prison. The Citizen (1981-83) shows IRA prisoner Bobby Sands portrayed as Jesus, with long flowing hair and a beard.
In 2009 he created a "medal of dishonour" for the British Museum featuring the face of Alastair Campbell, Tony Blair's spin-doctor widely accused of 'sexing up' the dossier that took Britain to war in Iraq. Announcing his death, Gagosian gallery said he'd been working on a major retrospective that will travel to Los Angeles, Philadelphia, London and Madrid in 2013-14.
Author and Observer writer Rachel Cooke was one of the last journalists to interview Hamilton at his home. She's writing a piece for Phaidon.com about her encounter with the father of Pop Art. We'll publish it tomorrow morning.
To hear Hamilton in our Speaking of Art series from 1983 click here.