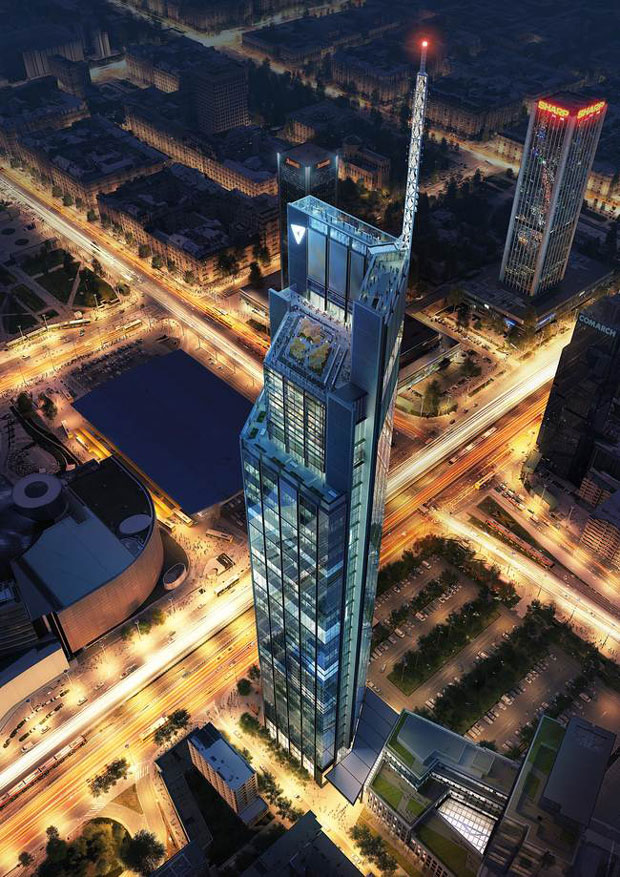 Foster has lofty ambitions in Warsaw
Verso Tower will be Poland's tallest, outstripping Soviet architect Lev Rudnev's Palace of Culture and Science
When it was constructed in 1955 Lev Rudnev's Palace of Culture and Science was not particularly loved by the residents of Warsaw. Built in the 'Seven Sisters' Soviet style it was seen by Poles as unwelcome evidnece of the domination of their Russian masters of their city and it was soon dubbed Stalin's syringe or (somewhat bafflingly) the elephant in lacy underwear. The fact that it towered over the historic part of Warsaw didn't help - the building is still the tallest building in Warsaw, the eight tallest building in the European Union and one of the tallest on the European continent.
But all that is about to change as Warsaw's most central brownfield site is being transformed into a business and leisure destination. The centerpiece will be Foster & Partners' Varso Tower, which has just started on site. At 310m, it will be Poland's tallest building, outstripping Soviet architect Lev Rudnev's Palace of Culture and Science by more than 70m.
Office workers and visitors to Varso Tower will be able to enjoy the tower from one of the highest observation decks on the continent. "We believe that Varso Tower will establish a new destination capable of revitalising this urban quarter, right in the heart of the city," says Grant Brooker, who is leading Fosters' design team in London. Along with the viewing platforms, there will be restaurants on the 46th and 47th floors, and more restaurants, shops, and cafés at ground level.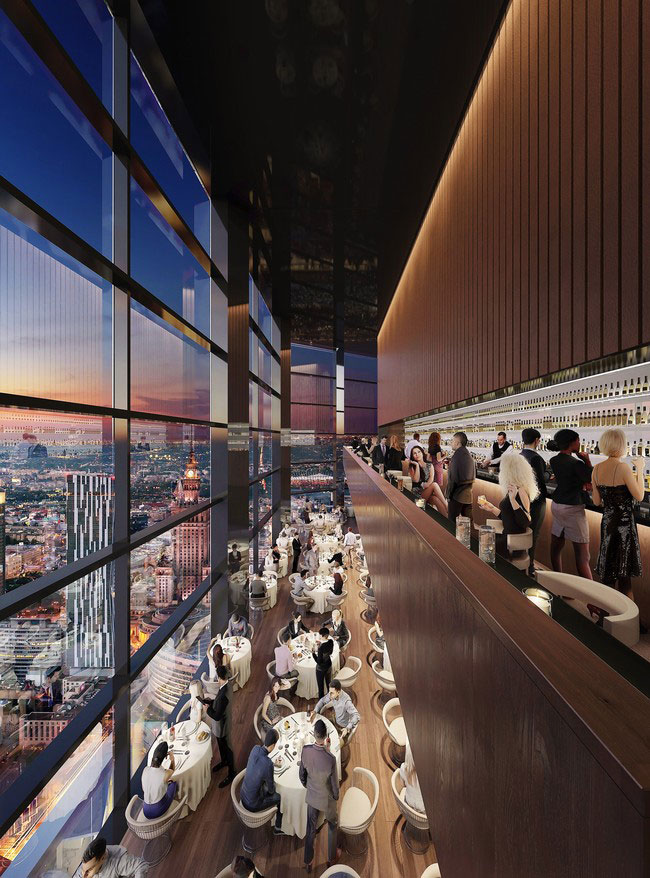 When the 53-storey skyscraper opens for business in 2020, it will rub shoulders with a brace of shorter high-rises by Hermanowicz Rewski Architects, which was established in 1990 as one of the first private architectural offices in Warsaw. The development, by international real-estate developer HB Reavis, is right next to Warsaw's 1970s Central Railway Station, designed by Arseniusz Romanowicz.
As well as accommodating big international companies and smaller start-up businesses, Varso tower will be the flagship HQ for HB Reavis, which was founded in the Slovakian capital, Bratislava, in 1993.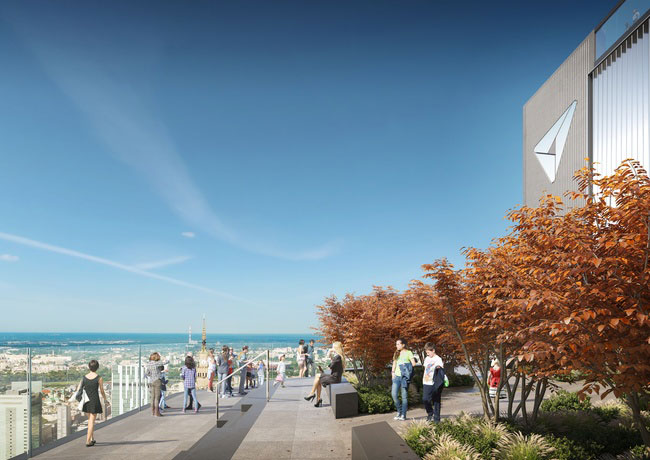 Fosters' other Warsaw offering was completed in 2003. The Metropolitan office development also boasts a significant address. It is on Pilsudski Square, one of Warsaw's most important public spaces and home to the Tomb of the Unknown Soldier and national ceremonial events.
Varso should join the 230m Lilium Tower, which was announced by Zaha Hadid Architects in 2007, and is according to the firm still under construction.
Try our Masters of Architecture bundle featuring monographs on Carlo Scarpa, Mies van der Rohe and Le Corbusier. 20th-Century World Architecture, Jean-Louis Cohen's worldwide history The Future of Architecture Since 1889 and ???The Phaidon Atlas of 21st-Century world Architecture.