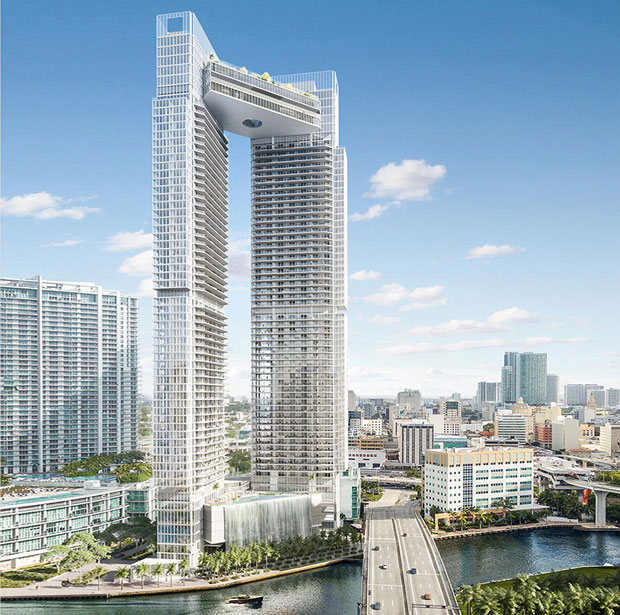 Viñoly joins other starchitects in Miami
Architect's two tower condo, One River Point, boasts skylofts and a skybridge for 'elegantly expensive living'
Miami seems to be boasting more starchitects per square inch than anywhere else in the world right now with big names falling over themselves to design ever-more luxurious high-rises there. The likes of Bjarke Ingels Group and OMA - to name just two of them - have now been joined by Rafael Viñoly Architects.
The New York office has put forward One River Point, a pair of towers for a downtown site next to the Miami River. Rising to 65 storeys, the identical duo will be linked 800ft up by a three-floor glass 'skybridge', which will house a private club. The towers will have a rectangular footplate, and will be angled in towards each other, making the skybridge a triangle shape. Meanwhile at ground level, a waterfall cascades from a cantilever, creating a liquid barrier between the forecourt and the road.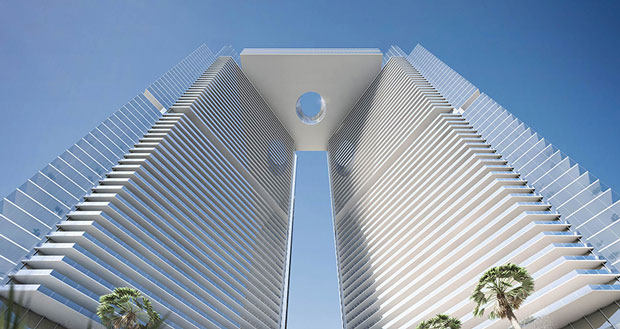 "One River Point will become the skyline-defining statement of Miami's renaissance," claims its developer KAR Properties in New York. The plan is for two 'skylofts' at 800ft, along with an unspecified number of full-floor penthouses. With their high-spec beige interiors courtesy of Viñoly, One River Point promises its residents "elegantly expensive living". The 350 residential units will be surrounded by the standard offerings of such schemes: offices, retail outlets, a hotel, a spa and a multi-storey car park.
Viñoly, who was born in Uruguay and first opened his studio New York City in 1983, is one of three US firms responsible for a trio of upscale apartment buildings slated for a site on Manhattan's Upper West Side district. His 372-ft building will join others by Richard Meier & Partners and Kohn Pedersen Fox on a rare undeveloped waterfront plot, to create the Waterline Square.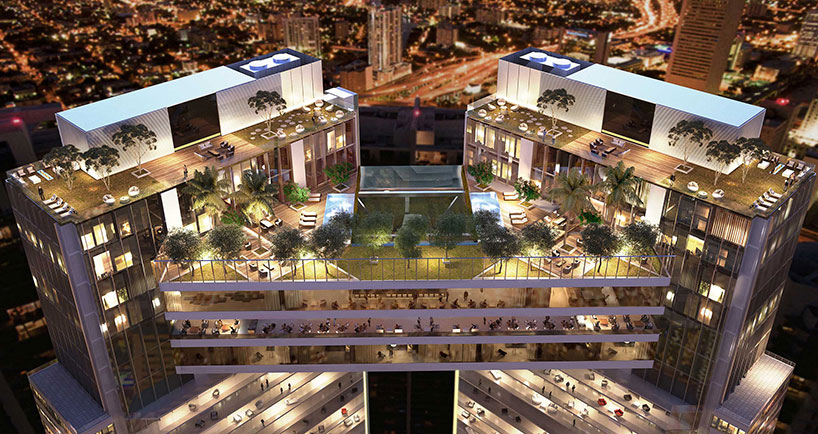 For more classic modernist architecture, pre-order our new book Ornament Is Crime - a cool photobook of the world's best modernist homes with some choice quotes, put together in the style of our previously best selling architecture book, This Brutal World. You can find both of them in the architecture section of the store, along with many other fascinating books on the built world.