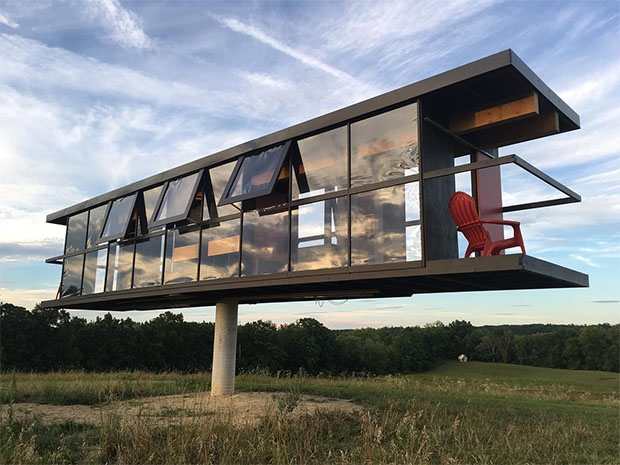 A Modernist house that spins in the wind
Could Alex Schweder and Ward Shelley's ReActor house help you with your domestic relationships?
What would improve Mies van der Rohe's famous Farnsworth House? How about sticking it on a concrete pole and turning it into a piece of "performance architecture"? That's more or less the idea behind ReActor a new experimental domestic space from the US artistic duo Alex Schweder and Ward Shelley. Schweder and Shelley specialise in "performance architecture" and have created this novel, oblong 16 x 44 x 8 ft. (4.8 x 13 x 24 metre) mid-century-style dwelling at the Omi International Arts Center, in Ghent, NY, a two-hour drive north of Manhattan.
The ReActor has running water, a fully working kitchen, and also tilted and spins in the wind. Schweder and Shelley not only designed and built the house, but also occupied it, in five-day residential performance.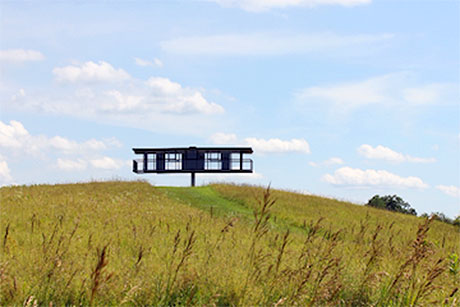 ReActor was built to explore "how constructed environments affect relationship dynamics, and how relationships impact the constructed environment," says Omi.
The artists chronicled their initial experience for the New York Times. According to Shelley the house's movement feels "grand and processional", yet the constant shifting means "you can't find a reliably shady corner for reading." Schweder meanwhile, noticed how ReActor induced a sense of "connectedness with your roommate, through knowing what he is doing and feeling mediated by the building."
Could small, remote, Modernist spinning houses bring us all a little closer together? Perhaps you can find out for yourself when Schweder and Shelley return to their creation on 24-25 September and again on 6-10 October for further residential performances.
For greater insight into beautifully isolated homes get Elemental Living, and for more on this house's predecessors, order our Mies book.