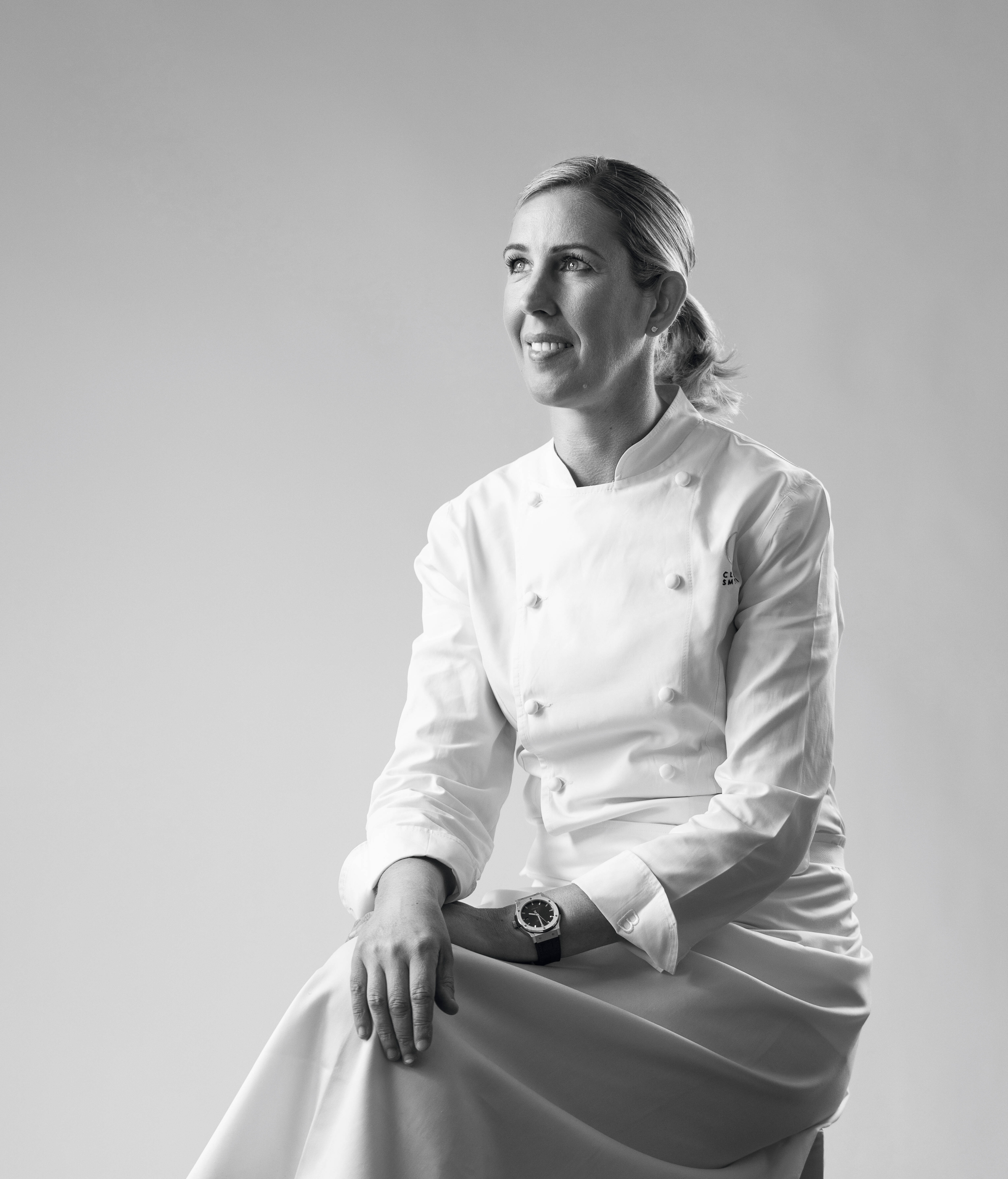 The Core principles of Clare Smyth
The UK's first three Michelin star chef describes her journey from humble Northern Ireland roots to fine dining in Notting Hill and Sydney, Australia
What is the key to Clare Smyth's success? In the introduction to her debut cookbook, Core, her former boss, Gordon Ramsay, offers one explanation. "This woman is relentless," he writes, "she has a drive that cannot be bought or taught."
Ramsay may well be correct. In this interview, Smyth credits no catering college or dynastic fortune for her dynamism, but instead emphasises her upbringing, in a Northern Irish farming family, which instilled the kind of work ethic that has enabled her to become an exemplary patron chef at Core, and one of only twelve female chefs to have ever held three Michelin stars.
Those agricultural roots helped her in other ways. Smyth believes her close, personal relationship with the UK's agriculture has enabled her to develop a menu at Core that draws on that country's best produce, from its seafood to its ancient grains, to its finest potatoes.
In Smyth's childhood home, everyday European recipes, such as lasagne or spaghetti, were eschewed in favour of freshly cooked fish and cow's milk straight from the dairy. In recent years, Smyth has maintained this national focus, and understands how the rich, dark earth of the British Isles contributes towards some of the finest crops, while shellfish that thrive in its waters are widely prized across the globe.
In this interview, she also describes how her restaurant has broken down much of the fustiness once associated with fine dining in the British capital, pairing her menu with such populist aural combinations as Abba and Guns N' Roses, to create a singular restaurant that meets the needs of questing young gourmets in their twenties, and grand dame diners in their eighties.
Smyth also describes the strange economics of haute cuisine; the significant career opportunities afforded to talented cooks; why bullying in the kitchen brigade has gone out of style; and just how many Michelin inspectors made it into Core during the pandemic without her noticing; and why, for her, Champagne and fish and chips is the perfect combination.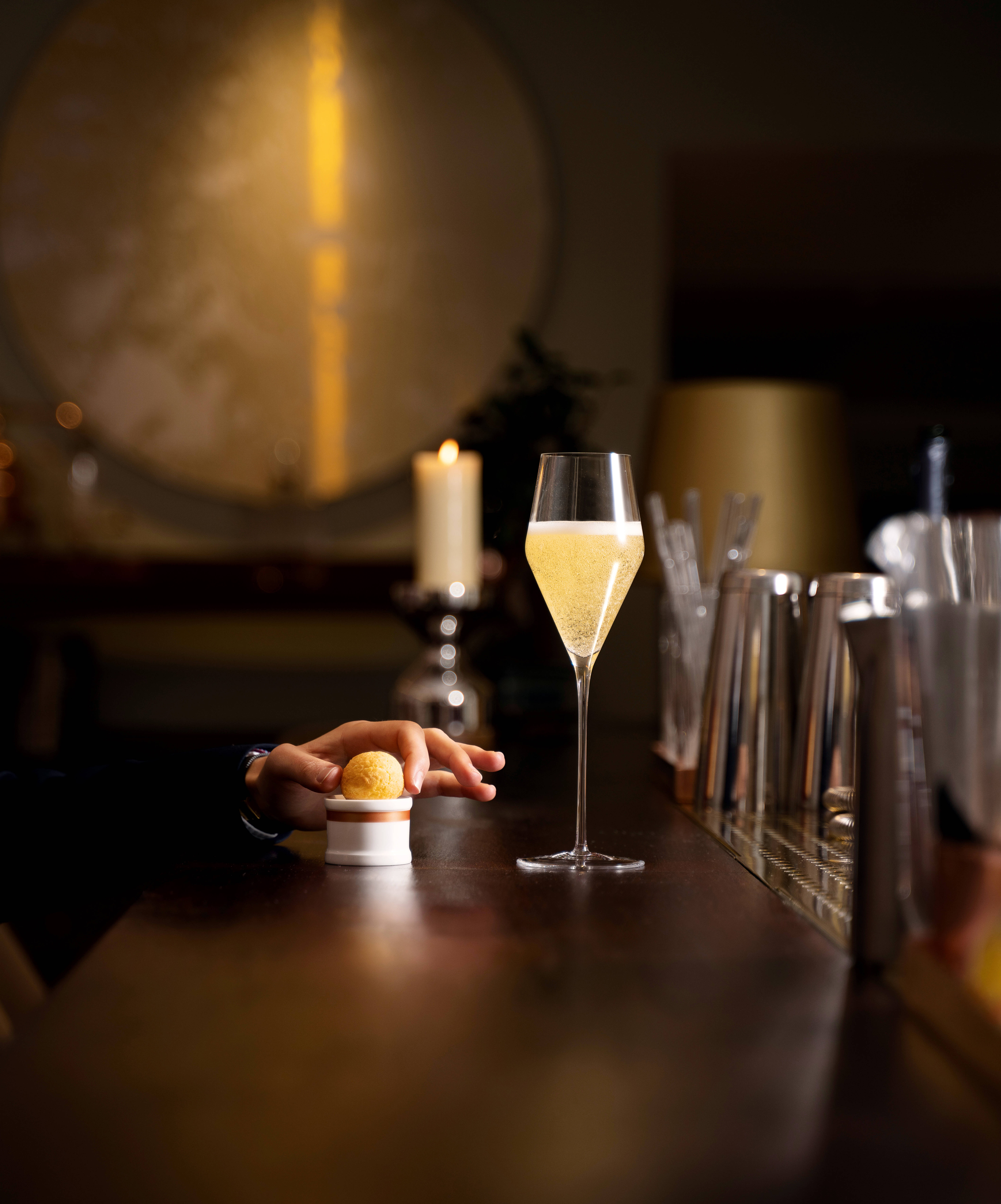 Core Gougères. Photography: Nathan Snoddon
What I set out to do I set out to create a British fine dining restaurant. I had trained with classical French modern European food, but I wanted to think about who I was, my identity. I'm British and I wanted to cook things that were British and look into my culture. I set out to find British manufacturers of plates and cutlery and see what I could find, and I learned a lot on the journey. I went to Stoke on Trent to learn about the potteries and to Sheffield for the cutlery. I found that there are very few factories left and there's a lot of unemployment - they are quite run down and deprived. So, I found one company - 300-years-old - making fine bone china in Britain and set about creating a range of plates with them. It was all about creating economic and cultural sustainability.
Why it's important It is the backbone of Britain. When you go to those areas and when you watch the silversmiths making these things, watch them make the plates and the knives - they are just beautiful skills, and you want to keep them alive. So, I wanted to put my investment there and keep those skills alive. Its' part of what made Britain and we can't turn our back on it, because it makes life beautiful. It's like music, it's not like looking at numbers on a screen. All these different people with these different skills.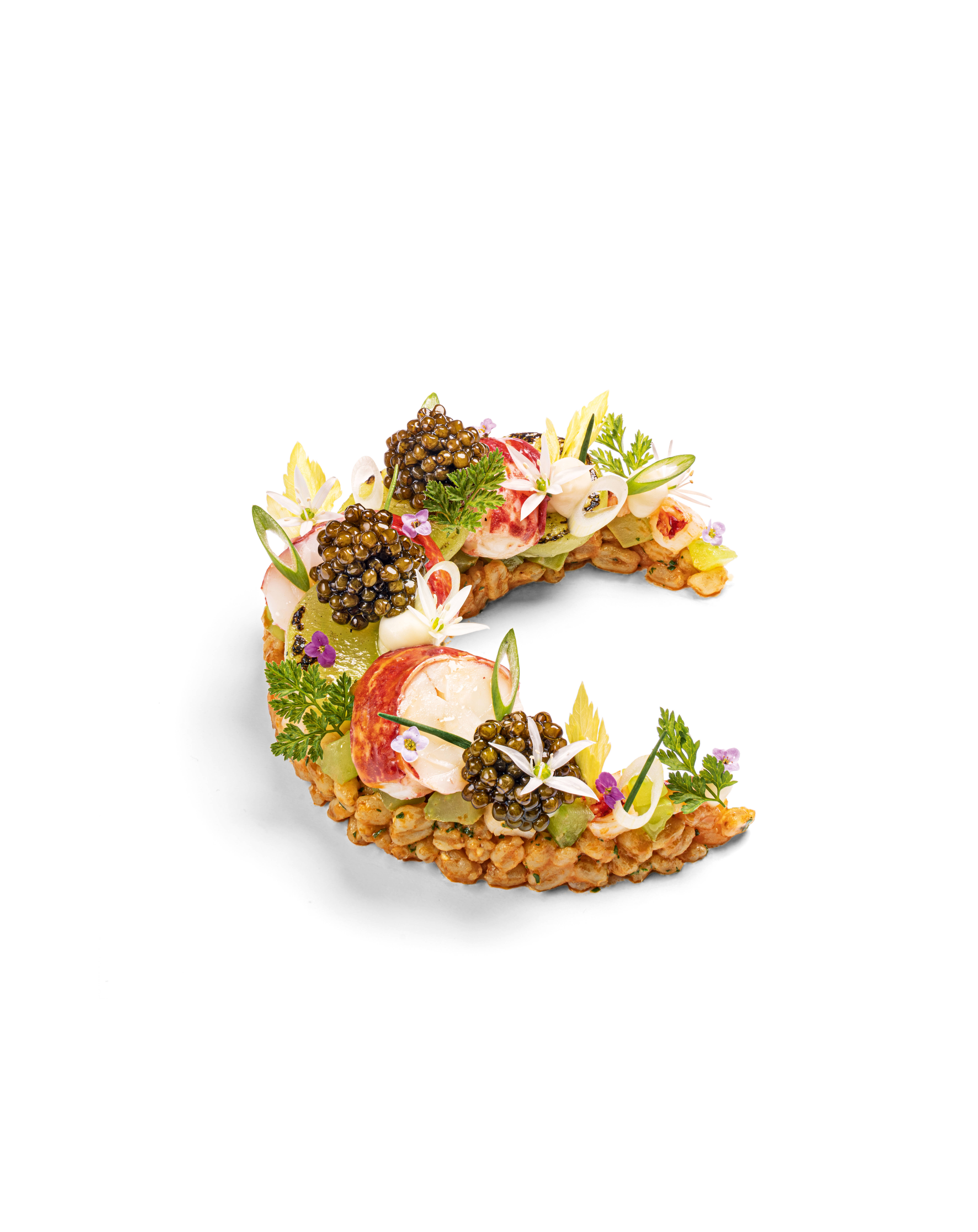 Lobster and Spelt. Fenland Celery, Caviar and Selim Pepper. Photography: Nathan Snoddon
What I learned from mum and dad I grew up in a farming family, which is extremely hard work. It's 365 days a year, all day every day. So I picked up the work ethic and respect for food from my parents. We cooked every day, we never opened a can in our house we had whole animals butchered and put in the freezer, and we'd cook every single part of the animal. I never ate a lasagne or a pasta, it was all hearty, home-cooked food; fish straight out of the ocean and fresh milk from the dairy tank with the cream on top. I never realised what an impact it had on me until much later. When I was 18, I realised that most people didn't grow up like that.
How I found myself along the way Yes, and finding out more about where we came from. It was a journey of food discovery. Learning about how English mustard is made and that there are three different kinds of mustard seeds and why it's yellow. When people come to eat at Core, they know it's a British restaurant with British influences. We do jellied eels and little nods to those nice stories so wherever people come from in the world they sit down and learn a little bit about us.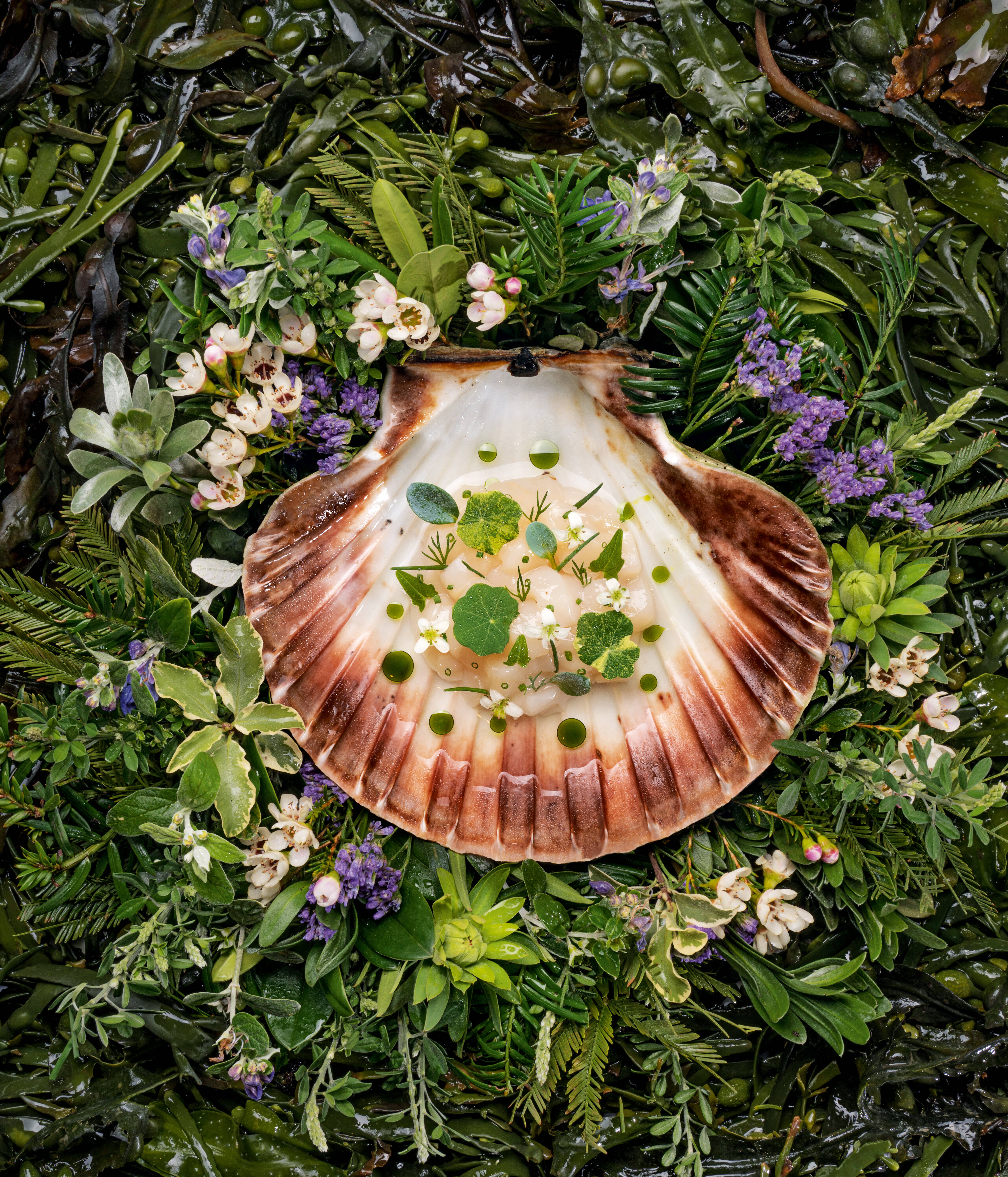 Isle of Harris Scallop Tartare. Sea Vegetable Consommé. Photography: Nathan Snoddon
What people don't often get about British terroir Well for me it's very much the earth and the sea, the thick, black, rich soils of Britain that are so full of minerals from the ocean. It's about the root vegetables that grow in the soil and the influences of the ocean. We are an island and my God do we have the best shellfish! clams, cockles, razor clams, oysters - every little bay has a different flavour. We are incredibly lucky to have the produce we do, and we don't always feel proud enough about it. One of the things that are special about Britain. We have phenomenal venison and beef our farming practices are good we are very lucky to be an island with so much around us.
Older generations used to eat whelks and shellfish and things like that. It's been lost a bit through the generations. Maybe things have changed because people are working all the time and there is a need for convenience - everything is fast now. And with that comes the addictive relationship with bad eating habits that people have now. You can see that in the health of the nation. It's quite shocking. Older generations certainly grew up appreciating what we have around us more.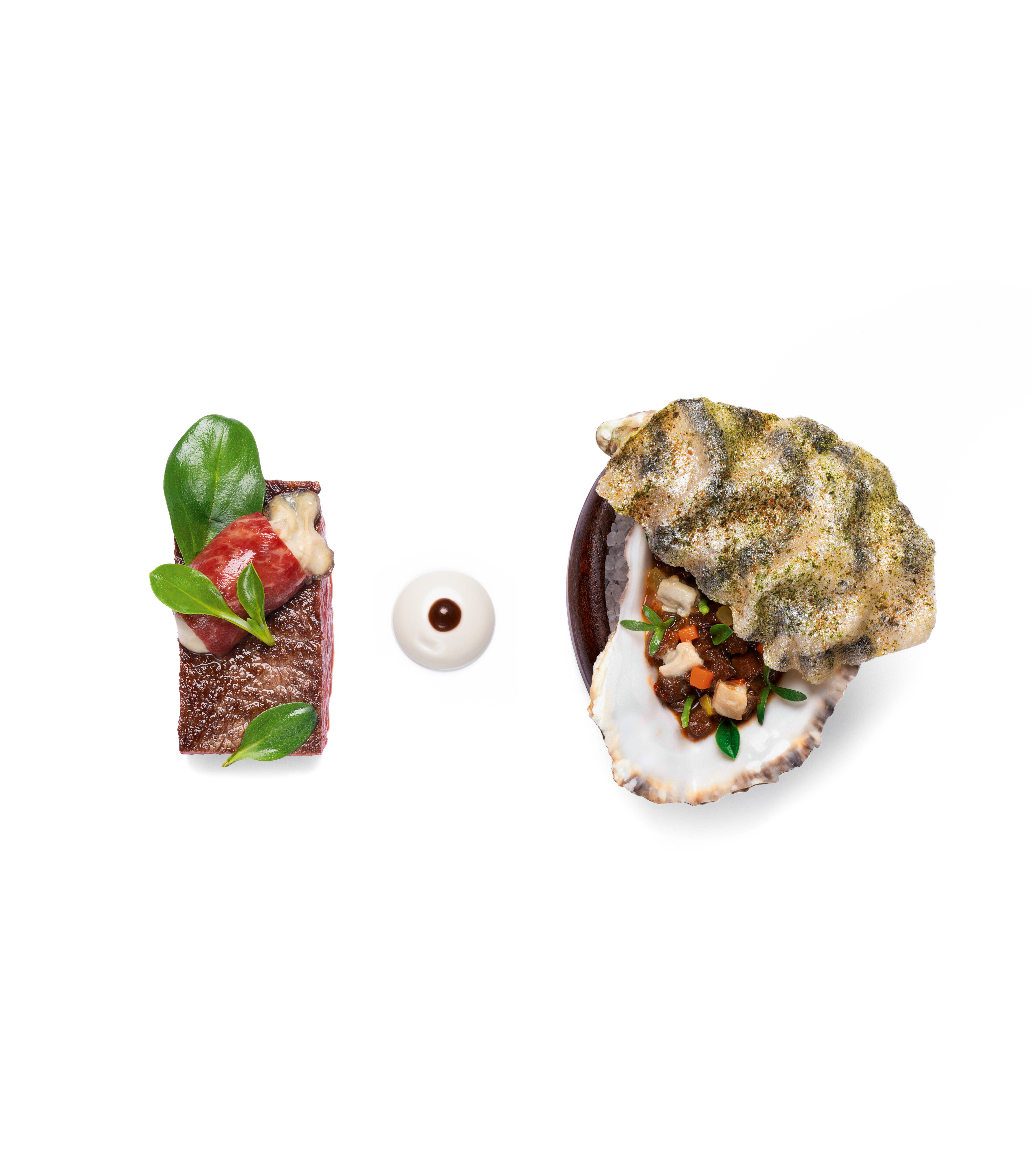 Beef and Oyster. Photography: Nathan Snoddon
Why I like to have music in the restaurant I worked in three star and fine dining restaurants for 15 years before opening Core. I remember creating playlists at Restaurant Gordon Ramsey and we were always looking for something that no one recognised. It was just background music then. The music at Core is different and part of the movement away from fine dining. It's about emphasising who we are. I'm super passionate about my craft and the profession but I want us to be ourselves. I believe in popular culture, I love contemporary art, I love the era in which we live in and whether you're 20, 30, 40, 50, or 60 you probably know and like the same tunes.
That sense of living in the moment is really important and I want to remove the pretentiousness of fine dining where people worry that 'it's not for me, or that they don't know what to wear or how to speak to a sommelier or that they don't know how to pronounce the menu and they're scared. There's no wall in our kitchen, you can see what we do. I like eating beans on toast the same as you do. And when I go into a restaurant I don't know as much as the sommelier does either.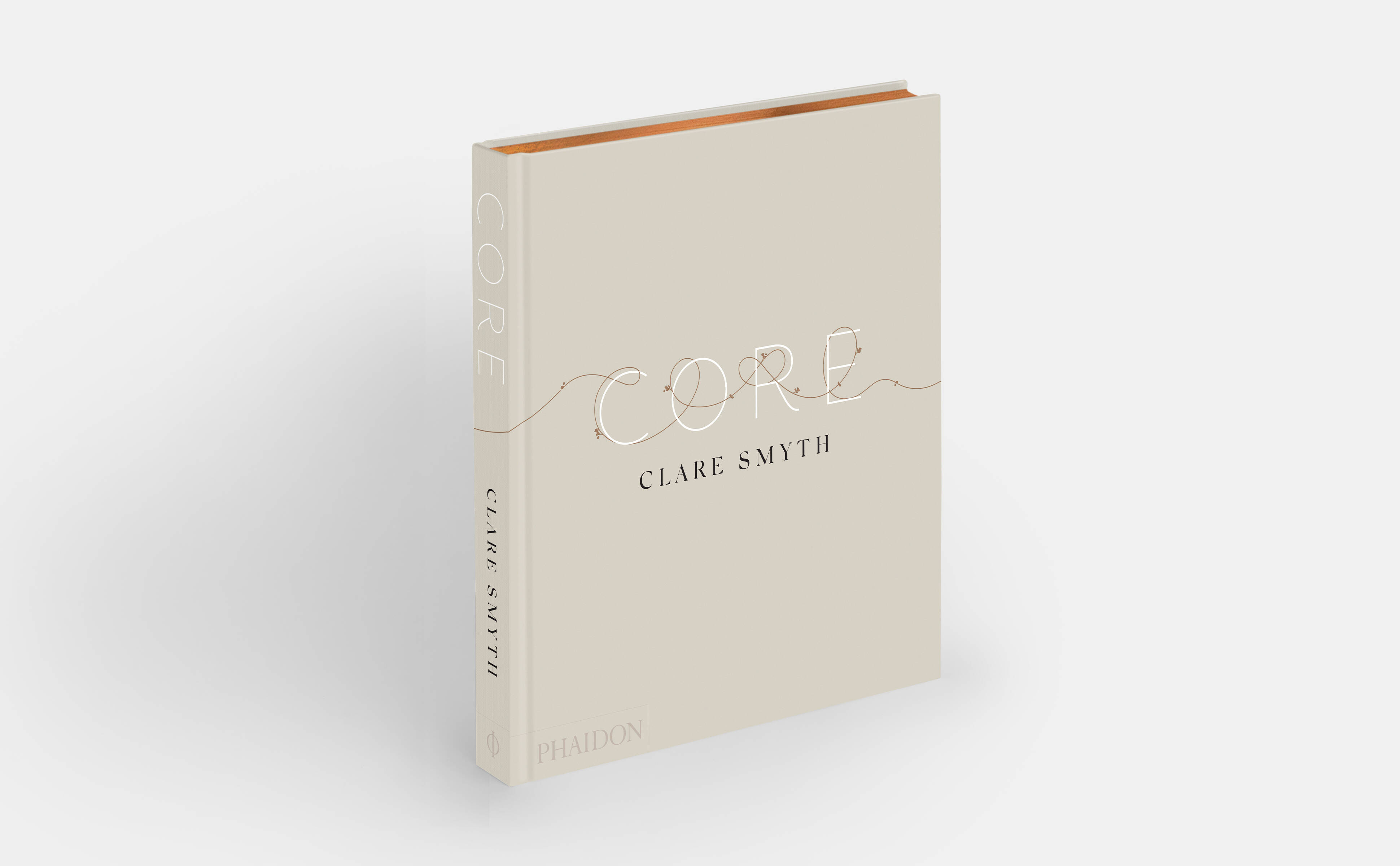 Core - Clare Smyth
So, it's about being who you are and that's where the playlist came from. It's all upbeat, sometimes cheesy, stuff. What's wrong with being cheesy? None of us are really cool in our lives. It depends on what people think are cheese! We have songs like Girls Just Wanna Have Fun by Cyndi Lauper, but we also have songs like Sweet Child of Mine by Guns n' Roses. People were like, 'are they seriously playing that in this kind of restaurant?' There is some Tina Turner and Abba in there. I think restaurants are all about people - the people we serve the producers and suppliers. It's like seeing old friends so when we know a guest loves a particular tune, we like to have it on the playlist. We have an 85-year-old customer who we play Dancing Queen for. And that song reminds us of her.
When we opened it was a little bit louder in the dining room - we played Nirvana one time – and people were thinking, 'what's Clare doing?' because it got quite noisy in there. And so, we've turned it down a bit but turned it up in the bar and the bathrooms.
I'm not really into pop ups I'll do the odd four hands with chefs who are friends normally for a good cause. It's fun. But I'd rather be spending my time in my own restaurant than doing pop ups. I'm into opening more fine dining restaurants and didn't want to do it next door. We planned Oncore for three years. An amazing opportunity came up with an amazing site overlooking Sydney Harbour. Core and Oncore. It's very much from a British approach but with Australian ingredients.
Core. The Three-Star Kitchen. Photography: Nathan Snoddon
I started the Core Academy to make a difference We felt that the industry is lacking skills and knowledge, and it's a complaint all chefs and restaurant managers are always making. These youngsters come out of college with no clue and rather than complaining about it we decided to do something about it. Actually, educate them and commit one day a week to that which became the Academy. Log in classes are on there, we teach them to do power point presentations and set them tasks. It could be to make a classical dish, or it could be the history of the Michelin guide. We're just trying to give them knowledge.
In the brief there is always small training whether it's about a beer or a small dish. If you want to be good, you have to train every day. That training can never stop. We want to create a team of really confident people who know what they're doing. A lot of the stress of the job comes from not knowing what you're doing. And because of that a lot of people leave the hospitality industry.
How eliminating mistakes makes for a calmer kitchen We're much more professional as an industry now. We invest so much more into training. If you go back twenty years, the culture in kitchens was so different. It was a badge of honour that there was bullying. Gordon (Ramsey) became famous for it but to be honest it was all kitchens. It was what it was. We have moved on and we can't keep looking back at those times. As an industry we don't PR ourselves enough. We need to look at what's happening now, and I honestly believe it's one of the best professions to work in. Lots of guys come to us with university degrees. They get paid well, they get their staff meals, their uniform laundered for them; a commis chef starting at 18-years-old is on 28 thousand pounds a year. You can travel the world and go where you want. It's a pretty good job!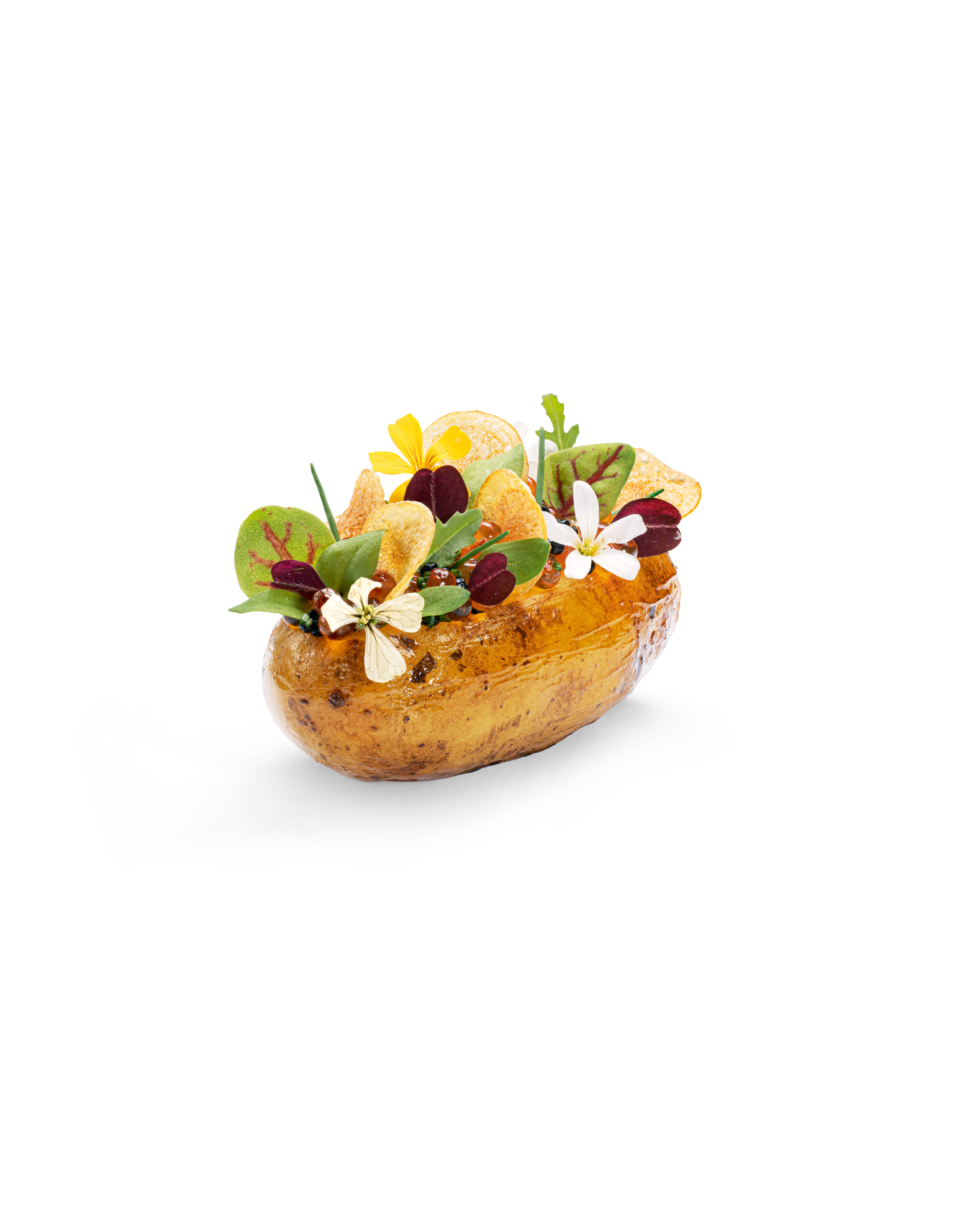 'Potato and Roe'. Trout and Herring Roe and Dulse Beurre Blanc. Photography: Nathan Snoddon
I don't believe in dress codes The worst thing about fine dining used to be the pretentiousness. So, what we want to do is remove the pretentiousness and make it accessible to young people. There are no dress codes at Core. People are so well travelled now, and they've learned that while it may be our culture to dress up to go to restaurants that isn't necessarily the case for everyone everywhere. We had some young entrepreneurs in track suits and trainers in the restaurant the other day. It's super cool I feel really happy that they're coming to Core. Because ultimately we're appealing to those twenty-somethings. They have a different perspective.
A lot of our guests are not interested in cars, they want to spend their money on food and wine. Creating an experience that is memorable for people is what we do. Appealing to a 20-year-old and a 70-year-old is equally important to us. But fine dining is always going to be expensive because the labour is expensive. We have 50 seats and 47 staff and they're all well paid. These people are paid huge salaries because they are the best. And the ingredients we use are the best.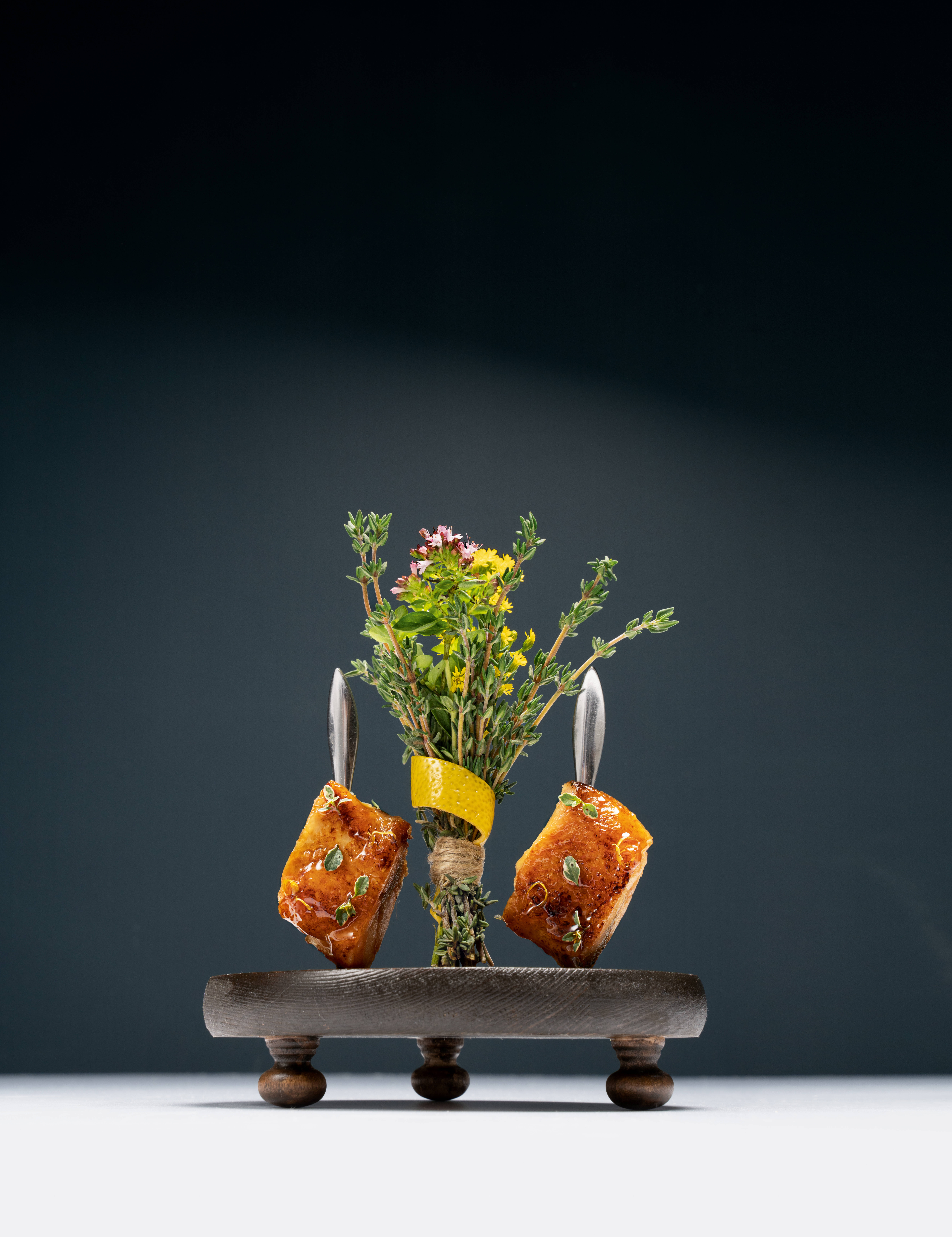 Crispy Smoked Chicken Wing. Beer, Honey, Lemon and Thyme. Photography: Nathan Snoddon
I have my foodie guilty pleasures But I'm so boring, I always go for the same things, especially my local café in Wandsworth where I go for breakfast all the time. Guilty pleasure food for me is salt and vinegar crisps, and I love fish and chips with a bottle of Dom Perignon. I always love that greasy thing with a nice crisp Champagne. I love Scotts. I always have my grilled Dover Soul there, and Bentleys for Oysters. I always sit at the bar.
If I didn't get three stars for Core, I would have done myself an injustice The reason I worked so hard in my career was so I could maximise it. We got the two stars in the first year. We were only two-and-a-half years old when the pandemic hit. I always knew we would just put our heads down and work hard. We didn't have a huge budget to open, but I hoped our work ethic and knowledge would shine through. And luckily it did. It was the weirdest, nicest thing to get it the way we got it. And it was so lovely at the same time. Because it was such a terrible time thing that we were all going through and then something super positive happened that picked everyone up and it felt like we'd got recognised. The inspectors had managed to get in 8 times in that year. I didn't think they had been. They said they had their means and ways. We were in lockdown, so we had a jeroboam of Dom Perignon that someone bought us when we got two stars and we had pizza.