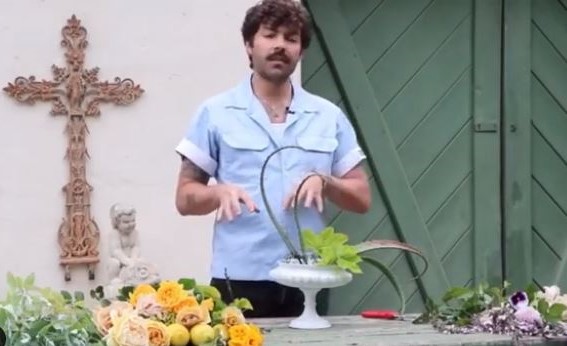 Here's how to make a Putnam & Putnam floral display
In this clip, Michael Putnam builds up a beautifully coordinated display, on location at Rose Story Farm in California
Michael and Darroch Putnam's new book, Flower Color Theory, is without a doubt the ultimate flower-arrangement reference title. Featuring 175 beautifully shot examples, the book shows the the manifold ways in which blooms can be combined in different hues, to create truly brilliant displays.
It's all that you would expect from Putnam & Putnam, America's leading contemporary floral designers, who have supplied displays to Gwyneth Paltrow, Jason Wu and Beyoncé, among other clients.
But the couple don't just write about flowers, they also run workshops and tutorials, and even have their own video streaming service, the Putnam Flower Channel.
In this excerpted clip, posted on their Instagram, Michael Putnam visits Rose Story Farm, a small-scale floral farm in California, and puts together a great, heavily pigmented display. And there aren't just roses in this arrangement, but also citrus fruit, irises and succulents. Watch how he places the fruit at the base of his work, and builds up color blocking with the petals, which transition from pink to yellow.
You can watch the posted clip here, and for more detailed advice order a copy of Flower Color Theory here; signed copies are currently available.