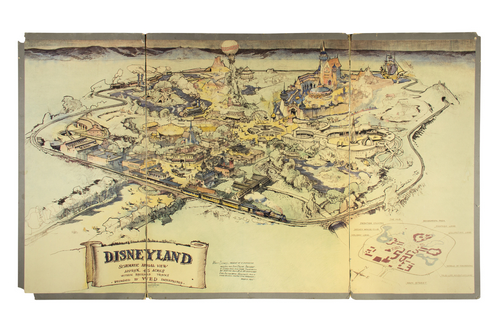 Walt's first map of Disneyland sells for $708,000
Drawn up for an investment pitch, the map bearing Disney's own annotations has just been auctioned in LA
"A map is still something that is best understood when seen as an image," writes John Hessler, Specialist in Modern Cartography and Geographic Information Science at the Library of Congress, in our book Map: Exploring the World, "rather than commented on verbally."
That was certainly the hope when Walt Disney called on his friend and former employee Herb Ryman to help create the first map of Disneyland. The pair drew up the work over the weekend of 26–27 September 1953, prior to a meeting in New York, where Walt's brother, Roy, hoped to win funding for the proposed park.
The map remarkably proved perusasive, winning backing from the American Broadcasting Company. A little under 64 years later, this original map has raised a tidy sum again, after being auctioned for $708,000 (£555,000) at Van Eaton Galleries in California on monday (June 25).
Of course, not everything in this early draft made it into the finished park, which opened in on 17 July, 1955. Commercially available Disneyland maps were created later, by another illustrator and theme-park designer, Sam McKim, as we explain in Map.
"During planning and construction, McKim – himself a former child actor – had drawn inspirational sketches of Disneyland attractions as an 'imagineer', a combination of 'imagination' and 'engineer'," says Map. "Once the project was complete, he made Disneyland maps from 1958 to 1964 as the park developed. The maps were a wildly successful tool in marketing the theme park and increasing attendance."
Today, collectors still prize McKim's maps. However, following this recent auction, Walt and Herb's original work is now the most valuable – if not the most accurate - map of this iconic California theme park.
For more on this map and many others order a copy of Map: Exploring the World here.