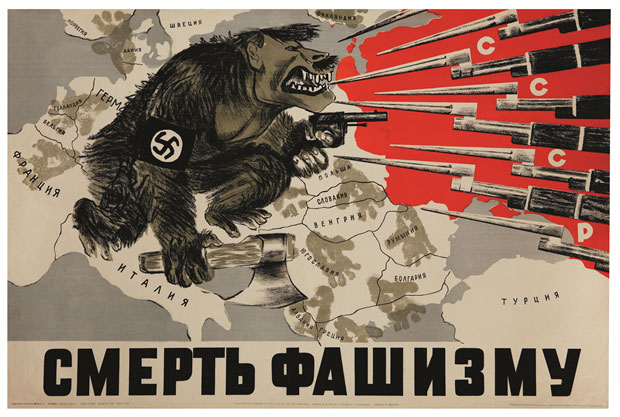 Propaganda gets dirty in Map
Our new book features maps drawn up not to define borders, but to prevent existing ones from being overturned
Map: Exploring The World isn't just an indispensable volume for those interested in cartography but a veritable trove for the general reader – fascinating and informative, ironic, chilling, even hilarious by turns.
One example of the latter is The French Invasion, Or John Bull Bombarding The Bum-Boats, a cartoon map created in 1793 by James Gillray. It was drawn at a time when rumours of a French invasion of Britain were rife, what with France in the grip of revolutionary fervour.
The Brits would be having none of that, naturally. Gillray's map shows England and Wales divided up into its counties, topped by the head of a determined King George III (synonymous with John Bull, the spirit of patriotic Britain). He has assumed the shape of the British mainland in a defiant posture, left knee forth, a right arm made up of counties from Lancashire to Warwickshire looking strong and poised. Along the South coast, the counties of Hampshire, Surrey and Sussex represent George's anus, from which he is defecating copiously on French "bum boats" (small supply vessels), repelling their putative invasion. Xenophobic and scatological in equal measure, this heartily crude "new map of England and France" was designed to boost British morale in nervous times. That such liberties could be taken with the reigning Monarch's image despite this being a fervently Royalist cartoon is indicative of the times.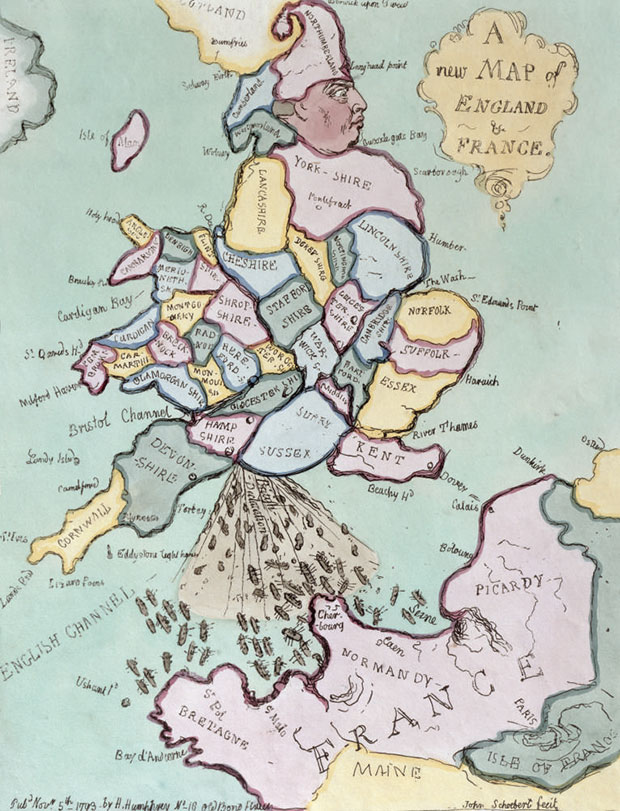 Rather less amusing, though equally striking, is the illustration opposite Gillray's; Death To Fascism, created by Vasilii Vlasov and two fellow Soviet artists in 1941, depicting the unified bayonets of the Red Army repelling a subhuman, snarling, gun and axe-wielding Nazi figure with a Hitler-like moustache advancing from the West, from Germany. Propaganda also but this was no imaginary threat. Indeed, it's an image that inspires terror as well as resolve.
We hope you have enjoyed this insight in to our new book Map. You can find out more about the title here, and pre-order your copy here.