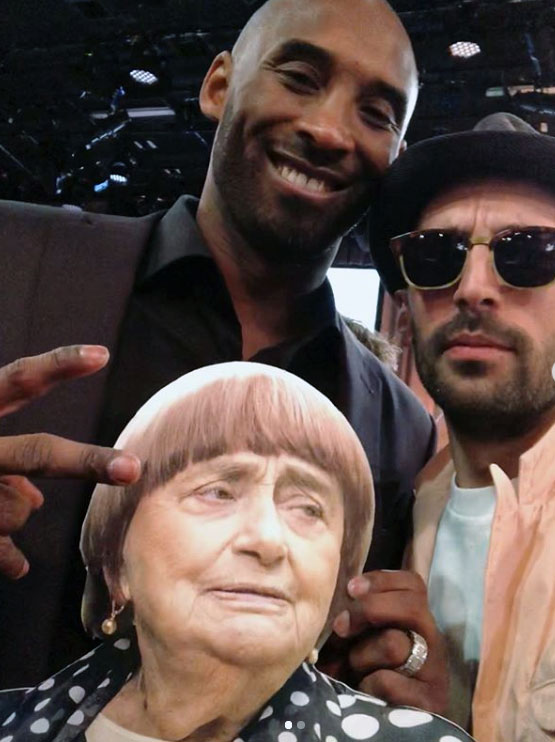 JR remembers Kobe Bryant
The artist and Phaidon author recalls a rendezvous with the sports star, who died in a helicopter crash yesterday
The late, great Los Angeles Lakers player Kobe Bryant will, of course, be remembered for his incredible sporting prowess. However, it was his monetary brush with the movie industry that brought Bryant into contact with the artist, activist filmmaker and Phaidon author, JR.
The two attended the annual Oscars luncheon in LA, in early February 2108. JR was there for his documentary, Faces Places, made with his co-director and fellow nominee, Agnès Varda.
Bryant put in an appearance at the lunch – which brings Oscar nominees together every year for a moderately informal meal, meet-and-greet and group photo – in promotion of his animated short film, Dear Basketball, which the player wrote and narrated.
Unfortunately, Varda couldn't make the trip to the US to attend in person, so JR, ever the inventive artist, brought a cardboard cut-out of his fellow director along to the lunch, much to amusement of fellow guests, Bryant included.
"I don't know what's going on!" the star told the press during the event. "I love this," and added that being among his fellow nominees was "better than all those championships put together."
Since that happy day both Varda and Bryant have unfortunately passed away, leading JR to caption this recent Instagram post, "2 Giants in the city of Angels" both of whom live on in his memory, as well as in ours.
To find out more about JR's work, which is prized by sports stars, movie magnates and discerning gallerists alike, order a copy of our newly updated and expanded book, JR: Can Art Change the World, here.