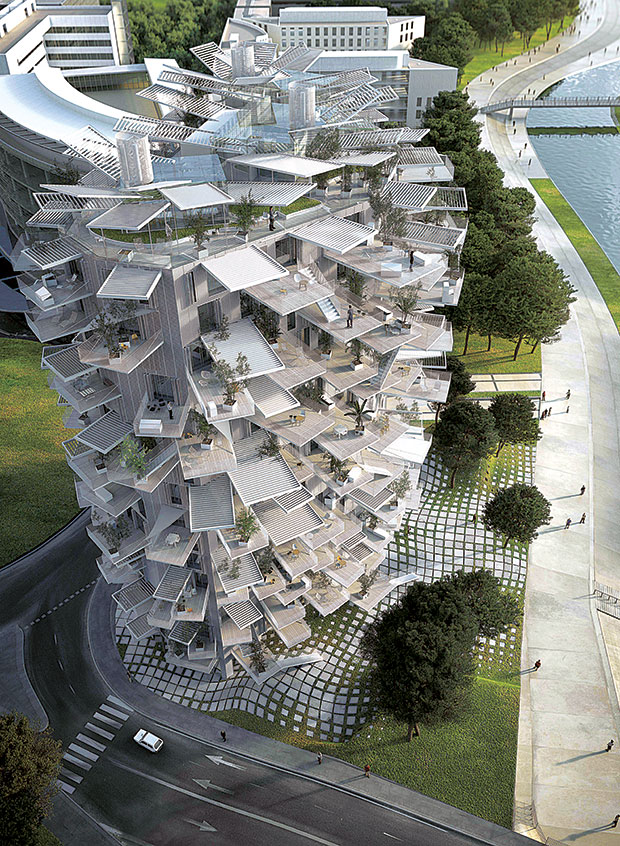 New Sou Fujimoto book explains how he did this!
The balconies on the architect's L'arbre Blanc building in Montpelier have confounded everyone – until now
One of the best things about working so closely with great architects on the monographs we produce at Phaidon is getting first hand experience and insight into how they do the things that we mere mortals marvel at.
A case in point is Sou Fujimoto's housing block in Montpelier, France. When we saw the CGIs for it a year or so back, we wondered how on earth could balconies that deep – that effectively double the floor space of each apartment – possibly become a reality. Thanks to one small section of our great new book with Fujimoto, now we know.
First a little background from the book. Resembling a giant pine cone covered with its characteristic scales, L'Arbre Blanc is a striking high-rise housing development in the heart of Montpellier, France. While the building's unique shape grows organically from the surrounding site conditions, its function seamlessly blends the local lifestyle with Japanese design sensibilities.
Tying past and present together, the entire development is named after the collection of chateaux built by Montpellier's wealthy merchants in the nineteenth century. Organized by the metropolitan government but funded privately, the new buildings are intended to invigorate and update the city.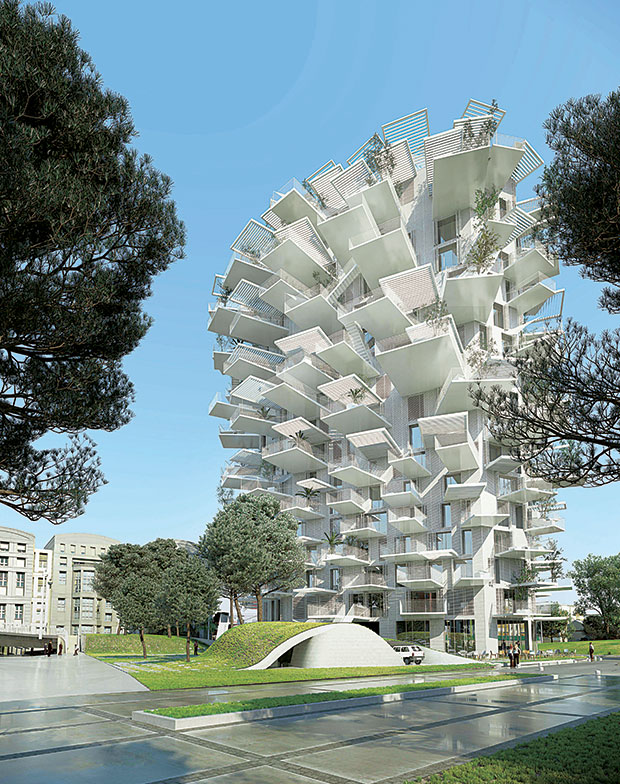 Right from the start Fujimoto and two French practices, Nicolas Laisne Architecte and Manal Rachdi Oxo Architects, agreed that their solution had to prioritize Montpellier's indoor/outdoor way of life. They reasoned that balconies, and lots of them, would be the best way to achieve this.
The architects sculpted a curved form that promotes continuous movement, preserves sight lines from buildings nearby and maximizes views for their client's future tenants. Occupying the bulk of the building, the 120 apartments are spread out over seventeen floors. Ranging in size and orientation, the units were designed for flexibility, enabling individuals to customize their homes.
Each apartment has one or more large balconies that nearly double its habitable area. Ideal for outdoor dining or lounging, they act like open-air rooms, replete with potted plants, storage and Fujimoto-designed furniture. Fanning out in every direction, the individual balconies read as discrete entities but together create the building's distinctive appearance. Becoming progressively larger towards the top, they are positioned to protect privacy and staggered to allow sunshine to reach even the building's lowest levels.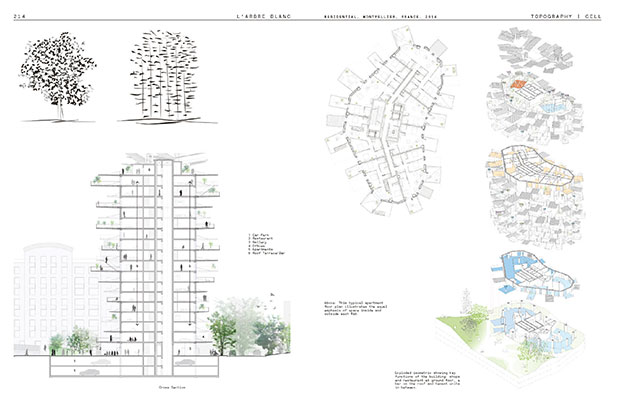 At the same time, the balconies help mitigate Montpellier's Mediterranean climate by sheltering the sliding metal-mesh louvres that cover the apartment windows. Reminiscent of Japanese sliding amado rain doors, these moveable panels double as shading devices for the full-height sheets of glass. In addition to modulating the solar heat gain for each unit, the balconies reduce wind pressure on the entire exterior surface – a considerable concern in a 50 m (164 ft) high building.
Naturally, securing all of these horizontal planes to a vertical volume required some structural creativity. Because of the balconies' deep, narrow proportions, a cantilever system was the logical choice. Made of wooden decking, the platform-like porches are supported from below by slender steel underpinnings and from above by suspended cables. Bothare anchored to the facade's metal substructure, which attaches to the reinforced-concrete columns and beams holding up the building.
Though complicated, this intricate support system was essential for the realization of L'Arbre Blanc. Given its striking shape and prominent location, the apartment tower is in a prime position to become a landmark as Montpellier rebuilds.
More fascinating insight into a great architectural mind can be found in our book Sou Fujimoto in the store now.