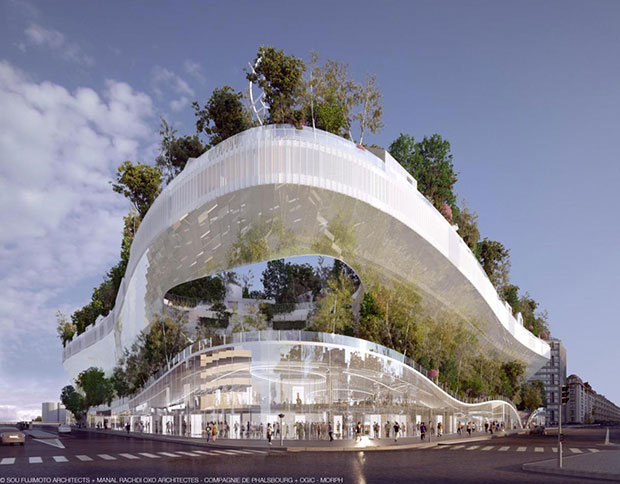 Sou Fujimoto and David Chipperfield reinvent Paris
Fujimoto's Thousand Trees scheme wins one of the 23 sites earmarked for, ahem, root-and branch regeneration
The results of Paris Mayor Anne Hidalgo's city-wide architecture competition to "reinvent Paris" are out, with Sou Fujimoto's Thousand Trees scheme winning one of the 23 sites earmarked for root-and branch regeneration.
Japanese architect Fujimoto – designer of the 2013 Serpentine Pavilion in London – teamed up with Paris firm Manal Rachdi OXO Architectes to beat off competition from high-profile contenders including OMA and Danish practice 3xn. The Thousand Trees scheme is for the site near a ring road in Pershing, which currently houses a car park and bus station.
They will be replaced by a vast triangular glazed structure resembling, from some angles, the hull of a ship. Inside will be 127 mixed-tenure apartments along with a 250-room hotel, restaurants, a large children's centre and a new bus station.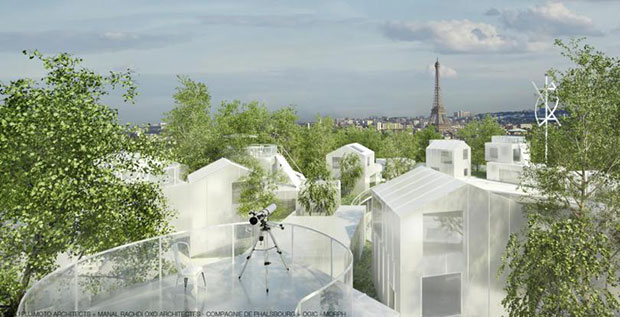 Trees will be planted around the lower and upper floors, and five circular voids are cut through the building, allowing natural light down into lower floors. Fujimoto describes it as "a floating village in the middle of forest, in Paris", and it will make a significant contribution to the city's urban greening.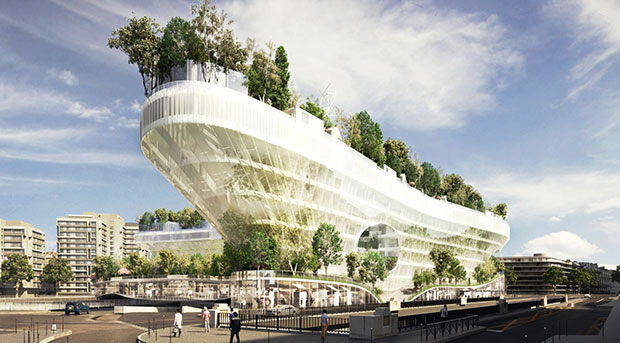 Fujimoto and OXO were not the only ones to push the boat out. David Chipperfield's Berlin office and Danish-Icelandic artist Olafur Eliasson were part of the team to win the Immeuble Morland site. Unsurprisingly, theirs was a more straight-forward concept.
This mixed scheme comprises housing, a youth hostel, hotel, offices, shops and a food market. The architects explain that their design "both extends and opens up the existing structure which was originally built from 1957 to 1964 as a city administration building". On the top two floors, they plan "an inhabitable artistic installation" designed by Eliasson's Studio Other Spaces, housing a bar and restaurant.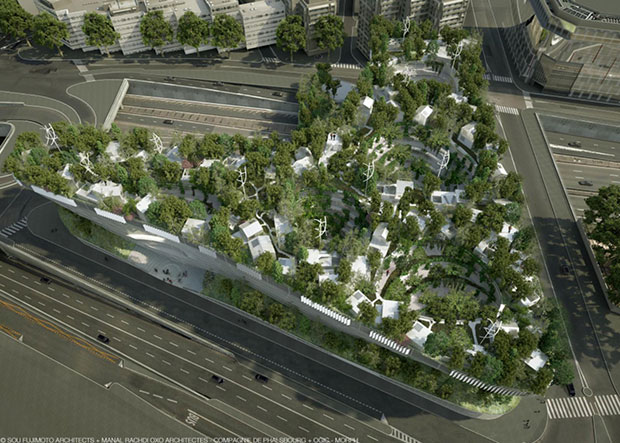 Fujimoto garnered significant international attention for his popular 2013 Serpentine Pavilion in London (he was the youngest architect to receive the highly-regarded commission). he year before he was part of the Japanese team that won a Golden Lion award for Best National Participation at the Venice Architecture Biennale for their design of alternative housing concepts for the homes that were destroyed by the tsunami. Naturally, we have a monograph dedicated to his work available for pre-order now. You can learn more about it here.