New Sufi centre channels Philip Johnson's spirit
This Californian Sufi sanctuary draws inspiration from one of the Pritzker laureate's earlier Islamic-influenced works
When, in 1959, the US post-modernist architect and future Pritzker Prize laureate Philip Johnson was commissioned to design an arts pavilion at the Dumbarton Oak complex in Washington DC, he decided to draw inspiration from the early 16th-century Islamic architect, Mimar Sinan.
Now, 55 years after the completion of the Philip Johnson Pavilion, and a decade after Johnson's death, his old firm has been commissioned to rework the Dumbarton Oak building for an Islamic sanctuary in California.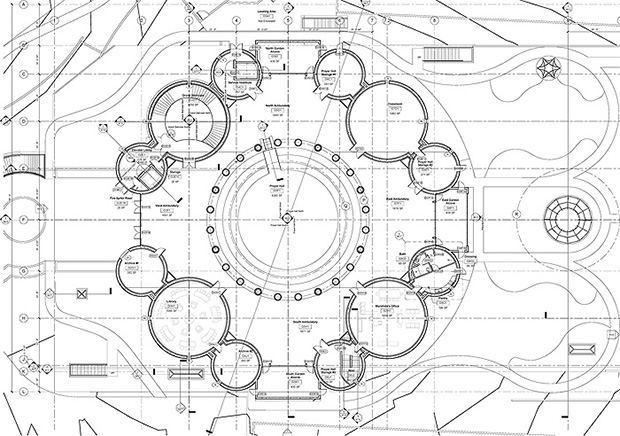 This new sanctuary has been commissioned by Sufism Reoriented, which was set up in the US in 1952 by a spiritual leader from India. Its current leader Carol Weyland Conner wanted a reworking of Johnson's 1959 pavilion, albeit with some changes.
The new building, which has been designed by Alan Ritchie of Philip Johnson/Alan Ritchie Architects, consolidates eight domes in Johnson's original plan into a single central one, surrounded by 12 smaller domes. Ritchie worked with Johnson for 25 years, and seems like the perfect architect to oversee this project.
The building sits on a three-acre site in the residential area of Contra Costa County near Walnut Creek, and in order not to make too much of an impact on its neighbours, two-thirds of the facilities are have been built underground.
The main dome houses the Prayer Hall, which will have eight pillars supporting a central oculus. The poured-concrete structure, finished in white marble, is due to complete next year.
"In all spiritual traditions, the design of a sanctuary strives to be an outward expression, in material form, of the still, sacred space at the centre of the human heart where man is joined with and can know God," Weyland Conner says. "It therefore aspires, first, to be the most beautiful form its creators can envision."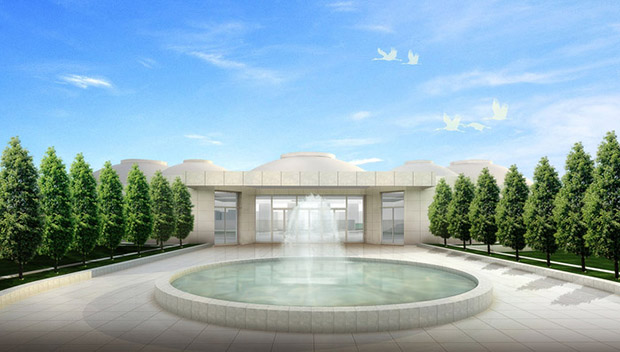 Indeed, spiritual beauty is common requisite for Philip Johnson/Alan Ritchie. The firms' religious portfolio already includes two Texan chapels and a California cathedral.
For more on contemporary architecture sign up for a free trial of the Phaidon Atlas, our peerless online resource. For more on new religious building, take a look at our book Sacred Spaces.