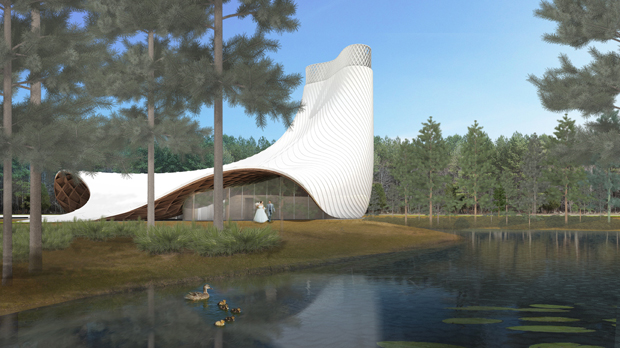 New inter faith chapel points to North Star
Symbolically important Polaris provides focal point for new Florida chapel via giant skylight above wooden spire
Students and staff at the University of North Florida could soon find a divine new building on their campus as there's a plan afoot to erect a nondenominational chapel beside a lake in the grounds.
The concept is a joint effort between California-based architects Brooks + Scarpa and Florida's KZF Design Studio, both of which have bases in the state - one of the stipulations for the competition.
It certainly looks as if the winning design will make the most of the $4.5m budget, as it's ambitiously unconventional in form. The architects liken the shape of their 7000sq ft Interfaith Chapel to the flowing gowns worn at religio-centric ceremonies and events. So rather than creating standard doorways, the building's 'skirts' seem to rise to provide entrances.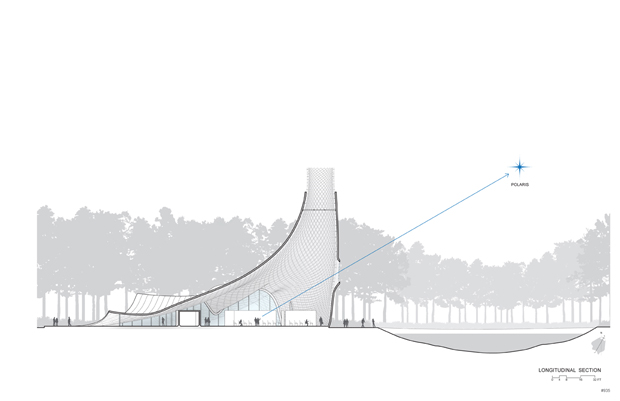 The chapel will also be open to the public and is expected to host intimate events, according to the university. The brief also asked for a place which would "embrace the natural environment in which it is built, by taking advantage of the lake and the surrounding woods".
The architects have answered this directly, by drawing much of their inspiration from symbols and elements of nature. They explain that the symbolically important Polaris (North Star) is a focus of the design, hence the sizeable skylight above a wooden spire.
The position of the skylight is key here, by putting it on a 30-degree angle above the horizon, any nocturnal congregation will get a glimpse of the Polaris itself – weather permitting.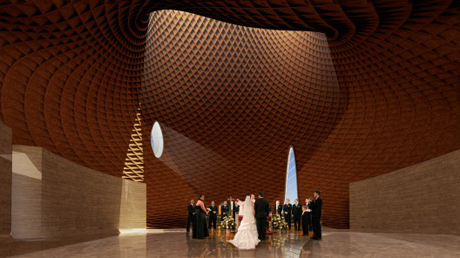 "This direct connection from the sanctuary's interior to an important cosmic symbol encourages the viewer to reflect and forge a deeper and more meaningful understanding of the fundamental, yet delicate relationships that exist between themselves, our collective cultures, the natural world and its vital resources," say the architects.
Inside, light pours down from the skylight onto the main wood-pannelled ceremonial area in the centre of the chapel, and from a couple of other organically-shaped windows punctured halfway up the sweeping tower.
Read architectural photographer Hélène Binet on the religious buildings of Le Corbusier, Look at the churches of Oscar Niemeyer and browse both architects' books in the store.