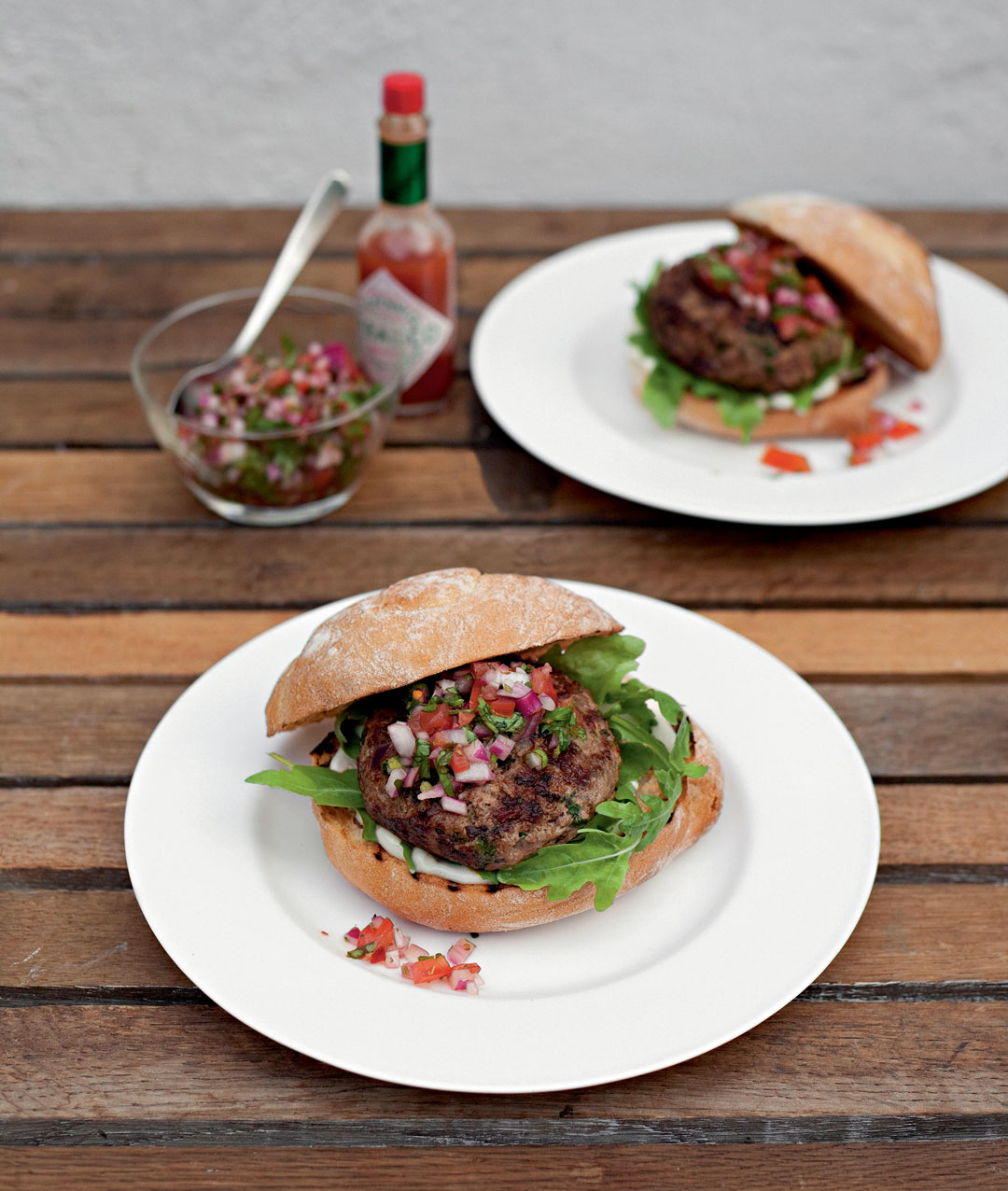 Jane Hornby's Simple & Classic dish for National Burger Day
These chimichurri-style burgers from Simple & Classic add a Latin American twist to the bun and patty combo
The dishes in Jane Hornby's book Simple & Classic will please both adventurous and timid diners. This collection of the very best of Jane's recipes from bestsellers What to Cook & How to Cook It, Fresh & Easy, and What to Bake & How to Bake It, will be familiar to food lovers across the world. These are no-fail guides to making everything from herb-crusted lamb to eggs benedict.
However, Jane doesn't shy away from giving well-known dishes a little bit of a twist. On National Burger Day, we consider her reworking of the classic meat patty and bun combination, as featured in Simple & Classic.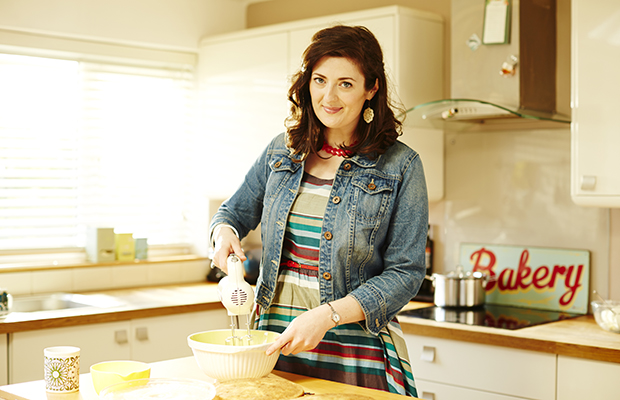 "Chimichurri is an Argentinian marinade or sauce, normally spooned over chargrilled steak," explains Hornby in the introduction to her chimichurri-style burgers. "This recipe takes the essence of the original (lots of herbs, vinegar, and spice), and combines it with fresh tomatoes and onions to make a tasty, spoonable salsa." Here's how you make it.
Ingredients
2 red onions
1 large bunch fresh cilantro (coriander)
1 large bunch fresh flat-leaf parsley
2¼ lb (1 kg) good-quality ground (minced) beef
1½ tsp dried chili flakes
1 extra-large (UK large) egg
4 ripe tomatoes
2 cloves garlic
2 tbsp red wine vinegar
1 tsp sugar
1 tsp dried oregano
1 tbsp olive oil
a few shakes of Tabasco (optional) mayonnaise, salad greens (leaves), and burger buns, to serve salt and pepper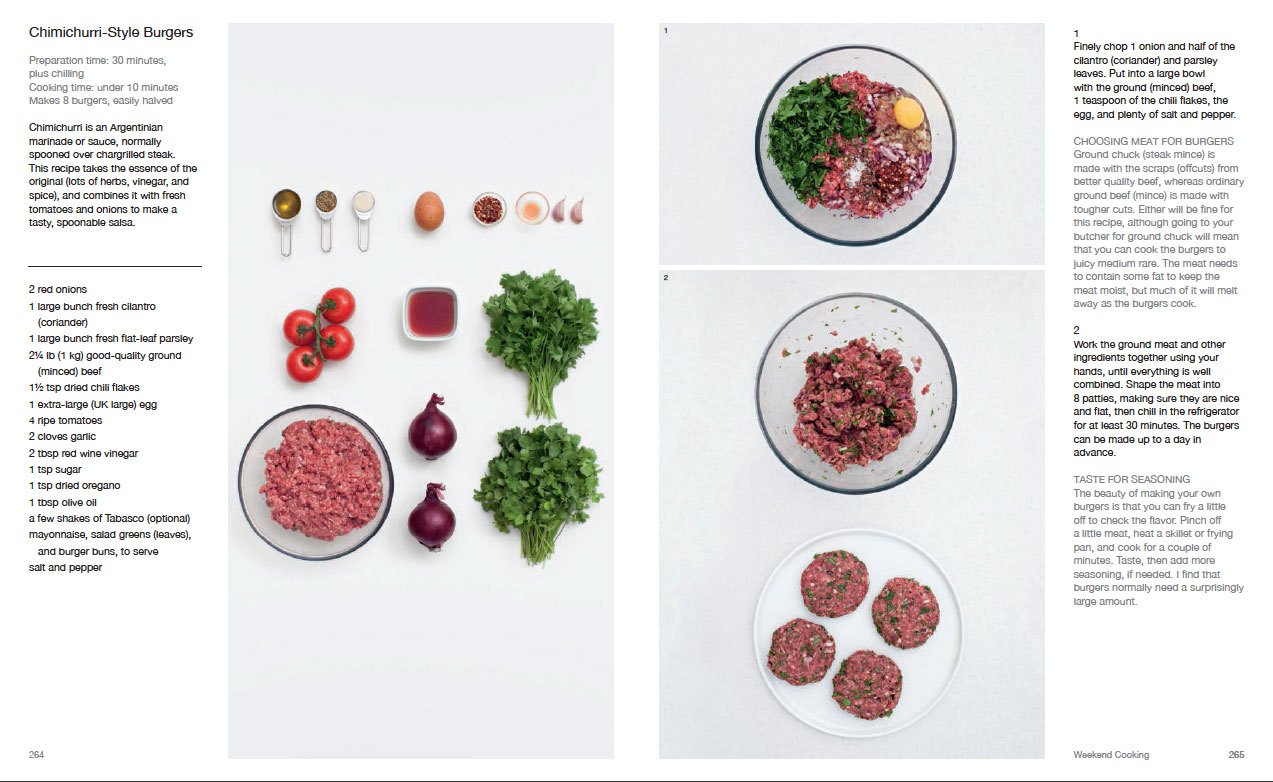 Method
Finely chop 1 onion and half of the cilantro (coriander) and parsley leaves. Put into a large bowl with the ground (minced) beef, 1 teaspoon of the chili flakes, the egg, and plenty of salt and pepper.
Work the ground meat and other ingredients together using your hands, until everything is well combined. Shape the meat into 8 patties, making sure they are nice and flat, then chill in the refrigerator for at least 30 minutes. The burgers can be made up to a day in advance.
Make the chimichurri salsa. Halve the tomatoes, scoop out the seeds with a spoon, then finely chop the flesh. Crush the garlic and finely chop the remaining onion and herbs, including their stems (stalks) if they are soft.
Mix the tomatoes with the garlic, onion, and herbs. Stir in the remaining chili flakes, vinegar, sugar, oregano, oil, and Tabasco. Season with salt and pepper. Although the relish contains lots of fresh herbs, it holds up well and can be made an hour or so ahead. Keep it chilled.
Heat a skillet, frying pan, ridged grill (griddle) pan, or the broiler (grill) until hot. Cook the patties for 2 minutes on each side for medium rare, or 3–4 minutes on each side for medium or well done. Split the buns and toast in the pan or under the broiler (grill), if you like. Top the bottom halves of the buns with a good spoon of mayonnaise and some salad greens (leaves). Add the burgers and spoonfuls of the chimichurri salsa to serve.
For more on this dish, and plenty of others too, order a copy of Simple & Classic here.