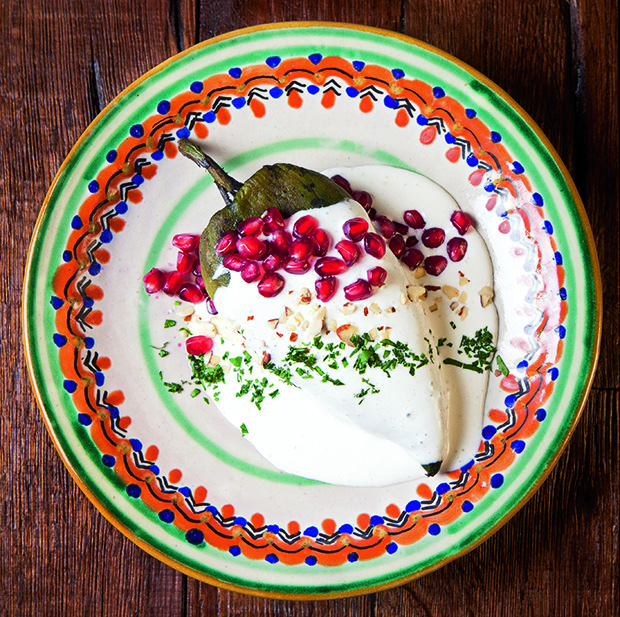 Happy Mexican Independence Day! Now cook this!
It's September 16, so it must be time for Chiles en Nogada - and you can rustle it up with this recipe
Happy Grito de Dolores! The Cry of Dolores, as the phrase translates into English, marks the moment when, on 16 September 1810, the citizens of Dolores Hidalgo in the Mexican state of Guanajuato rose up against the Spanish colonialists, beginning the War of Independence.
Mexican citizens celebrate the anniversary in a number of ways, including tasty expressions of culinary nationalism. Chiles en Nogada or chiles in walnut sauce is the dish of choice for many. Its red, green and white colours match the Mexican flag and the dish was, as legend has it, served to general Agustín de Iturbide immediately after his coronation as the first Emperor of Mexico in 1822.
It is, of course, featured in Mexico: The Cookbook, our definitive Mexican home-cooking guide. Here's the recipe in full.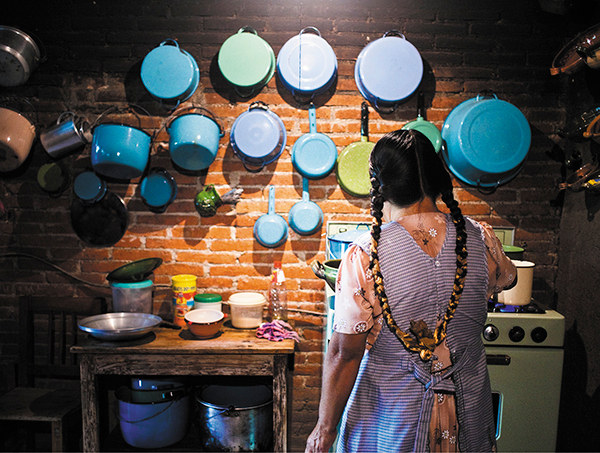 Chiles en Nogada , Chiles in Walnut Sauce. Region : Puebla. Preparation time : 45 minutes, plus 15 minutes cooking. Cooking time : 45 minutes. Serves : 6
Ingredients
30 raisins
4 tablespoons corn oil
1/2 white onion, finely chopped
1 clove garlic, crushed
1 (1-lb 2-oz/500-g) boneless pork loin, diced
3 tomatoes, peeled, seeded, and diced
2 cups (16 fl oz/475 ml) Beef Stock
1/8 teaspoon saffron threads
1/8 teaspoon ground cloves
1/8 teaspoon ground cinnamon
1 yellow apple, cored and diced
2 yellow peaches, peeled, pitted, and diced
1 firm pear, cored and diced
1 cup (4 oz/120 g) blanched almonds, chopped
1 candied citron, chopped
1 teaspoon sugar
6 large poblano or romano chiles, dry-roasted
sea salt and pepper
seeds of 2 large pomegranates, to garnish
1/2 bunch parsley, chopped, to garnish
For the walnut sauce:
1 cup (3 1/2 oz/100 g) shelled fresh walnuts
1/2 cup (3 1/2 oz/100 g) cream cheese
1 cup (9 fl oz/250 ml) heavy (double) cream
1 cup (9 fl oz/250 ml) milk
sea salt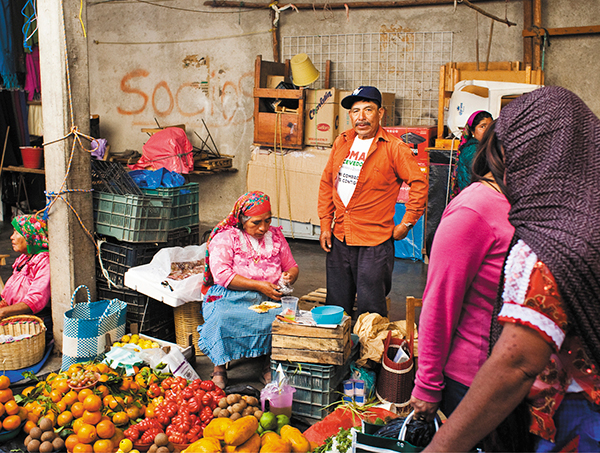 Directions
Soak the raisins in hot water for 15 minutes, then drain.
Heat the oil in a large frying pan or skillet. Add the onion and cook over low heat, stirring occasionally, for 8–10 minutes. Add the garlic. Add the meat, increase the heat to medium, and cook, stirring frequently, for 8–10 minutes, until lightly browned. Add the tomatoes and stock, reduce the heat, and simmer for 15 minutes, until the meat is tender and the cooking liquid has almost all evaporated.
Stir in the saffron, cloves, cinnamon, apple, peaches, pear, raisins, almonds, and the candied citron. Add the sugar, season with salt to taste, and bring to a boil. Reduce the heat and simmer for about 10 minutes, until most of the liquid has evaporated. Remove the pan from heat and let cool slightly. Carefully stuff the chiles with the mixture and set aside.
To make the walnut sauce—a maximum of 1 hour before serving—put the walnuts, cream cheese, cream, and milk into a food processor or blender and process until thoroughly combined. Season with salt. If the sauce is thick, add a little more milk or cream.
Divide the chiles among individual plates and spoon a little of the walnut sauce over each. Sprinkle with pomegranate seeds and chopped parsley. Serve at room temperature.
Order your copy of Mexico: The Cookbook here.