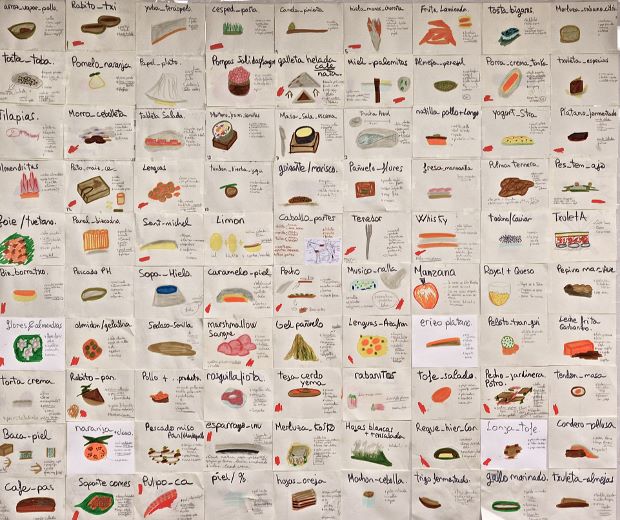 How Mugaritz drew this season's menu
The Spanish restaurant came up with appetizers that disappear and the most delicious cream ever made
We weren't entirely sure what highly creative Spanish restaurants, such as elBulli and Andoni Luis Aduriz's Mugaritz did during their off months. We did know that both establishments shut for a few months during the winter, in order to restore their culinary and creative powers. However, judging by a recent blog post, downtime at the Basque restaurant is less like a formal holiday, and more like a gastronomic art class.
As Aduriz and co explain, "During the four months that Mugaritz remains closed, the main kitchen becomes a hive of buzzing minds and hands." The restaurant's 10 chefs work with a distinct research and development team to come up with new dishes and reshape old ones. Breaking away from the rigour of full service, "the stiffness of everyday work is broken," they write, "we sacrifice perfection in order to gain flexibility."
Some of this flexibility enabled the Spanish restaurant to sketch 81 drawings, capturing, ideas which are then used to create 50 prototype dishes. Of course, such techniques aren't entirely novel. Both Ferran Adrià's elBulli drawings, and his modelling clay shapes, which were used as plating-up guides for the restaurant, have toured galleries across the globe following the restaurant's closure in 2011.
However, it is intriguing to see how a fully functioning restaurant reduces creative expressions to a functional menu. As they explain, "these culinary proposals go through 3 menu rehearsals where Andoni and the front of house staff, sample the new ideas. Each rehearsal is a stage for the new dishes to perform and show if they deserve a place in the new menu."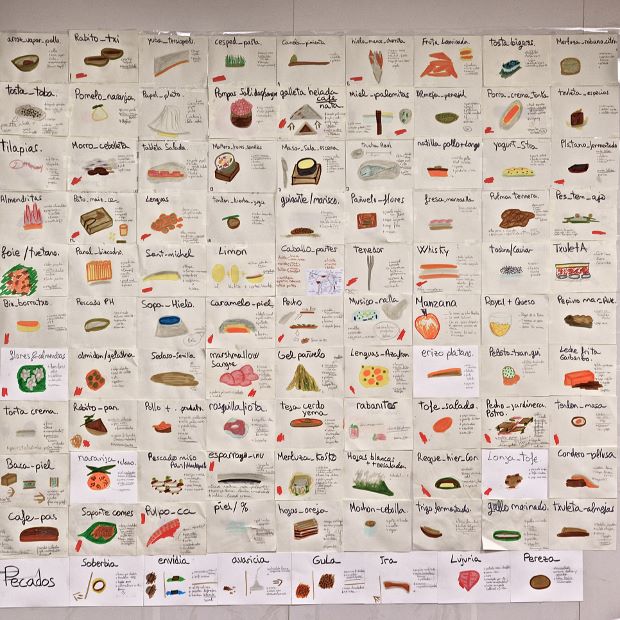 From these 81 sketches, Mugaritz's staff members say they have concocted "dishes that make sound, appetizers that disappear in your mouth and the most delicious cream ever made."
If you've had the pleasure to eat there, perhaps you can see your meal somewhere in this picture. If yu want a richer understanding of one of the world's greatest and most innovative restaurants, buy a copy of our Mugaritz book here.