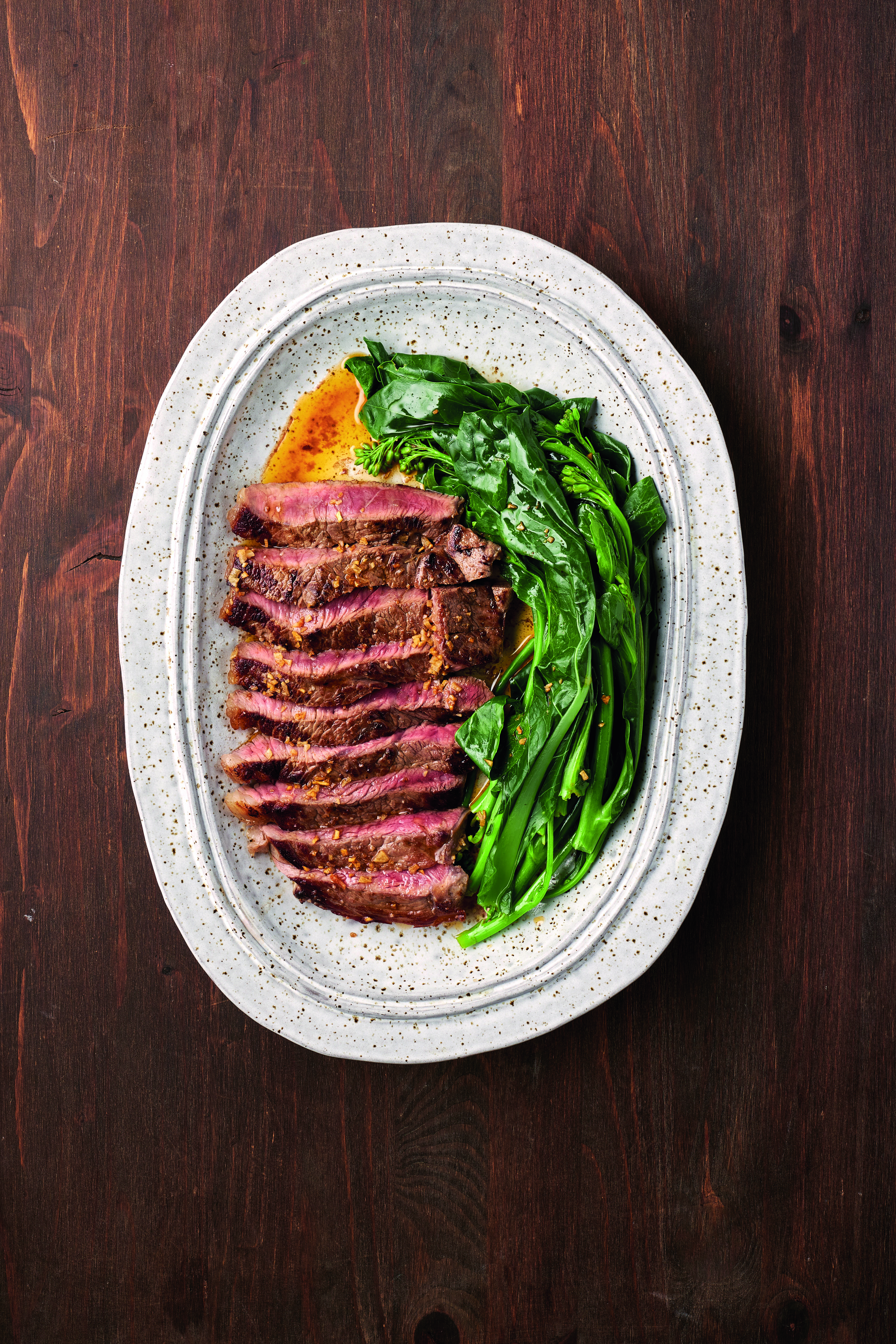 These fresh barbecue recipes are a great way to start the summer
Whether you're marking Memorial Day or celebrating the Queen's birthday, there are many fun, social dishes to try in our new books
Plenty of us enjoy a few days of national holiday at the end of May and the beginning of June, whether we're marking Memorial Day, taking time off on Whit Monday or celebrating Queen Elizabeth II's jubilee.
Are you entertaining, or sparking up the barbecue for your family? Then why not shake up your usual burger-and-salad routine, via our cookbooks? In Portugal The Cookbook, the Portuguese chef Leandro Carreira goes deep on his country's meat-eating traditions, with winning dishes such as Mirandesa steak. The chef writes that this is "a large, juicy, thick tenderloin steak sprinkled with salt and brushed with an olive oil mixture, then grilled over a fire until seared on the outside and medium-rare on the Inside.
"It is usually found in restaurants in northern Portugal, because this cut of meat comes from free-range Mirandesa calves, sourced directly from Trás-os-Montes, which is the only region where this breed is found," he goes on. "The steak is usually served with a side of roasted potatoes and sautéed turnip tops."
To make it you'll need a 720 g/1 lb 9 oz Mirandesa steak (sirloin) or any other good-quality sirloin steak, as well as 120 ml/4 fl oz (½ cup) of olive oil, plus extra for drizzling; 30 ml/1 fl oz ( 2 tablespoons) of white wine vinegar; two garlic cloves, peeled and very finely chopped; a teaspoon of sweet paprika; and some sea salt. If you want to cook the sides too, you'll need 50 g/1 lb 7 oz of new potatoes, unpeeled and left whole; and 1 kg/2 lb 4 oz of turnip tops, bottom stalk removed.
Light your barbecue wrap the potatoes individually in foil and either roast them directly in the barbecue coals for 20 minutes, or until soft. Alternatively, bake them in the oven. Put the olive oil, vinegar, garlic, paprika and a little salt into a small bowl and stir with a fork. This is the sauce for the meat and potatoes. Season the meat with salt then put onto the barbecue grill and cook over the coals for two minutes on each side, or until golden brown and crispy all over.
Meanwhile, bring a large saucepan of water to the boil. Add a pinch of salt and the turnip tops and cook for a minute, then drain and place on a tray or plate and drizzle with some of the olive oil. Arrange the steak in a serving dish with the baked potatoes and cooked turnip tops. Drizzle the sauce over both the steak and potatoes before serving.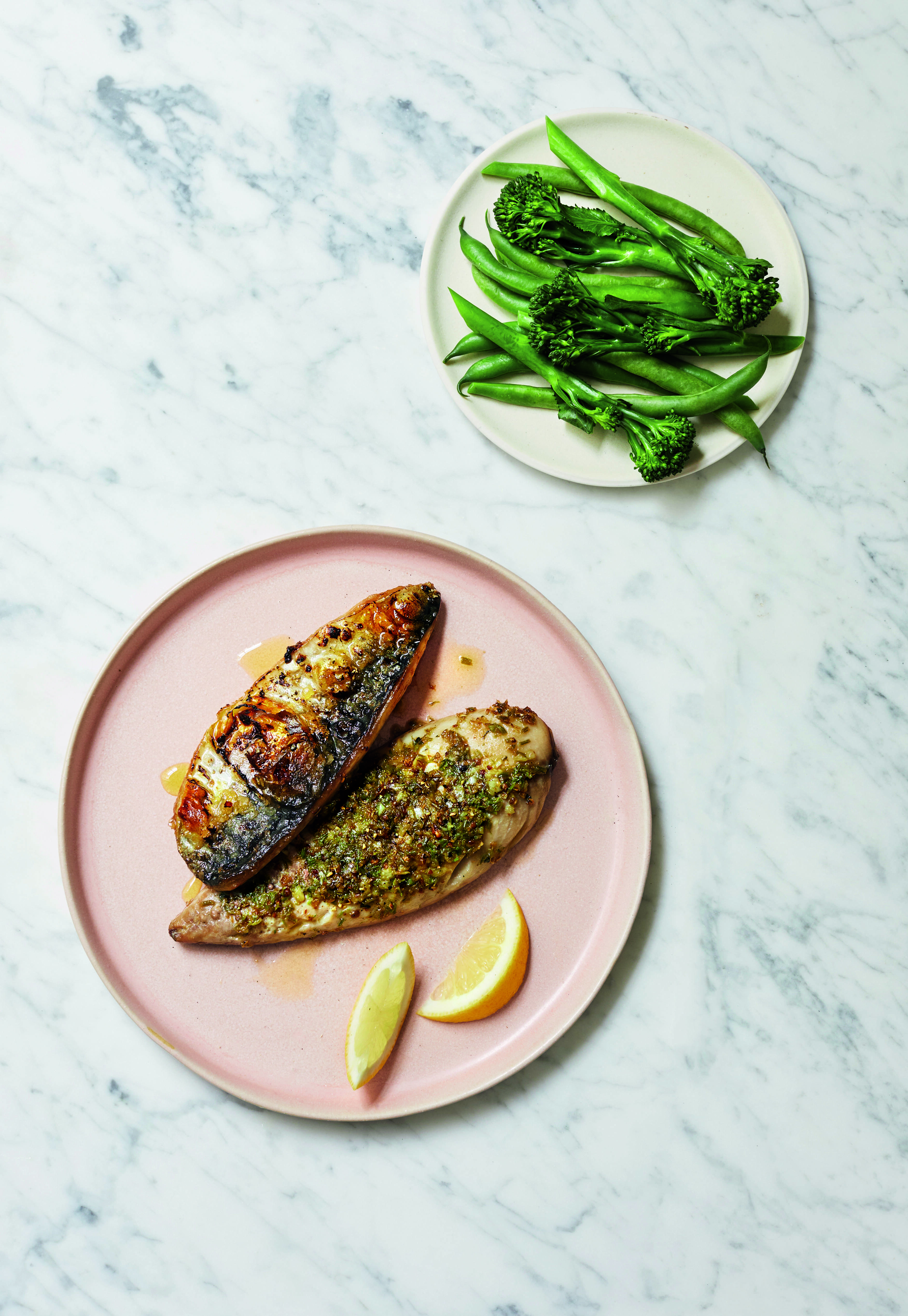 Salt and vinegar broiled Spanish mackerel
For a healthier addition to your grill, turn to The Wellness Principles, Dr Gary Deng's accessible to long-term health, with 100 delicious tried-and-tested recipes for healthy living. Dr Deng is a world-renowned physician, Medical Director of Integrative Medicine at the prestigious Memorial Sloan Kettering Cancer Center in New York, and a pretty mean amateur cook too. His recipe for salt and vinegar broiled Spanish mackerel is packed with omega-3 fatty acids, as well as other nutrients. "Omega-3 fatty acids are anti-inflammatory and good for cardiovascular health," he writes. "Mackerel is high in lean protein and full of flavour."
He adds a teaspoon of coriander seeds and a teaspoon of cilantro (coriander) stems to complement those rich flavours. Aside from those ingredients, you'll also need two teaspoons of white wine vinegar (or distilled white vinegar); two skin-on Spanish mackerel fillets; half a teaspoon of coarse sea salt; four cloves of garlic; four teaspoons of olive oil; and lemon wedges for serving.
sprinkle the vinegar on the flesh side of the fillets, then sprinkle with a quarter teaspoon of the salt. Let marinate for five minutes. In a mortar and pestle (or spice grinder), crush and grind the coriander seeds, cilantro (coriander) stems, and garlic to a paste. Spread the paste on the flesh side of the fillets. Brush a sheet pan with 2 teaspoons of the oil. Lay the fillets flesh-side down in the pan. Drizzle the remaining teaspoons of oil on the skin side. Sprinkle with the remaining quarter teaspoon of salt. Roast until cooked through and the edges of the skin are slightly browned, 10–15 minutes. Dr Deng favours a preheated oven at 450°F (230°C/Gas Mark 8), but a barbecue works well too. Then serve with lemon wedges, if desired.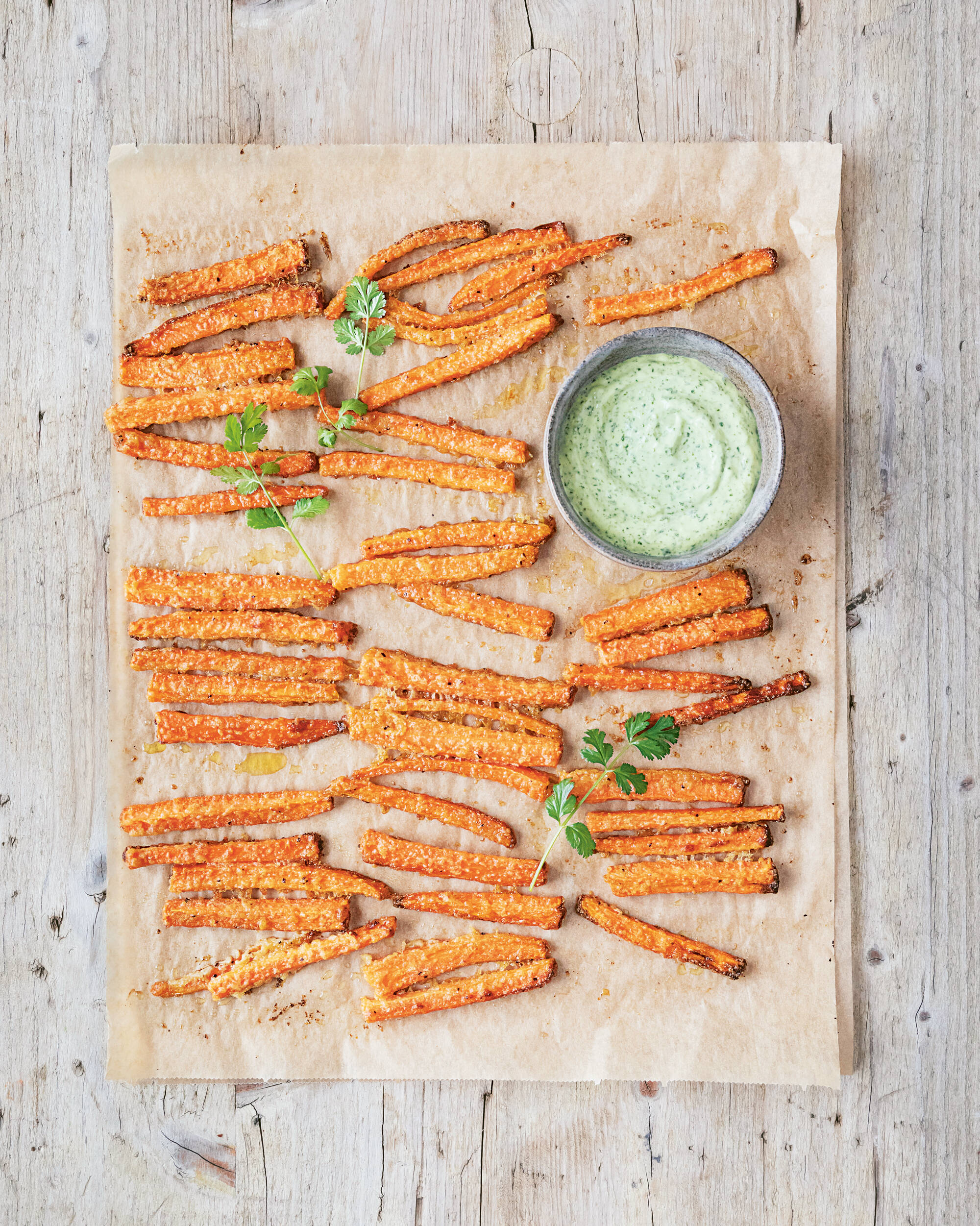 Carrot fries with cilantro mayo
Finally, for a tasty side that suits vegans (but pleases meat-eaters too) try the carrot fries with cilantro mayo recipe from Vegan at Home. "For a change, using carrots or other vegetables when making fries can be fun and unexpected—it is all about the taste and texture," writes its author, the Icelandic chef Solla Ririksdottir. "The tapioca helps the carrots stay firm for the texture; for the taste, the onion powder is the key."
For this recipe you'll need to get together four large carrots; two tablespoons of avocado oil; two tablespoons of tapioca flour; two tablespoons of nutritional yeast flakes; a teaspoon of garlic powder; a teaspoon of onion powder; a teaspoon of sea salt flakes; as well as half a teaspoon of freshly ground black pepper; and a few cilantro (coriander) sprigs, to garnish.
For the cilantro mayo, meanwhile, it's a third of a cup plus one tablespoon (3½ oz/100 g) of vegan mayonnaise of your choice, as well as a quarter cup (1/3 oz/10 g) of cilantro (coriander), very finely chopped; a tablespoon of lemon juice; a clove of garlic, grated; and half a teaspoon of sea salt flakes.
Preheat the oven to 400°F/200°C/Gas Mark 6. Line a large baking sheet with parchment (baking) paper. Cut the carrots into sticks about half an inch (1 cm) thick, and put into a large bowl. Add the oil, tapioca flour, nutritional yeast flakes, garlic powder, onion powder, sea salt, and black pepper and toss until the carrots are coated. Spread the carrots out in a single layer on the prepared baking sheet and roast in the oven for 25 minutes, flipping halfway through cooking.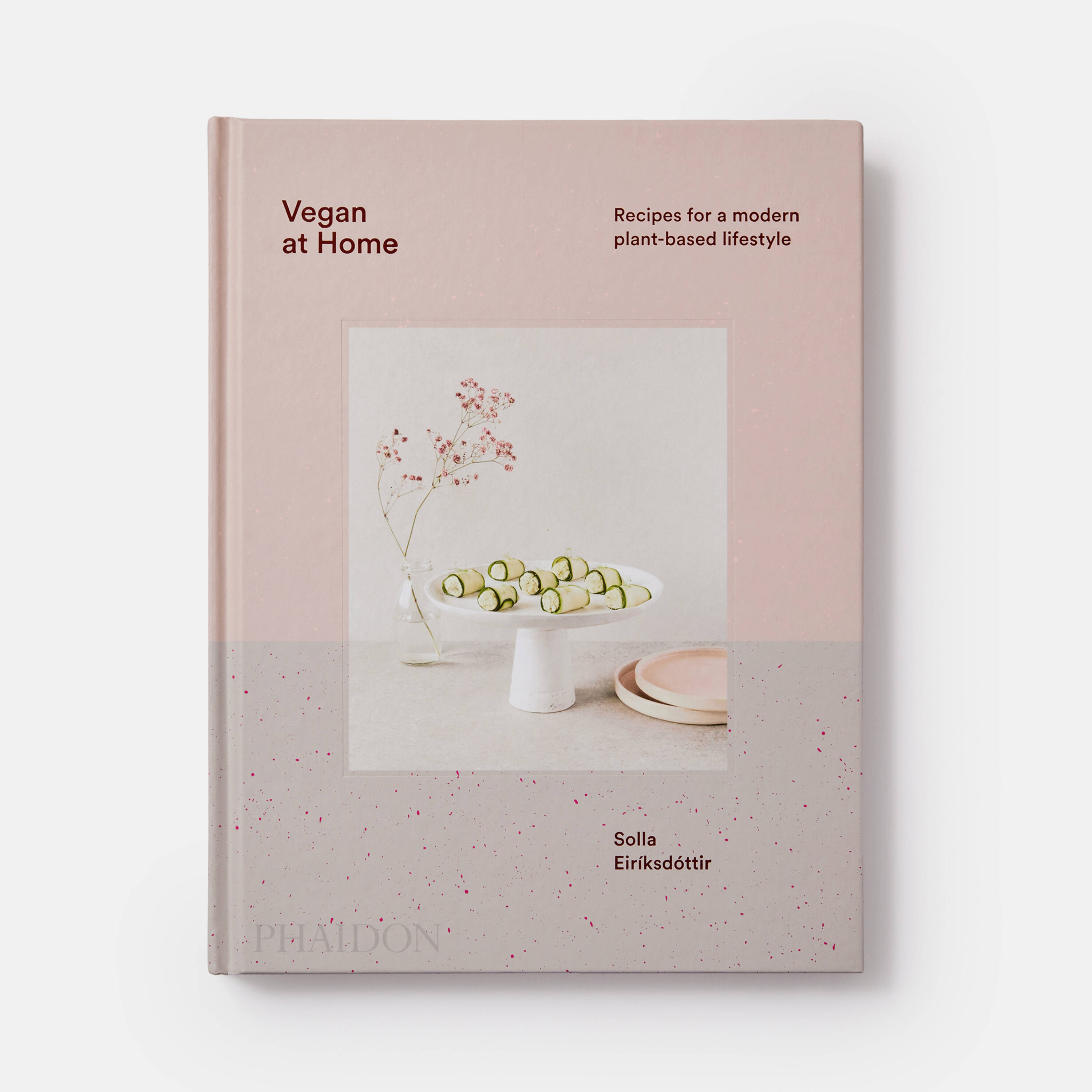 Vegan at Home
Meanwhile, make the cilantro mayo. Put all the ingredients into a bowl and mix together until combined. Set aside. The carrot fries are most delicious when served warm, almost straight from the oven, garnished with sprigs of cilantro (coriander) and with the mayo on the side.
Portugal the Cookbook
You can get Vegan at Home here; order Portugal The Cookbook here; and buy The Wellness Principles here.
The Wellness Principles