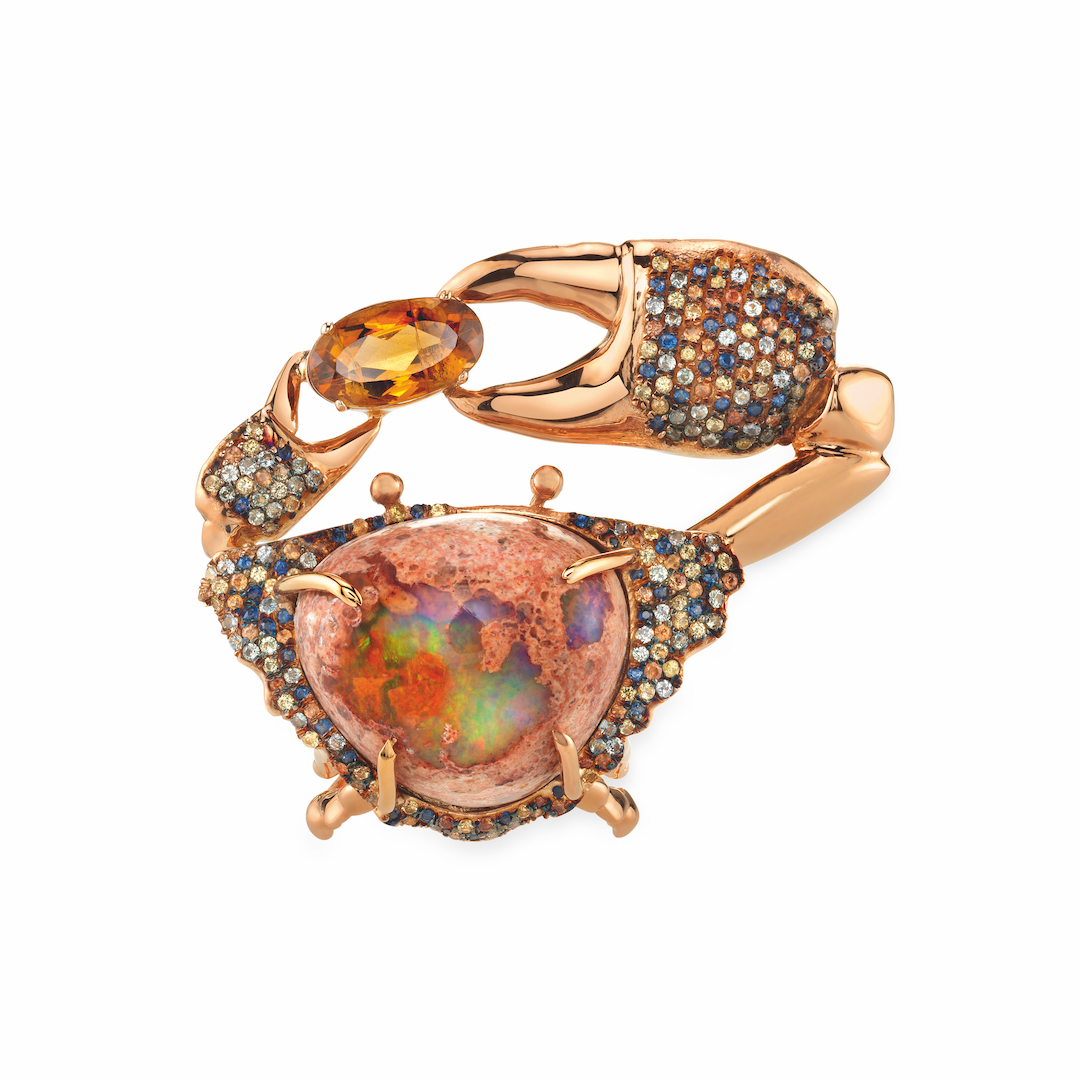 The LA jeweler pairing wildlife with precious gems
Daniela Villegas brings coyotes, crabs and snakes to life in her jewelry, as our new book Coveted explains
Coveted isn't filled with the kind of bijouterie you'd find in your mother's jewelry box (unless you have a very cool mother). Subtitled: Art and Innovation in High Jewelry, this new book is the first comprehensive title to cover jewelry as an art form, and showcases a collection of today's most exclusive jewelers.
Many of those featured in this new book strike put in new, unusual directions, pioneering the use of novel materials or innovative techniques. Others, however, alight on unusual, underexplored design motifs. The LA jewelry designer Daniela Villegas falls into this latter category.
"Beetles and lemurs have rarely been common themes in high jewelry design, but in recent years—as our way of wearing jewelry has become less formal—more unconventional, less romanticized creatures have begun to make their mark," explains author Melanie Grant in our new book. "For Mexican-born Daniela Villegas, bugs are like 'living jewels.' She studies them, collects them, admires the role they play in the balance of the natural world, and dedicates her jewelry to them, believing that they infuse the serious monetary value of her pieces with fun.
"She moved to Los Angeles in 2008 and, with her life savings, created seven jewels in a first collection called Freedom, featuring flamingos with bejeweled bodies and abstract earrings inspired by feathers. However, it was with her second collection, called Backyard and featuring crickets, beetles, and scorpions, that insects began to be seen as her trademark; even the wedding band she designed for herself is shaped like a worm. As her confidence grew, her creatures became bigger, resulting in fish, eels, crabs, shrimp, lobsters, and sea urchins. Visits to Peru inspired alpaca designs, then in the Chromatic Paradise collection Mexican coyotes and snakes materialized.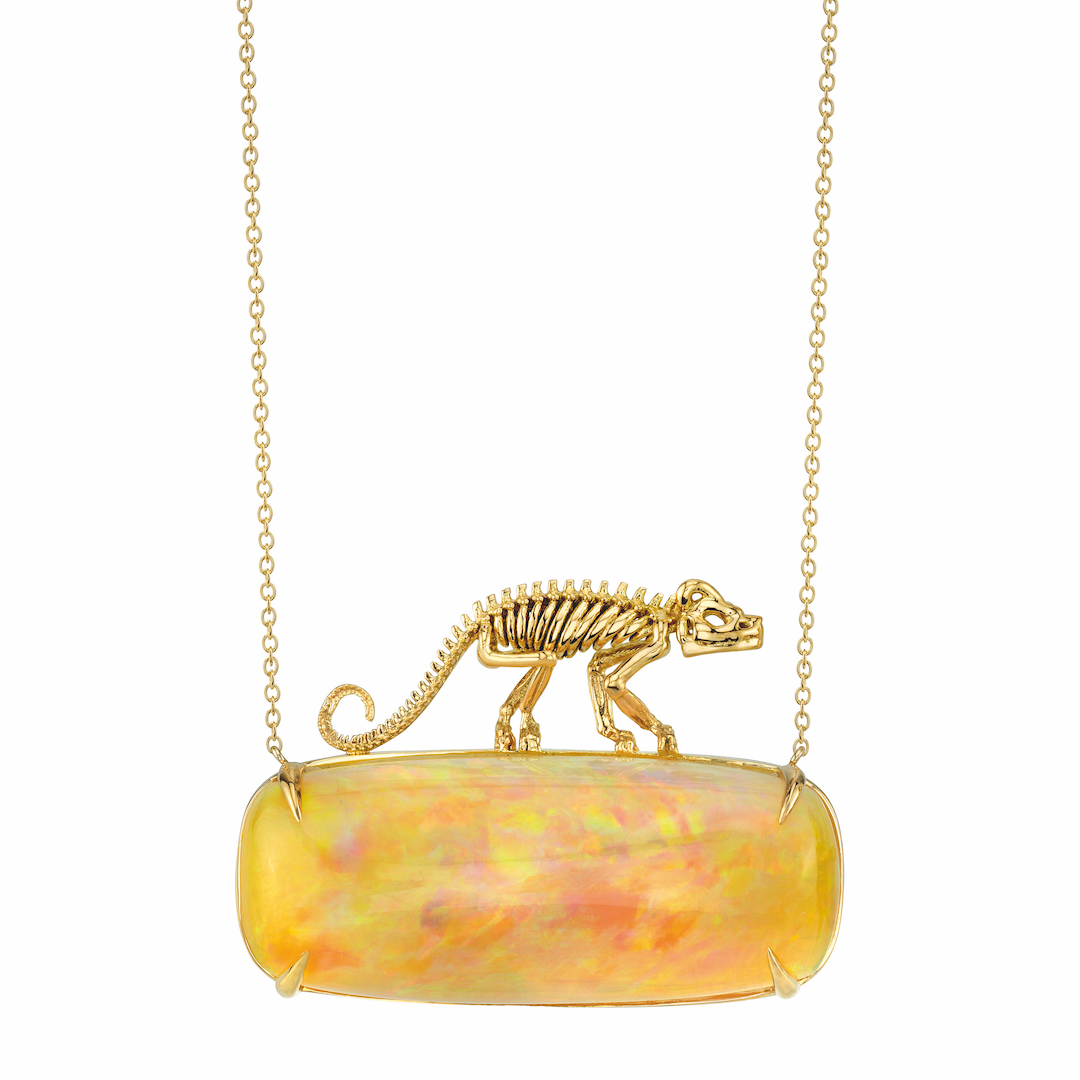 "In 2018, for the twenty-fifth anniversary of the movie Jurassic Park, she collaborated with NBC Universal on a series of dinosaur pieces that included a pair of earrings with T. Rexes astride chunks of Montana agate and another with a triceratops balancing precariously atop a couple of South Sea pearls.
"Her Grannus crab ring [top] with its oversize claw has a watery Mexican opal clinging to its back as it scuttles up the arm looking for a home; the Victoria earrings have an almost ancient Mayan vibration, combining bullets of striped agate and knobbly opal beads. The Sunset Chameleon necklace [above] with a grinning golden skeleton balanced on an opal lozenge is genius and illustrates the childlike delight that Villegas captures in a world of serious grown-up jewelry design. She dreams them first, her wild world of animals. They come to her naturally, without judgment, at night, then she sketches, sometimes adding watercolours before casting her designs in wax.
'"Not everything needs to be hard or complicated,' she says. 'Think about it too much and the piece becomes robotic and manipulated.' When she's not making, she is adding to the four thousand-strong collection of insect specimens that forms the basis of her design universe. The stag beetle is still one of her favorites, because of its strength and fortitude. In many ways it reflects her mantra in life: be patient, follow your own path, work hard, trust in the process, and believe."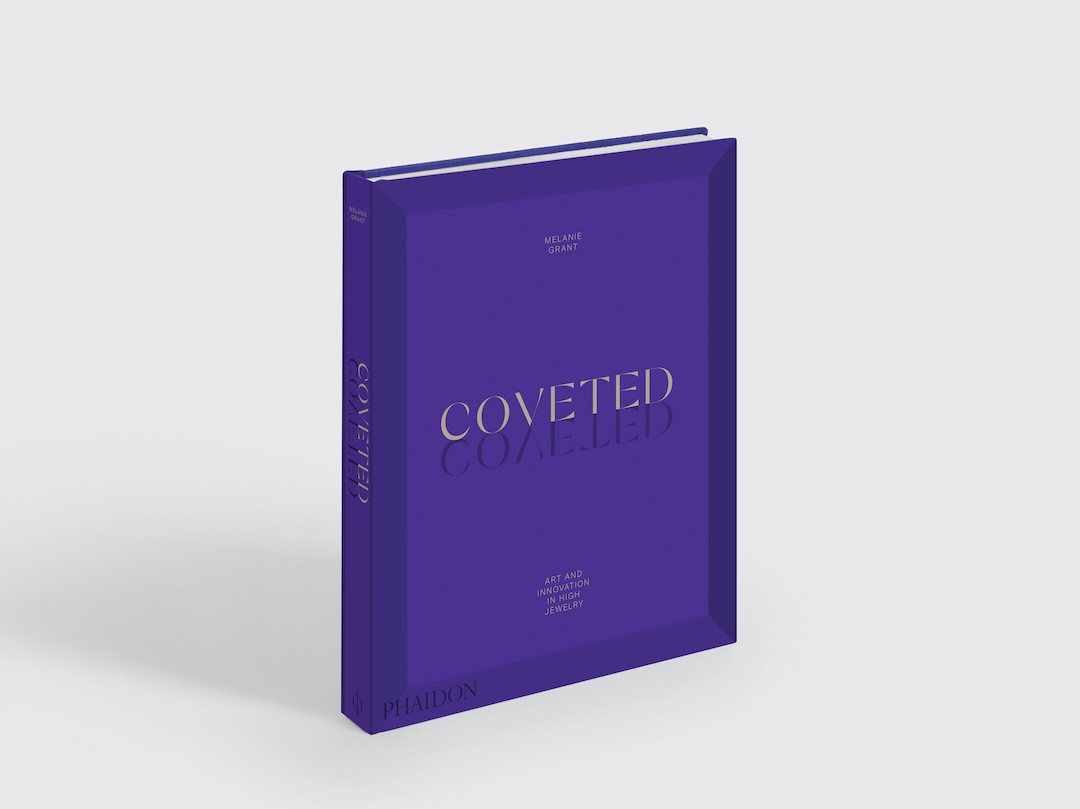 To see more of Villegas's beautiful beetle-like creations, alongside other contemporary works that challenge the very notion of where jewelery meets fine art, order a copy of Coveted here.