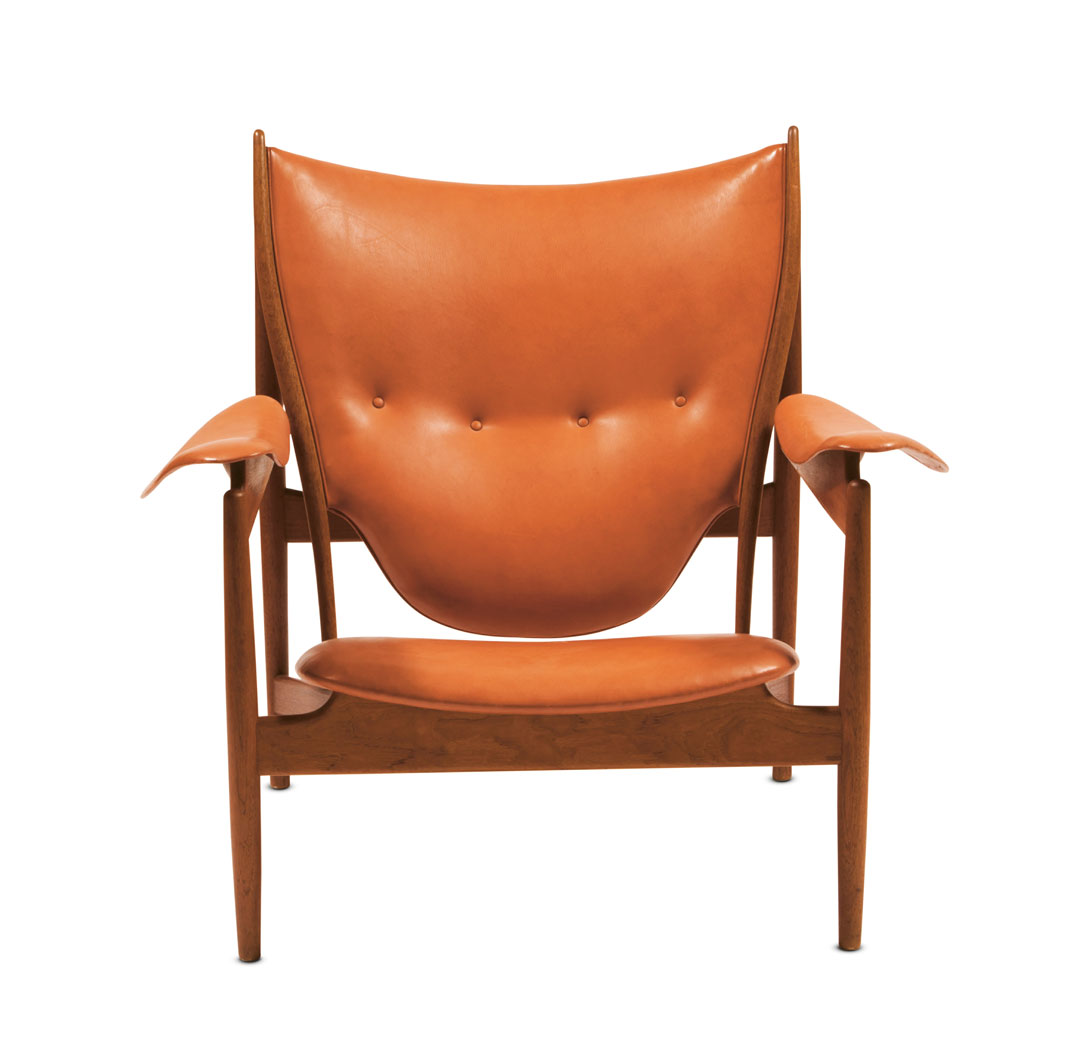 Fabulous Finn Juhl Furniture: The Chieftain Chair
Why did the Danish designer show pictures of African warriors beside this chair when he first unveiled it?
One day in the late 1940s, the Danish designer Finn Juhl drafted out a plan for a chair. "I was home alone, and I began around 10 a.m. with a sketch, only five centimetres (two inches) high, just four vertical lines connected with 'something'," Juhl is quoted as saying in our new book Finn Juhl: Life, Work, World.
"Around 2 or 3 a.m. I had painted it, and off it went." He added, though, "it may be that it had existed in my thoughts for some time, as a vague idea that I would like to make a large chair, for instance."
That large chair wasn't entirely in keeping with the functionalist, sleek, well-crafted carpentry of Scandinavian modernism that prevailed in Denmark at that time.
The pads and panels – which one critic likened to "four botched omelettes hung up on a rack" – weren't even made from wood, but were upholstered metal. "This led to a complaint from one of the more fundamentalist cabinetmakers when the Danish Museum of Art & Design first considered purchasing the chair for their collection," writes author Christian Bundegaard in our new book.
Indeed, Juhl nicknamed this design – officially known as FJ49A – the Chieftain Chair, because he felt the chair was a little pompous in its design.
While preparing for the Copenhagen Cabinetmakers' Guild's annual fair, he joked that the chair was a gift for the then King of Denmark, Frederik IX, says Bundegaard.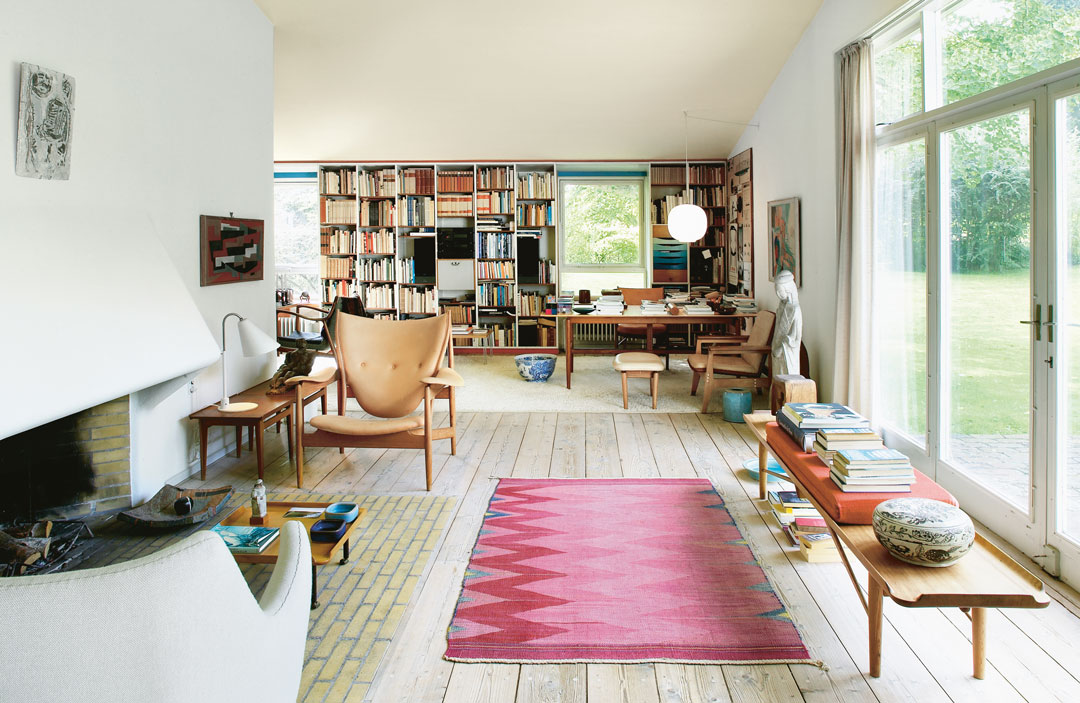 It was customary for the royal couple to open the Copenhagen Cabinetmakers' Guild's annual fair, yet by the time of the fair's opening, however, Juhl had cold feet. It would not do to embarrass His Majesty.
Instead of making this royal reference explicit, he chose to show is Chieftain Chair beside indigenous African utensils and artworks, as well as photographs of stone dolmens and hunters.
That might seem odd way to hide a cheeky royal joke, but there was also some sincere in this display.
"The many intersecting elements of the frame include a variation on the triangle motif from the [Finn Juhl's earlier work] Egyptian Chair (1949) and also reference the spears and tools of indigenous peoples."
Finn Juhl admired vernacular craft and ancient civilisations, and had ambitions, early in life, to become an art historian. He knew that, while straight lines and smooth craftsmanship were in fashion at that time, older forms and had value too.
As Bundegaard puts it in the book, "All tools, have an inbuilt rationality, based on economic, structural and social factors," and that's no less true whether you're looking at a seating design, or a stone-age axe.
The Chieftain Chair, though clearly a 20th century creation "incorporates many forms and potential references, so that the whole structure clamours with meanings," writes the author. "It feels like a gesture frozen in time; a body in motion caught mid-moment."
It certainly makes for a more entertaining – and perhaps slightly more pompous – addition to a room than plain seat, and remains just as comfortable.
Indeed, seventy years after its unveiling, the Chieftain lives on, not only as a commercially available piece of furniture, but also as a miniature reminder of good design's capacity to fit in and stand out.
"Each year, when the Finn Juhl Prize is awarded to one or more young furniture designers," writes Bundegaarde. "The recipient takes home a scale model of the Chieftain Chair in addition to the prize money." In its shrunken form, the Chieftain has the power to show functionalism's limits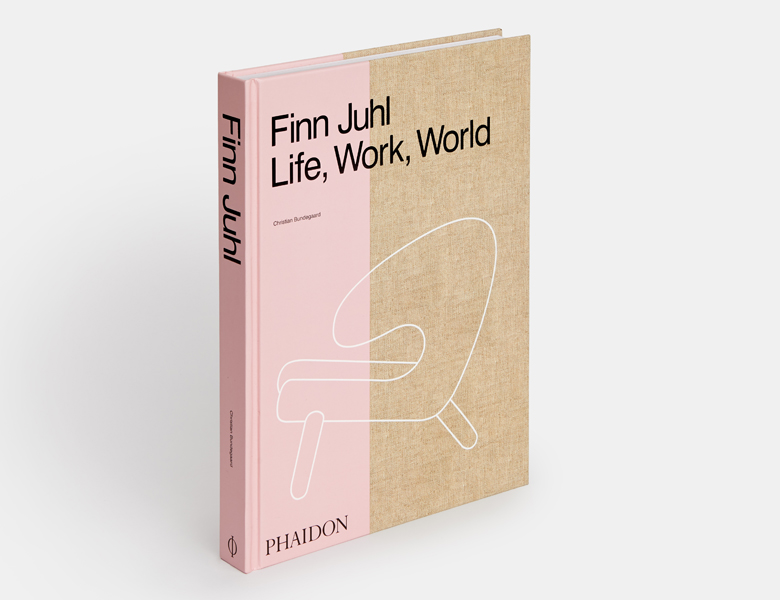 For more on this chair and many other great Finn Juhl designs, order a copy of Finn Juhl: Life, Work, World here.