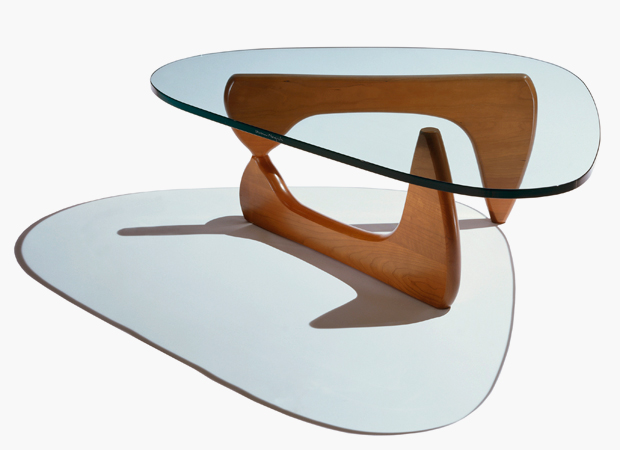 Better Buy Design - Noguchi Table
The perfect place to 'casually' arrange your favourite Phaidon books
Artist, political activist, landscape architect, product designer and generally high achiever, Isamu Noguchi (1904-88) always managed to bring a sense of poetry and calm to everything he did over the six decades of a prolific and international career. The son of Japanese poet Yone Noguchi and Leonie Gilmour, an American writer, Noguchi was American born and educated, but made several extended trips to Japan following the War – a time when, motivated in part by the attack on Pearl Harbour in 1942, and a rising backlash against Japanese Americans in the States. As a designer Noguchi became one of the Modernist era's most prominent and sought after talents, celebrated for his sculptural products and furniture that took ancient Japanese ideas and traditions and translated them into beautiful everyday products that could enhance the quality of everyday life in the Western world.
First introduced by Herman Miller in 1947, the now much copied Noguchi table was an evolution of a biomorphic occasional table that the artist designed almost a decade previously for Conger Goodyear, president of the Museum of Modern Art. A "Sculpture for Use" the table featured a freeform sculptural base of two curved pieces of wood, topped with a heavy glass plate. It was equally suitable for formal office environments as for stylish residential ones.
The Noguchi table brought organic, sculptural beauty to the Modernist movement, which while enduringly popular for its ideals and aesthetics, is still more frequently associated with practicality, machinery and mass production than tactility, poetry and pleasure. One of Herman Miller's most successful designs, the piece became an instant collectible when production ceased in 1973. A limited edition was reissued in 1980 and following its success the table was reintroduced four years later for the Herman Miller Classics line, and is still in production now through Herman Miller in the US and Vitra in the UK.
Copies and imitations of the Noguchi Table are available all over the internet and beyond, but buying a fake is to risk far inferior quality. If you're looking for an investment it is always worth seeking out the earliest and best example of the original. Given that the design is so durable, and also easily reparable, there are many early examples on the market. Earlier tables are easily distinguished by their thick tops, and the base was originally produced in Walnut, Birch, and Cherry before being later reissued in the black Ebonized Walnut. Cherry bases were made only during 1947, so are the most sought after. Birch bases were manufactured up to 1954. If you're looking to buy new, this is where to go.
More Better Buy Design
606 Universal Shelving System by Dieter Rams
Sign up to the Phaidon newsletter to get future updates.