Frida Kahlo, divided
On her birth anniversary, we look at the painting that captured the two, conflicted sides of a Great Woman Artist
Frida Kahlo was an artist whose personal traumas directly influenced her work. As our book, None explains, "Kahlo began painting aged eighteen to distract herself from the pain of severe injuries sustained in a bus accident."
The Mexican painter, who was born on this day, 6 July, in 1907, also possessed more than a passing familiarity with the human anatomy. Our book goes on to explain that she had been a medical student in Mexico City, but had to give up this career path, thanks to her injuries, and instead developed her own distinct artistic practices and style.
"Resting canvases on her body while in bed and positioning a mirror above so she could use herself as a model, Kahlo used bright colours and decisive brushstrokes reminiscent of Mexican folk art," says the text in None.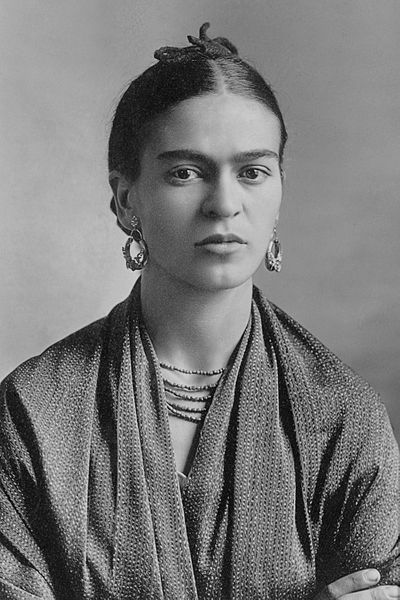 Kahlo couldn't wholly identify with her nation's folk art, as she had mixed, European and Mesoamerican heritage. These personal divisions were all the more prominent in in 1939, the year in which she painted this, one of her best-known works, The Two Fridas (top). It was then that she divorced one of Mexico's best known, and most nationally prominent artists, Diego Rivera. Though they would go on to remarry in 1940, this split, alongside her divided heritage and medical history, is clearly expressed in this powerful painting.
"This twin self-portrait represents two states of being: holding hands and with a shared blood supply their conditions are nevertheless quite different," explains our book. "Frida on the right, in Tehuana dress [traditional, south-western Mexican clothing], has a strong heart fed by a locket painted with Rivera's face, whereas the other, more European Frida is cut off, weakened and bloodied. Vulnerable and exposed but also defiant, this dual persona embodies the emotional upheaval of separation, presented in terms of physical distress."
For more insight into Kahlo's place in the great, and often underappreciated role of women in art, get None. Featuring more than 400 artists from more than 50 countries and spanning 500 years of creativity, each artist is represented by a key artwork and short text. This essential volume reveals a parallel yet equally engaging history of art for an age that champions a greater diversity of voices. Order your copy of None here.