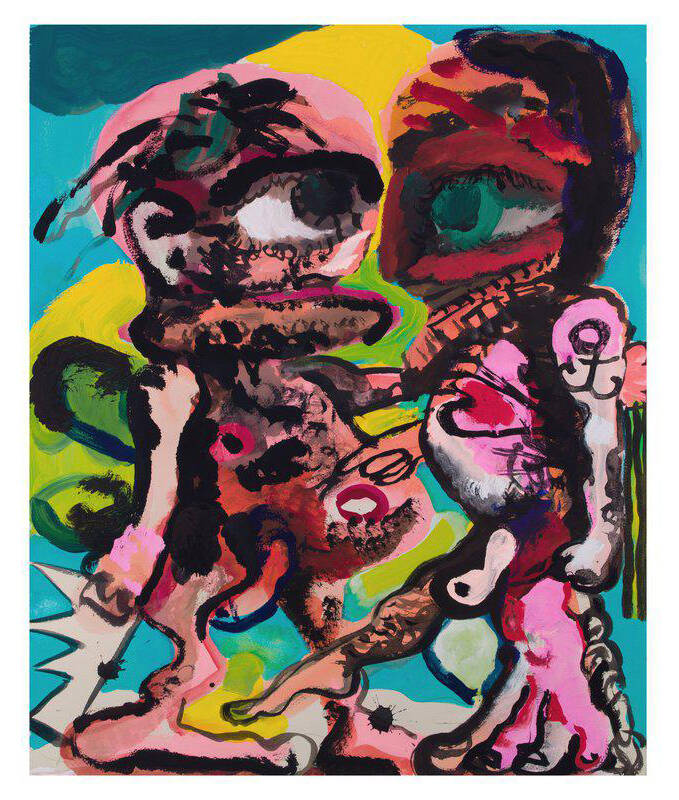 Dana Schutz's Really Great Year
How her market looked in 2022, the exhibitions and group shows, the institutional firsts, what the critics said and a very limited Artspace edition
Dana Schutz began 2022 with a tribute show from the acclaimed New York studio, Two Palms. The artist's work was shown alongside other patrons of the studio, including Mel Bochner, Cecily Brown, Peter Doig, Carroll Dunham, Chris Ofili, Elizabeth Peyton, Stanley Whitney and Terry Winters at the David Zwirner show, Unrepeated: Unique Prints from Two Palms, which the gallery hosted at its West 20th Street space in January.
David Zwirner – which took on Schutz in 2020 – also championed her work at Frieze LA in the following month. Its booth showed Schutz alongside other big names, including Katherine Bernhardt, Marcel Dzama, Nate Lowman, Oscar Murillo and Jordan Wolfson. 


Outside of the fair grounds, Schutz's market remained buoyant too, with her 2004 painting, Myopic, tripling its high estimate of $90,000 to sell for $327,600 in May at Christie's, while her Death of the Self Eater, created in the same year, got close to tripling its high estimate of $70,000, when it achieved a hammer price of $201,600, also at Christie's in May.
In May, the artist also asserted her place in the shaping of 21st century art, when she took part in Women Painting Women, a group show at the Modern Art Museum of Fort Worth, displaying works by 46 female painters who chose women as their subject matter. Schutz's work was exhibited alongside canvases by Celeste Dupuy-Spencer, Marilyn Minter, Elizabeth Peyton, Paula Rego, Faith Ringgold, Jenny Saville, Mickalene Thomas and Lisa Yuskavage, in an exhibition of 50 evocative portraits that spanned the late 60s to the present day.
The gender balance was tipped back a little in July, when Schutz showed her work alongside her husband, Ryan Johnson's sculptures, at a two-person exhibition at the Nemeth Art Center, Park Rapids, Minnesota, which opened in July. Jokingly dubbed, Couples Therapy, visitors could enjoy the sight of Johnson's fecund, epoxy-clad steel works alongside Schutz's etchings and canvases.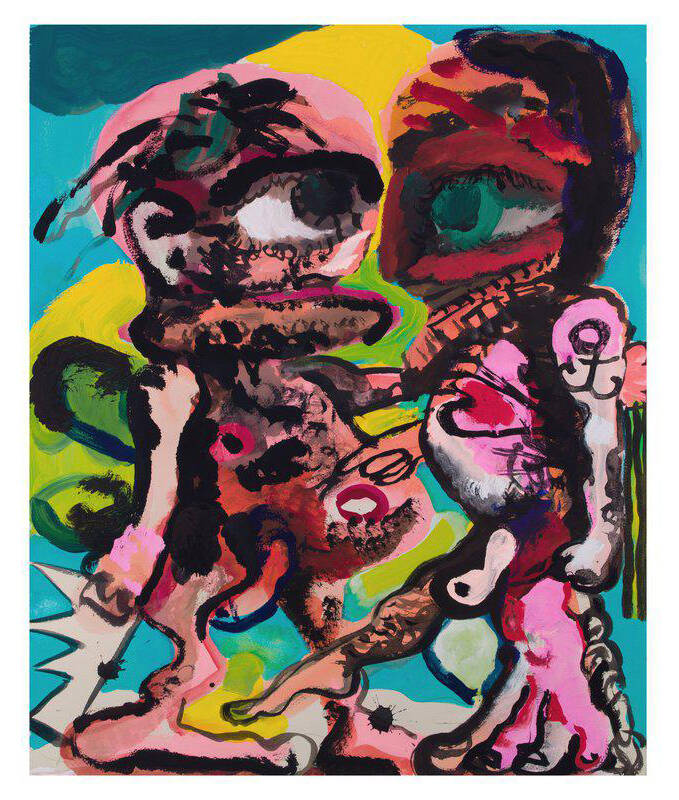 DANA SCHUTZ - Adversaries, (2019)
In September, Schutz came to the aid of Performance Space New York – a pioneering arts institution and a haven for many queer and radical voices – when she donated work to A Maze Zanine, Amaze Zaning, A-Mezzaning, Meza-9, another Zwirner group show staged to benefit the space. Schutz's art was shown alongside pieces by Jonas Wood, Mickalene Thomas, Nick Mauss, Jill Mulleady and Rirkrit Tiravanija, among others, in a display that both supported NYC's diverse art scene, and explored the playful dynamics between painting and performance.
The following month, the painter's work was included in Thomas Dane's stand at Frieze, London, which was overseen by fellow artist Anthea Hamilton. Hamilton, who also created an immersive environment – featuring two massive, seasonally appropriate pumpkin sculptures – showed Schutz beside works by such artists as Alexandre da Cunha and Amy Sillman. It was a winning combination; the booth clinched Frieze's 2022 Stand Prize.
And Schutz was garlanded with slightly longer-lasting acclaim as the year drew to a close Great Women Painters, a fulsome Phaidon book covering over 300 women painters and their work. The artist was placed alongside Leonora Carrington, Helen Frankenthaler, Artemisia Gentileschi, Agnes Martin, Alice Neel and Gluck, in a wide-ranging, cultural significance survey that spanned almost five centuries.
"Known for her humorous, unsettling and psychologically penetrating scenes, Schutz paints vivid figurative compositions that are left open to interpretation," explained the text in the book. "Painting with a vibrant palette and energetic brushwork, the surfaces of her canvases are actively built up, sometimes with a thick impasto, displaying a fluency in the material possibilities of paint. Although her narratives are largely imaginary, they often resonate with the anxieties of modern life."
You may be interested to read about a charitable, Great Women Painters Artspace edition by Dana Schutz edition. Adversaries (2019) is a full color digital archival print on Epson Hot Press Natural 330g/m2, size: 610 x 508 mm (24 x 20 in) in an edition of 100. This work will come with a signed and numbered archival label adhered to the back of the print.You can find out more about it here.