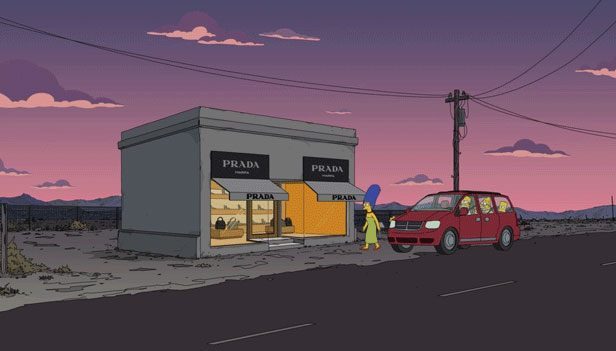 Elmgreen & Dragset meet Homer and Marge
The artists' work Prada Marfa appeared in The Simpsons a few days ago. Guess what Homer did behind it. . .
Elmgreen & Dragset's 2005 artwork, Prada Marfa, has drawn strong reactions ever since it was unveiled.
"In the desert landscape of Marfa, Texas, synonymous with Donald Judd (whose eponymous foundation is based there, as is the Chinati Foundation museum centred on Judd and Minimalism in general), Elmgreen & Dragset built, in collaboration with the Art Production Fund and local art centre Ballroom Marfa, Prada Marfa (2005), a replica Prada store" writes the British critic Martin Herbert in our forthcoming Elmgreen & Dragset book. "Stocked with six handbags and fourteen right-footed shoes and permanently closed, it's a near-perfect position piece.
"Outside its spectacular absurdity, the project speaks first to broken idealism, since Prada converts Minimalism into fashion and commercialism via its clothing, store architecture and presentational styling, its glowing display units derived directly from Judd. In positing that there could be a Prada store out here, the artwork also reflects consumerism's rampant growth and does so in terms of representation. If in the city such a store almost vanishes, against the desert it pops. And Prada Marfa serves, in its own way, as a denial: hard to get to, impossible to shop in.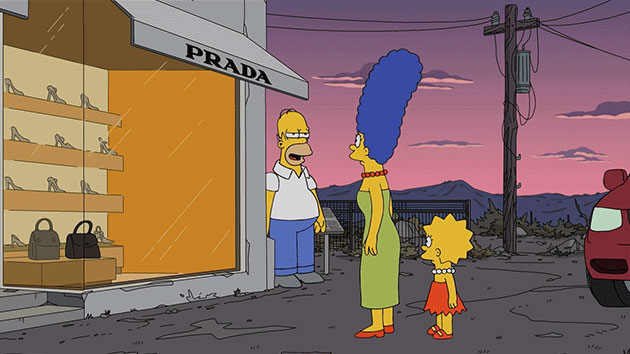 On the first night after opening, the store was broken into, robbed and vandalised, but since that inauspicious opening, Prada Marfa's fortunes in the entertainment world have fared a bit better. It has featured in the TV series Gossip Girl, served as a photographic backdrop for Beyoncé and, earlier this month, appeared in an episode of The Simpsons.
In Mad About the Toy (Season 30, Episode 11), the Simpsons head out to West Texas to track down an old army buddy of grandpa's. During their trip Marge notices what she thinks is a remote luxury boutique. "This isn't a store at all," explains her daughter, Lisa, "it's an art installation!"
However, Homer has other ideas. He takes a leak behind the fake store front, reasoning, "It's on the side of the road, so by definition it is a bathroom."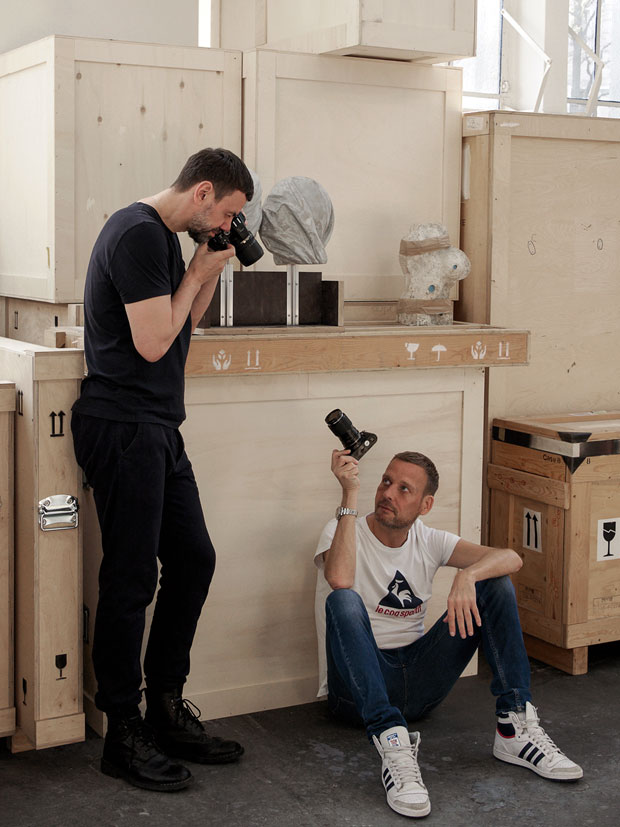 Despite this reclassification, the artists seem to have taken the inclusion in the cartoon as a compliment; they posted an image from the show on Instagram – though they added the hashtags "#installationart #landart", in case anyone else thought they might care to copy Homer.
And they can take heart from the fact that their work follows in a long line of artistic references that have figured in The Simpsons over the years. These include works by Leonardo Da Vinci, Norman Rockwell, Giorgio de Chirico, Salvador Dali, Vincent van Gogh, Edvard Munch, Pablo Picasso and René Magritte to name just a handful. Find out more about this work and plenty more besides by ordering a copy of our Elmgreen & Dragset book here.