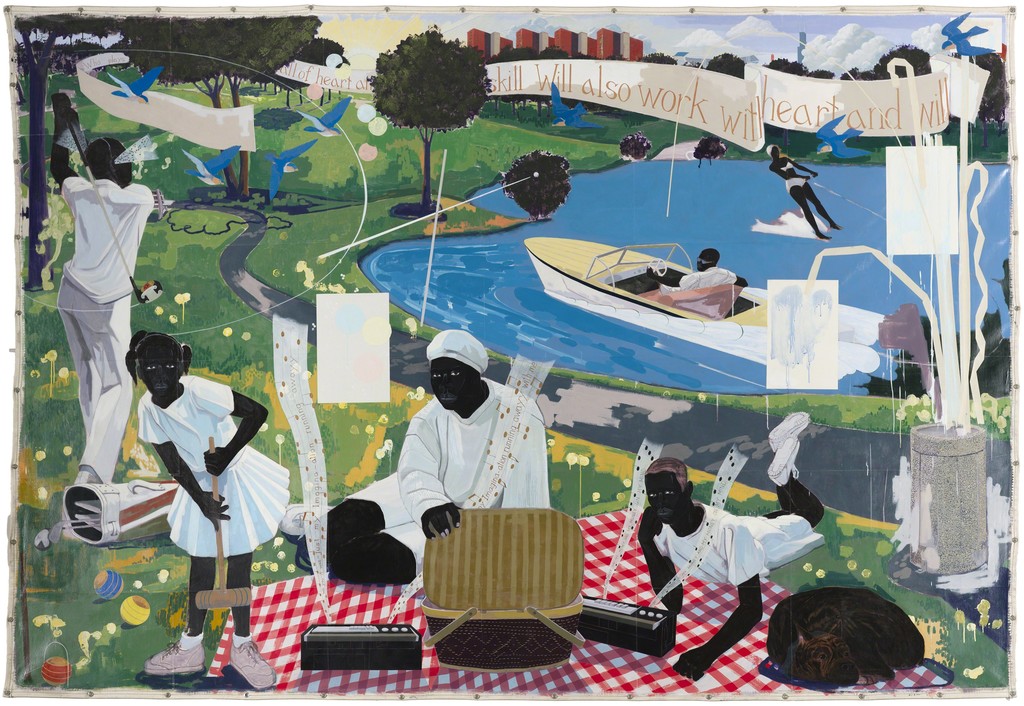 The poignant truth behind Kerry James Marshall's new $21 million Sotheby's auction record
Here's why Marshall's work, Past Times, embodies the artist's struggle to place black people in grand paintings
Why did a $25,000 painting owned by Chicago's Metropolitan Pier and Exposition Authority - a body better known for overseeing convention centres than blue-chip art collections – just sell at Sotheby's New York for $21.1 million?
Most commentators are putting this 844 percent gain down to the equally vertiginous rise of its creator, the Chicago artist Kerry James Marshall.
The 62-year-old painter's touring retrospective, Mastry, met with rave reviews in late 2016; Time magazine listed him as one of 2017's most influential people, and the New York Times placed him on the cover of its Sunday supplement. Now, this new auction record - more than four times his previous high – surely places Marshall in exalted company.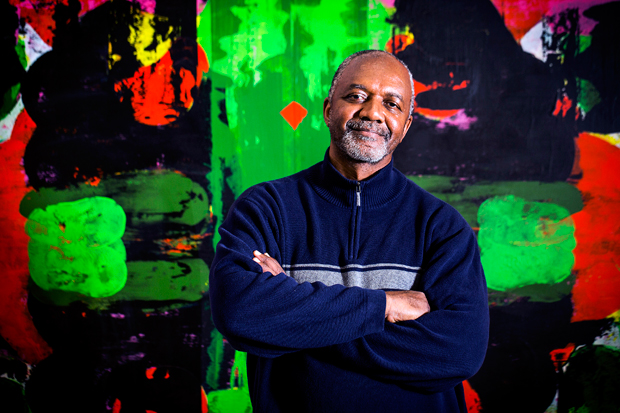 Yet, why did this picture in particular command such a high hammer price? Partly because it embodies beautifully something Marshall has spent much of his life trying to achieve: it places black people at the centre of fine art.
The work dates from 1997 and is one of his Garden Project series; a suite of paintings that partly share the name of the public housing development Marshall grew-up in, Nickerson Garden Projects.
It is a large work – it measures 290 x 396 cm – and forms part of Marshall's attempts to create "paintings of black subjects in the grand manner that could burst their way into world-class museums," writes Greg Tate in our Kerry James Marhsall book.
Indeed, Marshall was quite explicit in his ambitions. "I had never seen a grand, epic narrative painting with black figures in it and that's the kind of painting that I became interested in making – pictures in the grand manner," the artist said, reminiscing in 2012.
Marshall's work is certainly grand, leading many to reach quite rightly for comparisons with Manet or Seurat's most leisurely works; yet it also stands as a strong art-historical corrective to those older paintings: the black people in this picture are playing golf, croquet and water-skiing, leisure activities traditionally associated with the white upper class, just as we tend not to associate black subjects with grand oil paintings. The figures in the foreground look out at the viewer, as if they're questioning the onlookers' own quizzical gaze.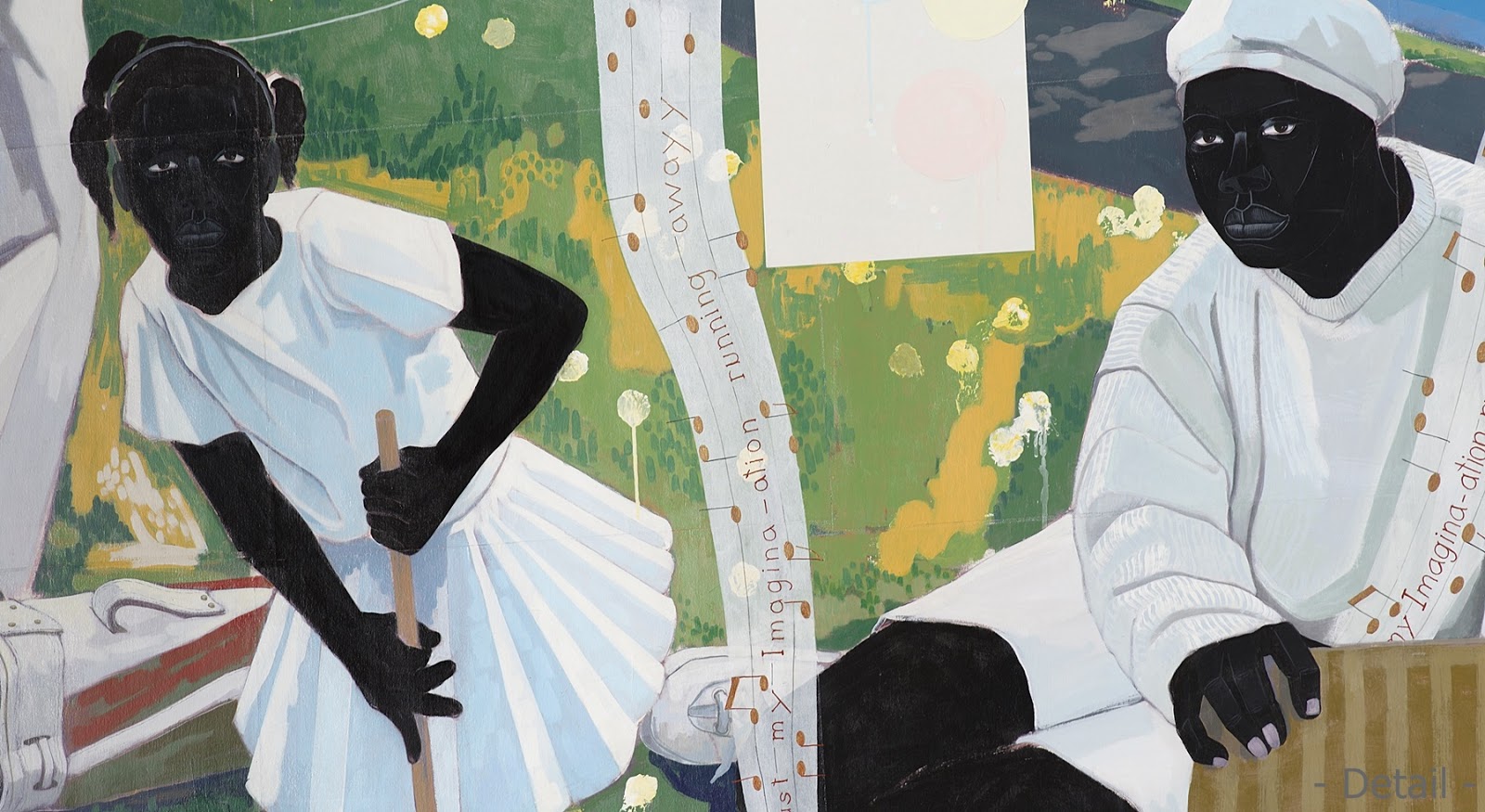 Marshall knew that, by painting black golfers and speed-boat captains, he wouldn't necessarily change the make-up of the suburban golf club or yachting club. Yet he understood that, by placing people such as himself in such powerful, beautiful works, he was altering one aspect of history.
"In pictorially disabusing other Americans of the pure white delusion purveyed on museum walls," writes Tate, "Marshall, has extended our movement for justice to the art-historical and art-institutional arena." And that in itself surely justifies this painting's price tag.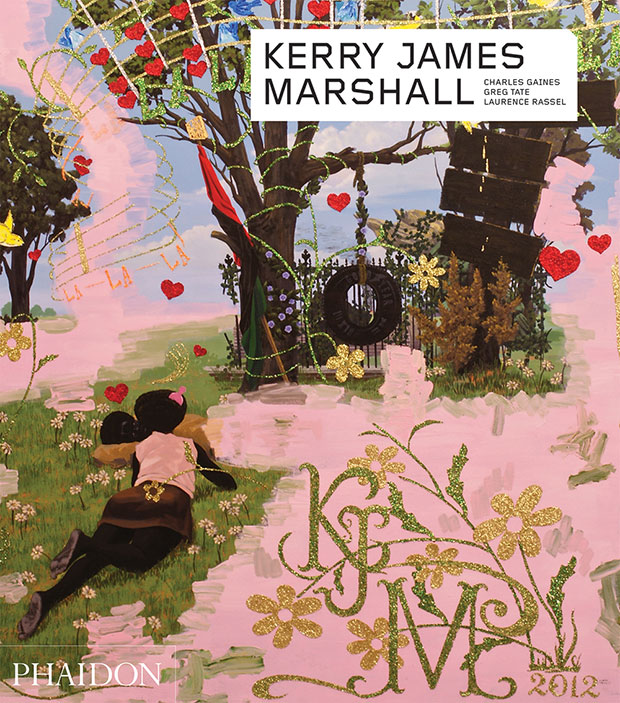 For greater insight into this important artist's life and work order a copy of our Kerry James Marshall book here.