Kerry James Marshall's superhero cover for NY Magazine
The Rhythm Mastr work has been unveiled at the Port Authority Bus Terminal as part of NY Mag's 50th birthday
The US artist Kerry James Marshall's superhero comic, Rythm Mastr, is, in some senses, an indie Black Panther. "There weren't any black characters in the pantheon of superheroes until the Black Panther entered the scene in The Fantastic Four, Issue 52, in 1965," Marshall told Art21.
"Since then, there have been black superheroes as parts of teams of superheroes in Marvel comics, and in some other comics, but there hadn't been many independent black superheroes who had a comic of their own that could sustain itself for a long time."
Marshall has been working on his strip, which includes Marvel-style fantasy, alongside West African culture and mythology, and real-world events.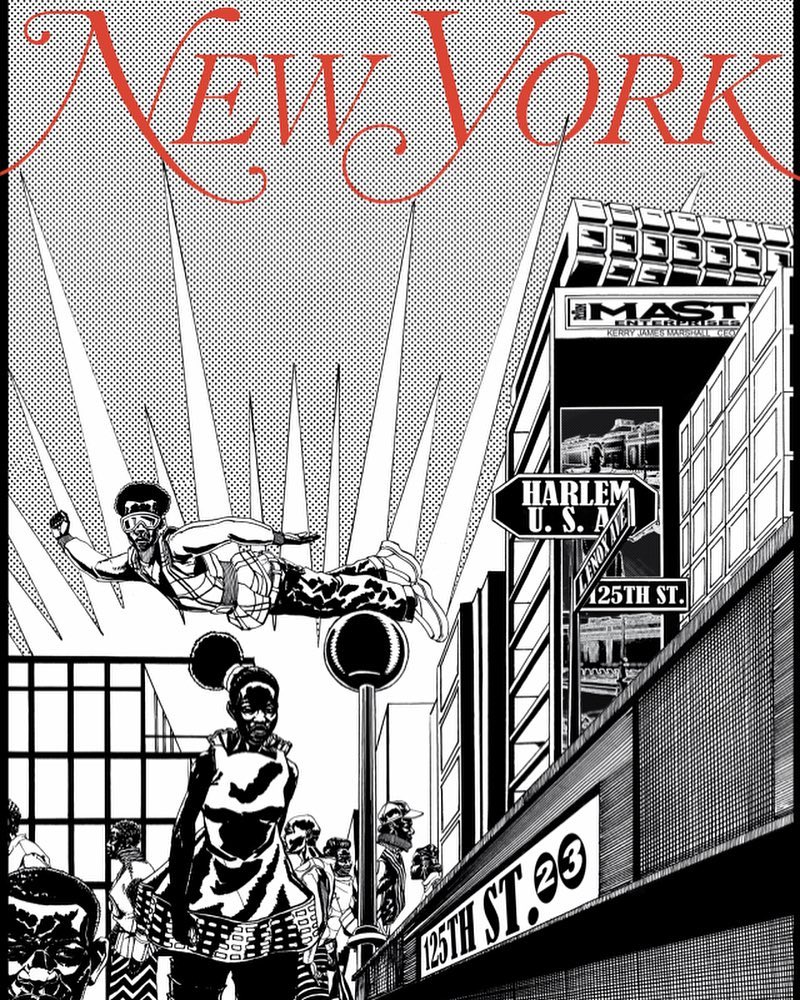 Now, as Black Panther the movie tops the US box office for a second week running, New York magazine reveals its specially commissioned Kerry James Marshall cover, featuring one of his Rhythm Mastr works.
The covers were commissioned by the magazine as a public art project to mark its 50th anniversary. They've already revealed works by Alex Katz; now a large-scale reproduction of Kerry's cover is on display inside Manhattan's Port Authority Bus Terminal (8th Avenue & 40th Street entrance). NY mag was even generous enough to hand out a few prints of the image too.
If you missed those or would just like to find out more about the very varied aspects of Marshall's art, life and work, order a copy of our monograph, here.