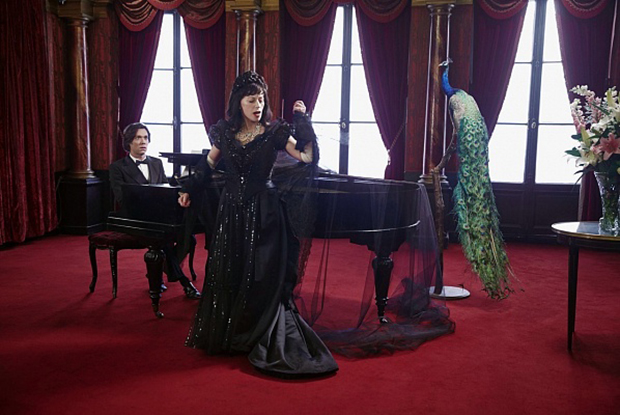 Cindy Sherman stars in Rufus Wainwright's opera
Sherman plays legendary diva Maria Callas in a Francesco Vezzoli-shot film for new Wainwright opera
Cindy Sherman takes the starring role as opera diva Maria Callas in a film to be screened during a performance of Rufus Wainwright's new opera in Athens next month. The film, which traces the life of the infamous opera singer, was shot in May at the Théâtre des Variétés in Paris by acclaimed artist Francesco Vezzoli.
It will be premiered during a performance of Wainwright's opera, Prima Donna, at the Odeon of Herode Atticus in Athens on September 15. According to Vezzoli the film contains fictionalized but pivotal chapters from the singer's career, life and death. For her role in it, Sherman wore some of Callas's original costumes borrowed from the Tirelli costume archives in Rome.
Sherman says: "What made me want to do it is the fear that the character is going through. She's old now. Can she live up to her audience's expectations? I think it'll free me up to just let it all hang out."
Vezzoli, who has his own show at Almine Rech, London next month (8 September-3 October) is a fascinating artist in his own right. His work explores the power of contemporary popular culture. By closely emulating formats like advertising and film, he addresses ongoing preoccupations with the fundamental ambiguity of truth, the seductive power of language, and the instability of the human persona.
Previous notable work has included a trailer for a remake of Gore Vidal's Caligula which starred Vidal, Helen Mirren, and Courtney Love; an advertising campaign directed by Roman Polanski for Greed, a fictitious perfume; and elaborate, site-specific performances inspired by Pier Paolo Pasolini, Luigi Pirandello, and Salvador Dalí that featured the likes of Catherine Deneuve, Cate Blanchett, and Lady Gaga. He's represented by Gagosian.
Check out our Cindy Sherman Phaidon Focus book in the store and read our other Cindy Sherman stories here.