Monica Bonvicini defined in five great works
Sex, styrofoam and stairways to hell - the thought-provoking artworks that will turn you on to this great Italian artist
You might have come across her see-through toilet cubicle, or caught one of her love-swing installations, yet there's much more to Monica Bonvicini than these headline grabbing pieces. This Italian-born, Berlin-based contemporary artist won the Golden Lion at the Venice Biennale in 1999, and has since made a name for herself with a series of brilliant multidisciplinary artworks that investigate the relationship between architecture, sex and power. Read on to learn to gain a richer understanding of her artistry in five of her most important works.
Wallfuckin' (1995-96)
When Bonvicini first installed Wallfuckin' at the Neue Gesellschaft fur bildende Kunst in Berlin, she nearly banned men from the exhibition. "The entire construction crew was staring in ecstasy at the video of the naked woman masturbating on the wall," the artist recalls. The piece, which consists of a screen displaying a woman masturbating against wall, set inside a room constructed from wood panels and drywall, is highly sexed. Yet, rather than viewing the work as simple pornography, Bonvicini was trying to demonstrate how the built environment helps construct gender and sexual identity. By placing such a video into so bare and impartial a setting, the artist demonstrates how sex and politics is never entirely absent from architecture.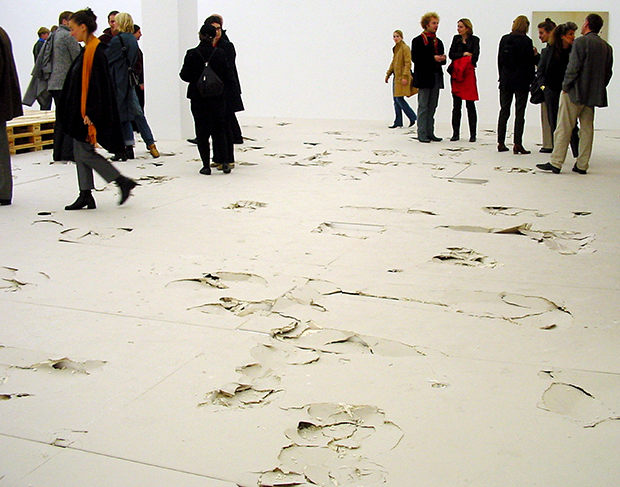 Plastered (1998)
In contemporary art, few things are as commonplace and fundamental as the white-walled art gallery. Yet Bonvicini manages to subvert this trope in her 1998 work, Plastered, which involved the artist adding a new floor to the gallery space, constructed from both dry walling and polystyrene panels. Visitors complete the piece by walking across the new floor, which cracks and distorts with their footfall. By literally undermining the white cube, Bonvicini not only brought the contemporary gallery setting into question, but also the integrity of the built environment itself.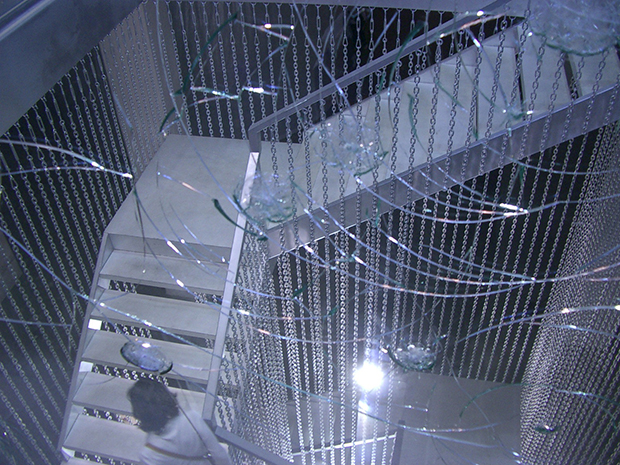 Stairway to Hell (2003)
Bonvinici's interests in architecture, sex and politics come together again in this darkly humorous work, produced for the eighth International Istanbul Biennial. "A steel staircase, suspended from the ceiling by long strands of steel chains reminiscent of beaded curtains, and which culminated in panels of safety glass punctured by the occasional hammer crack, the work operated within a series of reversals," writes Professor Janet Kraynak in the new Bonvicini monograph. "To climb a staircase suggests the possibility of redemption ...but in the same way as Stairway to Hell translates the beaded curtain that came to symbolize the 'peace and love' ethos of 1960s hippy culture into a chain-link wall, Bonvicini's staircase offers no such redemptive moment. Trapped within this nightmarish combination of brightly lit metal and broken glass, the beholder felt precarious, though aware of its oddly unsettling beauty."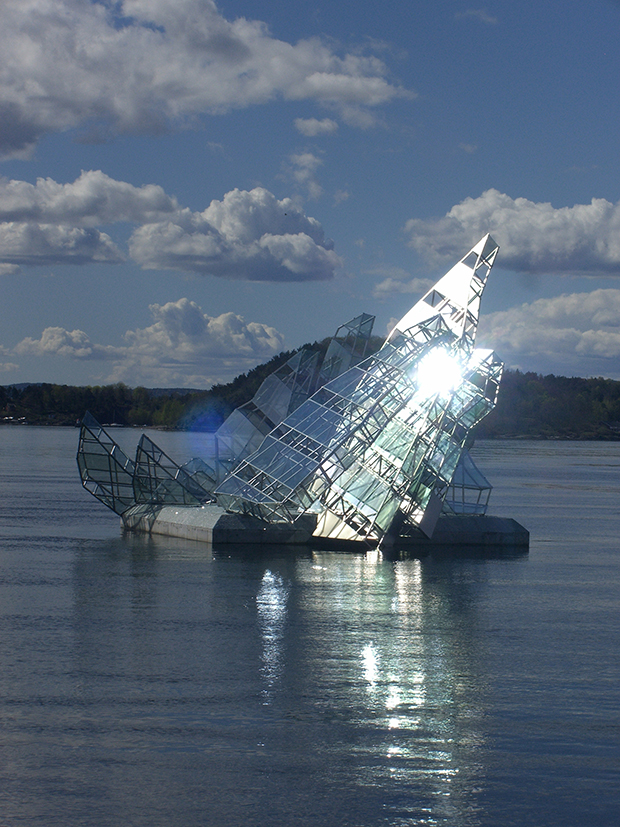 She Lies (2010)
Bonvicini's huge, floating sculpture is anchored in a fjord beside the striking, new Olso Opera House. Built from concrete, steel, glass and Styrofoam, She Lies resembles a collapsed, glass-skinned building, yet it's also an homage to Caspar David Friedrich's painting Das Eismeer (1823-24) or The Sea of Ice, a German romantic oil painting, celebrating the power and majesty of the great frozen north. Bonvicini has described the work, which turns on its mooring according to the winds and sea currents, as "a monument to a state of permanent change." "For this piece I was interested in working with the idea of the ruin via romanticism, modernism and urban development," the artist explains in our book. "She Lies resembles a modern façade that has been crashed, or 'crushed'."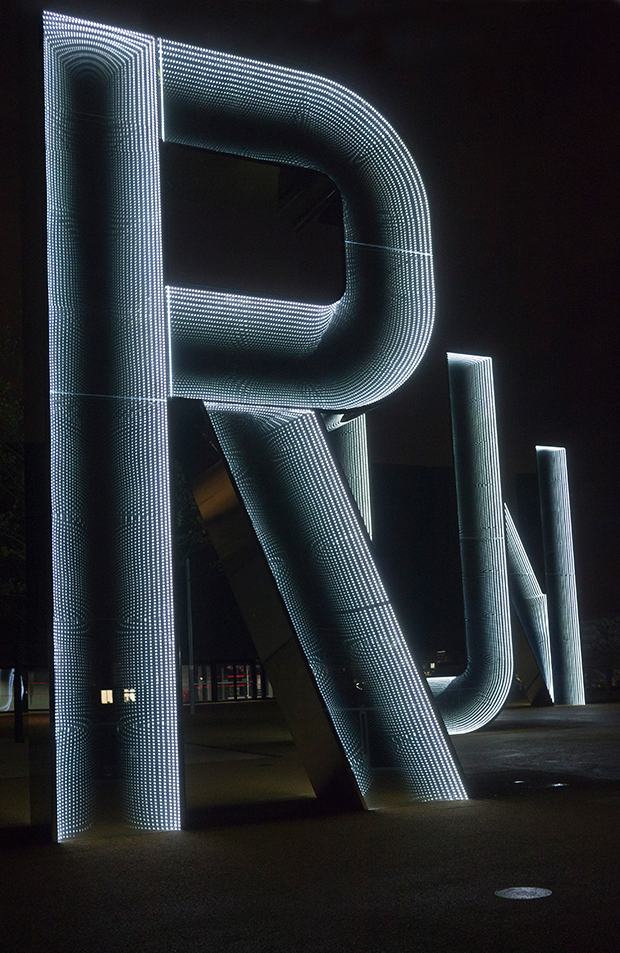 Run (2012)
These nine-metre high, mirrored, illuminated letters were developed as a permanent installation for the Olympic Park in London. Bonvicini remains a great admirer of Bruce Nauman, and has, like the great American artist, produced a number of text works. However, RUN was a strange commission, Bonvicini recalls, because, when she was asked to come up with the work, the site was "a place that is yet to be, a place that is yet to come, a place with no real identity yet."
Today, while its sporting meaning is quite clear, RUN takes on deeper, more varied connotations, thanks in no small part to its high-powered LED, set inside the letters, which produces "the effect of an infinite and psychedelic light," Bonvicini explains. "I could not have built those two works out of cardboard." And their mirrored, mesmeric form could not have been produced by any other contemporary artist.
Keen to find out more about this interesting artist? Then take a look at our new book here.