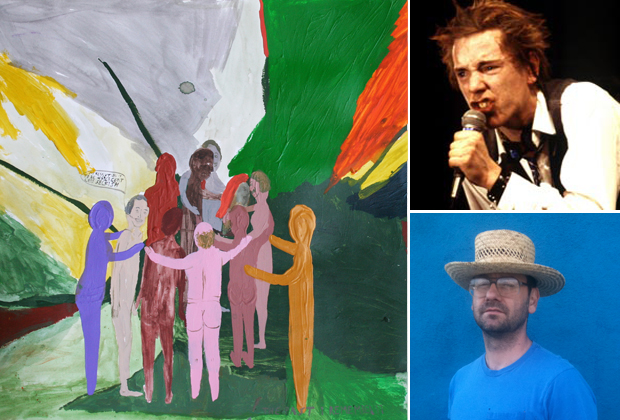 Chris Johanson's Muse Music
The painter and street artist on the music that gets him in a creative mood
It's Friday, and this week's Phaidon Muse Music has been chosen by Californian artist and punk/skate scene veteran Chris Johanson. Johanson didn't start drawing and painting until 1989 when, in his early 20s, he moved to San Francisco and became part of a burgeoning artistic community of street artists. His lack of formal training and use of off-kilter humour gives his brightly coloured drawings, paintings and sculptures a raw and genuine quality. His art explores humanity's place in the increasingly uniform modern world and, thanks to the freedom of Johanson's style, stands in opposition to any notion of banality.Johanson's objective in his art is, in his words, "beauty through honesty."
As well as featuring in Vitamin D, Vitamin P2 and Painting Abstraction, Johanson is currently working with Phaidon on a major monograph on his work, which will be published next year. Before listening to the music that inspires him on Spotify, have a read of what he had to say about the role music plays in his life and art.
"Music is very important to me and my creativity. I usually listen to music when making art unless I am spacing out. When me and Christopher Garrett (visual artist and DJ) are traveling together, which is always, he's usually the DJ and when we are installing I always get turned on to new tunes. I remember getting PIL's Second Edition (Metal Box) and I seriously painted to that over and over and over. I also used to listen to the first Dream Syndicate record non-stop in the 80s and 90s, When You Smile is a great song. Maybe those two songs should be added to the start of this play list even. At this point I try and listen to music that has more positivity than negativity. I just now listened to side one of D.O.A. Bloodied But Unbowed. I hope you all enjoy these tunes. And don't forget to take your money out of those mega banks amigos. Peace To ALL. Be Well, Chris."
__Sonic Youth - _Jams Run Free ___ When I saw Sonic Youth play this song with my good friend Aaron Rosein at this outdoor theatre in Los Angeles. I was so fried and burnt out from doing art stuff. Then they played this song and it amped me so much, it gave me goose bumps and re-energized me, it was a really good feeling. That is one of the magical gifts of music. It can really inspire and uplift you.
_The Offs - Why Boy _ The first person to show my art was William Passarelli, a beautiful amazing human. He had an amazing gallery called Emmanuel Radnitsky's Found Objects in the mission district of San Francisco. He told me he was the number one Offs fan, he was their roadie earlier in his life. I love all the music of the great art punk band The Offs and this song is dedicated to the spirit of William and the inspiration he gave so many people during his life time and from the next world where he is now.
_Earth Wind & Fire - Drum Song _ I thought this would be a good time to mellow out the set and what better way than with this meditative and positive introspective offering. I hope you enjoy it out in space where you are right now - but grounded hopefully.
__The Big Boys - _Red/Green ___ The Big Boys are one of my favourite skate punk bands of all time. The singer Biscuit was gay and very out for all to see. In the world of skateboarding and punk in the USA, that was a very bold and powerful thing to do. This band positively influenced many skate punks away from homophobia. Their blend of funk and punk made for an incredible live dance experience. This is a blues number for you all to trip on.
__Chuck Mangione - _Feels So Good ___ This is not an ironic song choice. I love this song as much today as when I first heard it as a child. I am sure there is nostalgia going on here in a big way, of course, but I LOVE this song. It taps into all these emotions that I felt as a child. Awkwardness, adolescence, the sound of adults in Peanuts television specials, wok cooking that my father got into in the 70s, the weird mysteriousness of growing up in northern California's casualness. There are no lyrics to sing along with but you feel you are singing along with the song. If you like this song, then I recommend checking out Soiled Mattress and The Springs, very special and powerful.
__The Flesh - Eaters _So Long ___ Chris D is a great poet, and this line up of the band is smoking. You cannot fuck with this record. Every song, every part of every song is perfect art.
Jackie-O Motherfucker - Dedication This album is very in my mind right now. Tom Greenwood (founding member) lives his art. This is soulful music for the soul. It's like life is gnarly but he is healing himself through meditatively making this music. You can't make this up, you have to live it and live with it.
__Brick - _Living From the Mind ___ I love to dance and celebrate life and this record enables me to do that. Makes me dance backwards and smile. I hope you dig it.
__Emerson Lake & Palmer - _Knife Edge ___ I DJed this song at LitLounge in NYC and ran out onto the dance floor and danced with my lady. This song is fried. Re-imagine this song as dance music and get into some fried out abstract modern club dance and liberate yourself. My older brother Steve got me into, among other musical things, prog rock.
__The Electric Prunes - _Our Father Our King ___ There is a spiritual vibration to this song. But I don't know what that energy really is.
Listen to Chris Johanson's Phaidon playlist on Spotify
You can also listen to these creatives' Phaidon playlists:
John Pawson
United Visual
Simon Fujiwara
Samuel Wilkinson
Alex Hartley
Brian Griffiths
Michele Howarth Rashman
George Condo
Martin Boyce
George Shaw
Karla Black
Piers Secunda
Mark Titchner
Edmund de Waal
Haroon Mirza
Elizabeth Peyton
Wilhelm Sasnal
Nathaniel Mellors
Richard Harrison
Antony Micallef
Roger Hiorns
Sign up to the Phaidon newsletter to get future updates.