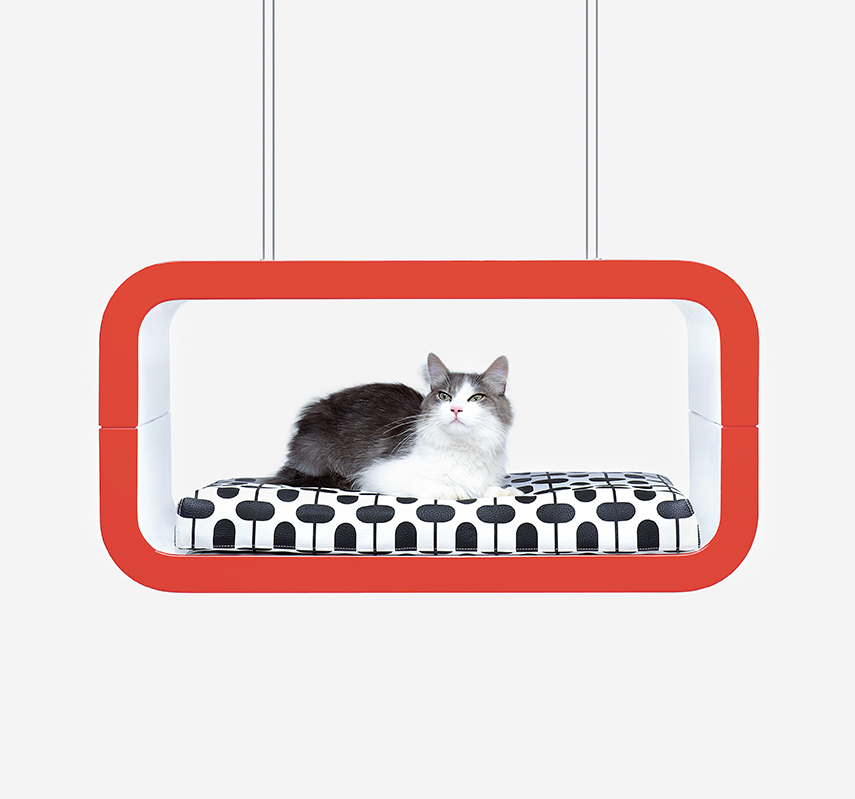 Could you picture your cat in a place like this?
On International Cat Day, we pick out a few purrfect kitty dwellings from our new book, Pet-tecture
"Dogs have owners," as our new book, Pet-tecture: Design for Pets, puts it, "cats have staff." And if you wish to impress your demanding feline overlord on International Cat Day, why not pick him or her out a new home? While the physical demands of a fish tank or birdcage are clear, and the accepted typology of a dog's kennel well established, a cat's home is a far less proscribed, as this selection of architecturally adventurous shelters from our new book Pet-tecture: Design for Pets confirms.
Suite by FORMA Italia (above) This lacquered plywood cat lounger was created by the Italian high-end furniture manufacturer FORMA, and "can be suspended by steel cables or placed atop metal feet," explains our new book. "The retro-patterned soft cushion is cleverly kept in place with magnets."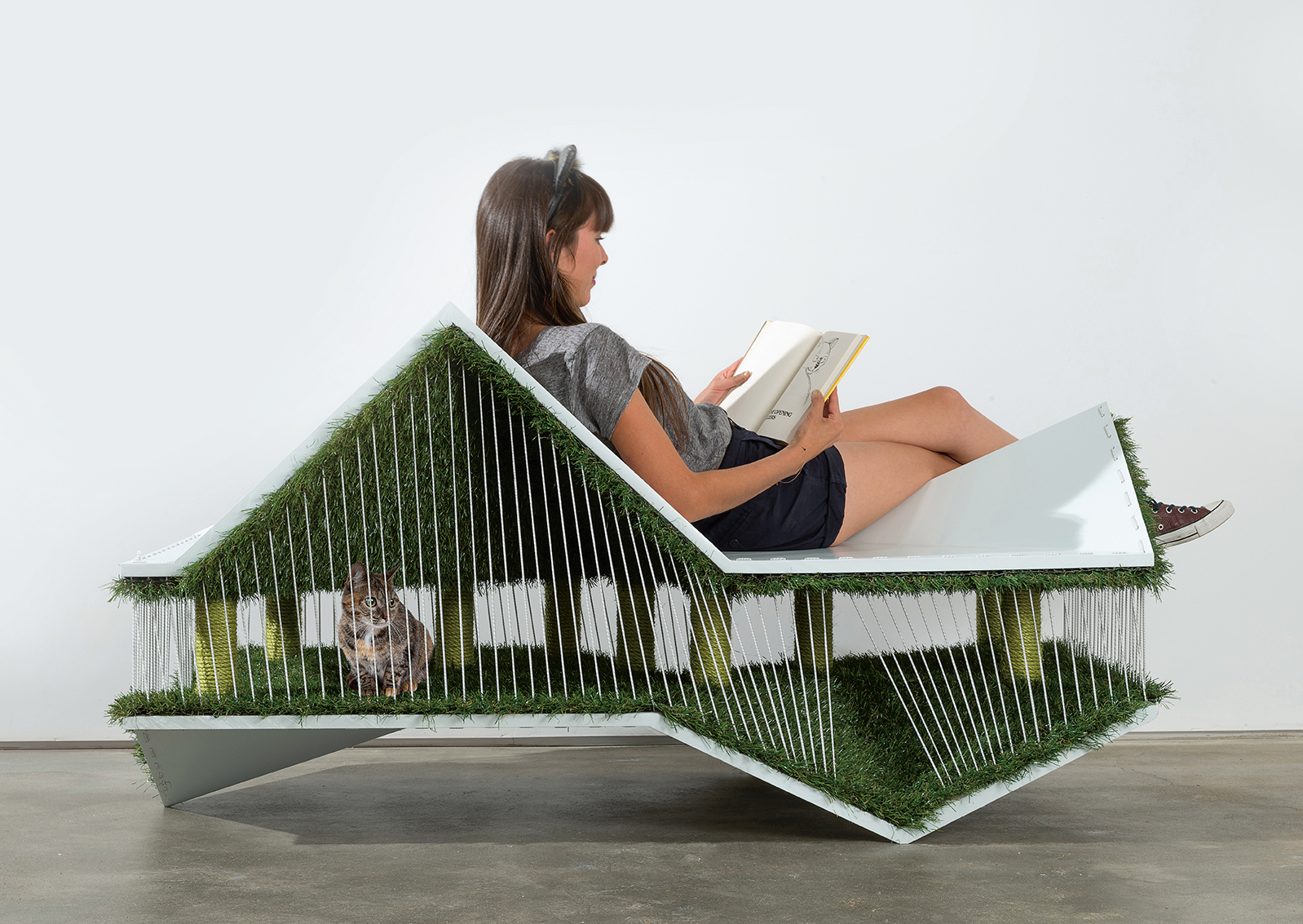 catHAUS by SPACE International This distinctly mid-century modern creation was made by LA practice SPACE International for the benefit of an LA animal charity, and serves both the need of the pet and its companion. "The structure operates as both a human chaise longue and animal shelter, and was designed to be a retreat for feral cats while being a practical piece of furniture."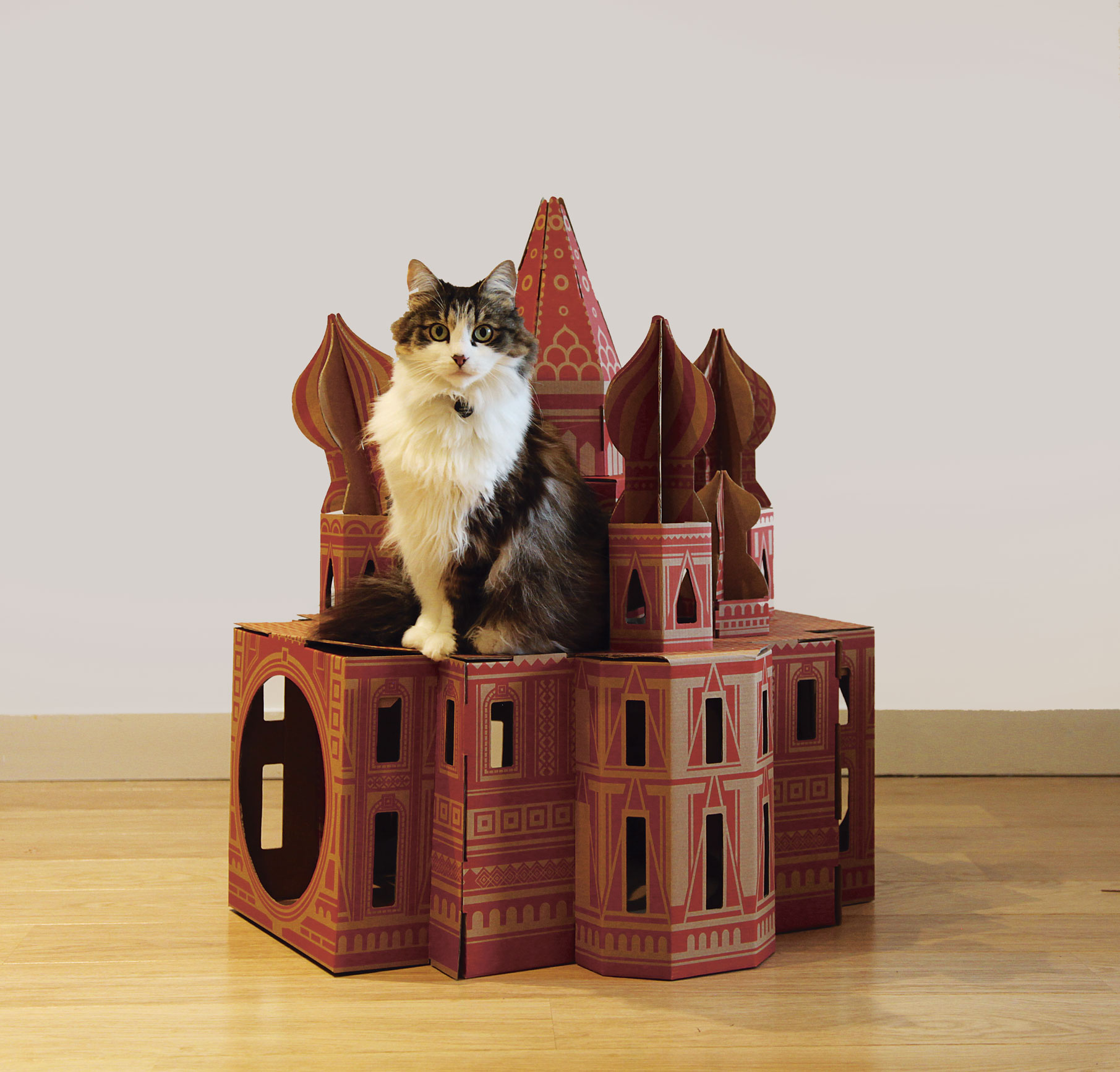 Landmarks by Poopy Cat If cats ruled the world (which they might already do), they would most certainly choose to reside in prestigious and symbolically powerful abodes. Made solely from cardboard, delivered flat-packed and easy to assemble, these cat dens are inspired by historic architectural wonders. The design above recalls St Basil's Cathedral in Moscow, while a zoomorphic house is modelled on the Great Sphinx of Giza – particularly appropriate, given cats were worshipped as gods in ancient Egypt. For the more presidential feline, a White House inspired design is also available.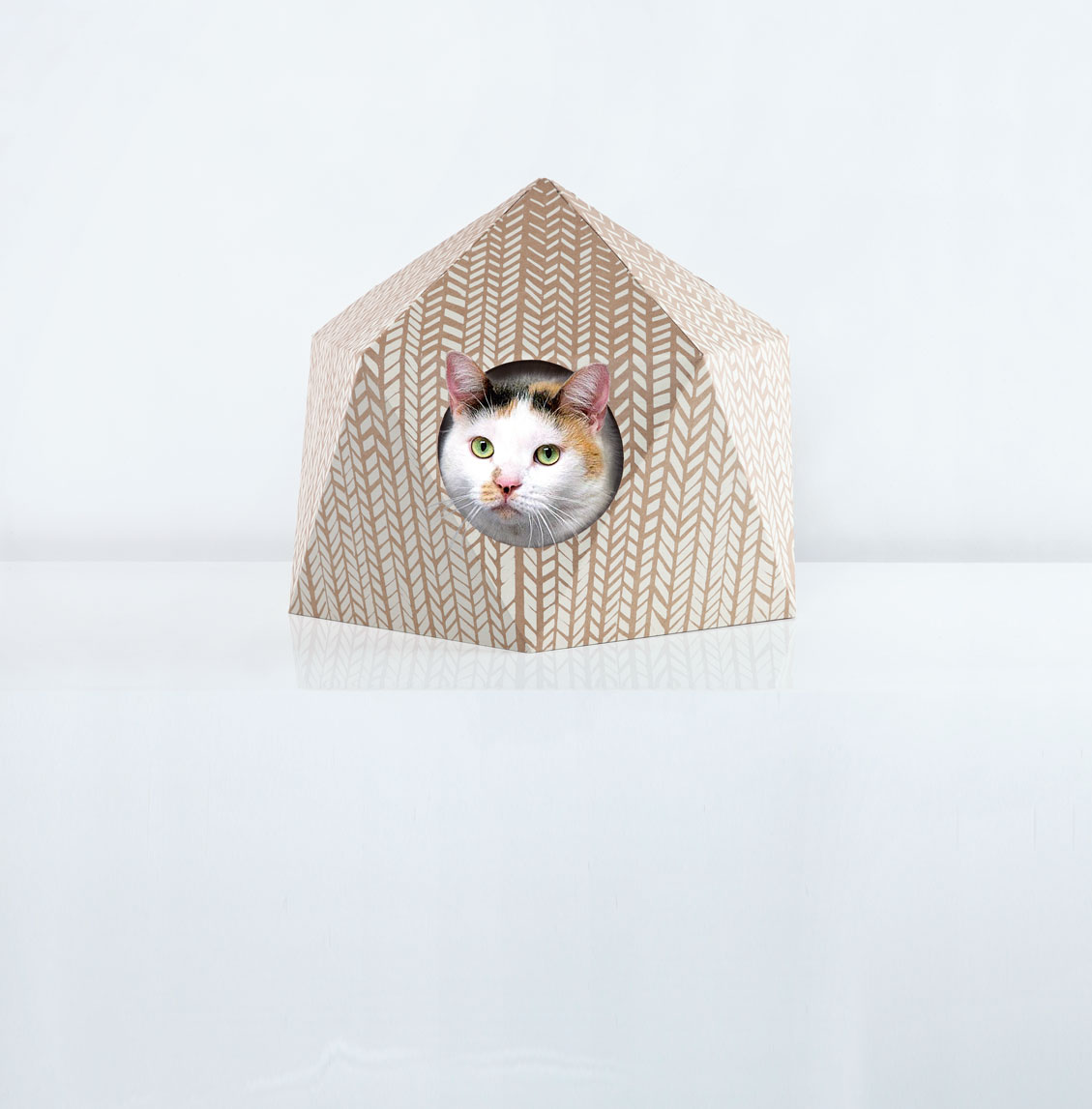 The Cat Cube by Delphine Courier Unable to find an attractive bed for her cat, Delphine Courier looked to design the perfect piece of furniture that would suit the interior of her flat, while satisfying the high demands of her pet. Cardboard, being a popular choice among cats, was perfect for her pet to sit and sleep on, to rub against and to scratch. Not only is the material lightweight and sturdy, it is one hundred per cent recyclable, making this cat house completely eco-friendly. The design's icosahedron shape was chosen for what Delphine describes as its 'looks comfy' vibe, with the enclosed space perfect for her cat to get cosy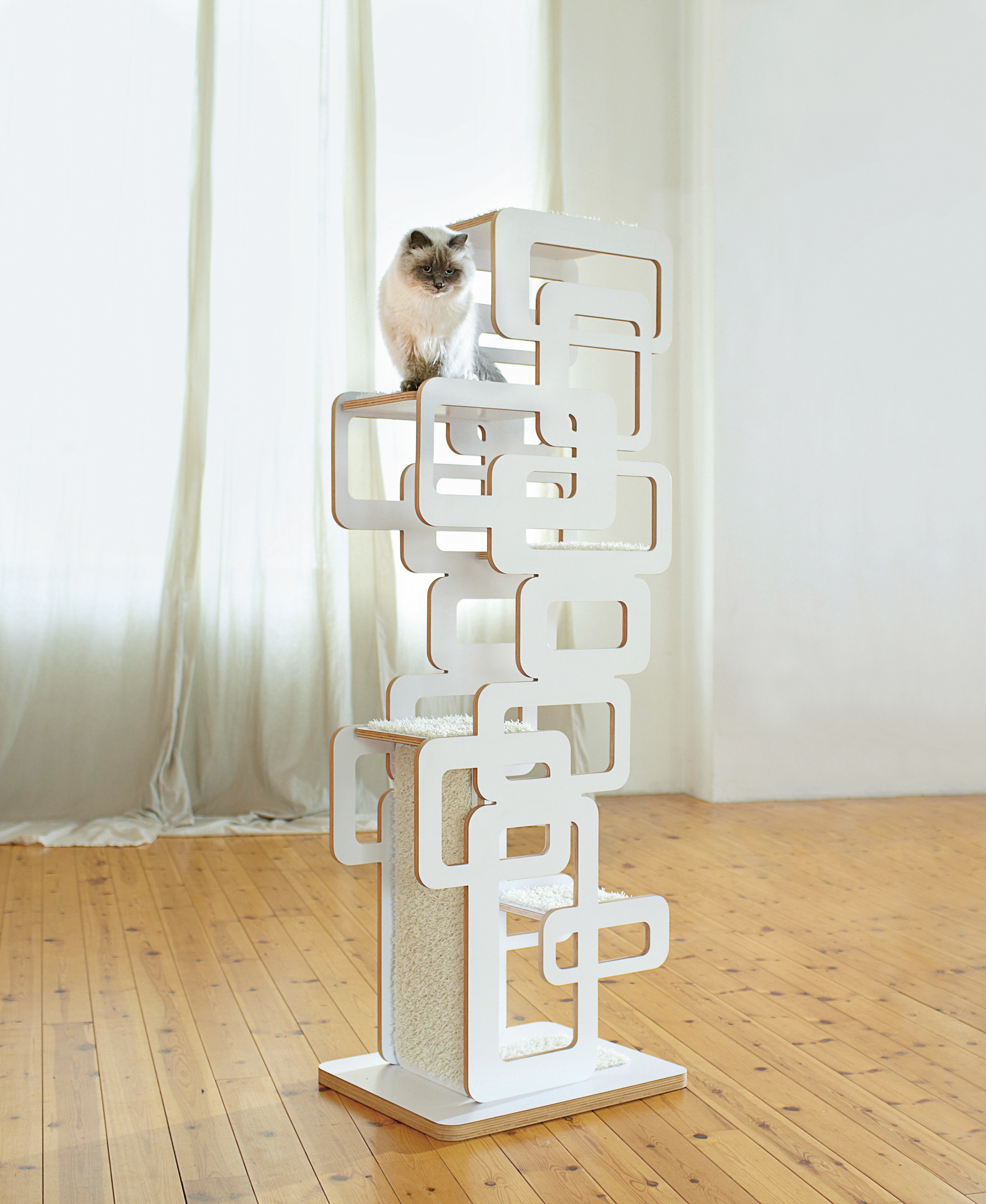 Retro by WOHNBLOCK Climbing, scratching and sleeping are popular activities among felines, and this 1.75 metre-tall tower caters for all three. Retro is "made of sturdy multiplex board with six ascending platforms," explains our book, "each lined with a durable carpet that provides comfortable support and grip – and is also perfect for having a nap on. Sisal boards run up the side of the tower, ready for a cat to scratch to its heart's content – saving the sofa from the worst of their efforts."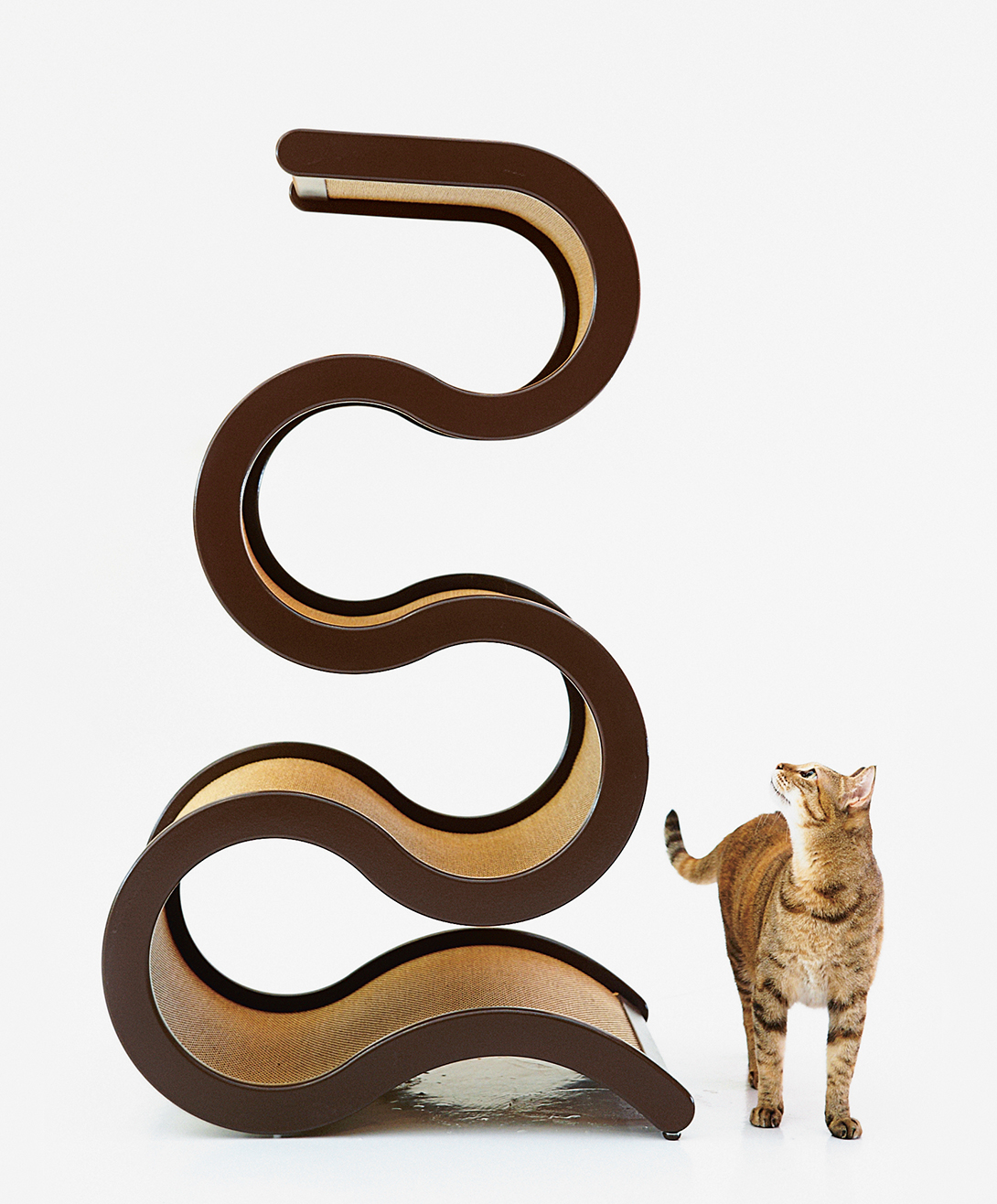 Curvynest Cat Tree by Catswall Design This tall, freestanding MDF and PVC structure offers a series of cradle-like nooks for cats to rest or sleep in, and as well as a playful structure to climb upon. "The Curveynest has an elastic nature that creates a subtle bouncing action when jumped on," explains our book. "The design bends and curves upwards to the uppermost horizontal platfor that is excellent for observation and interacting with people."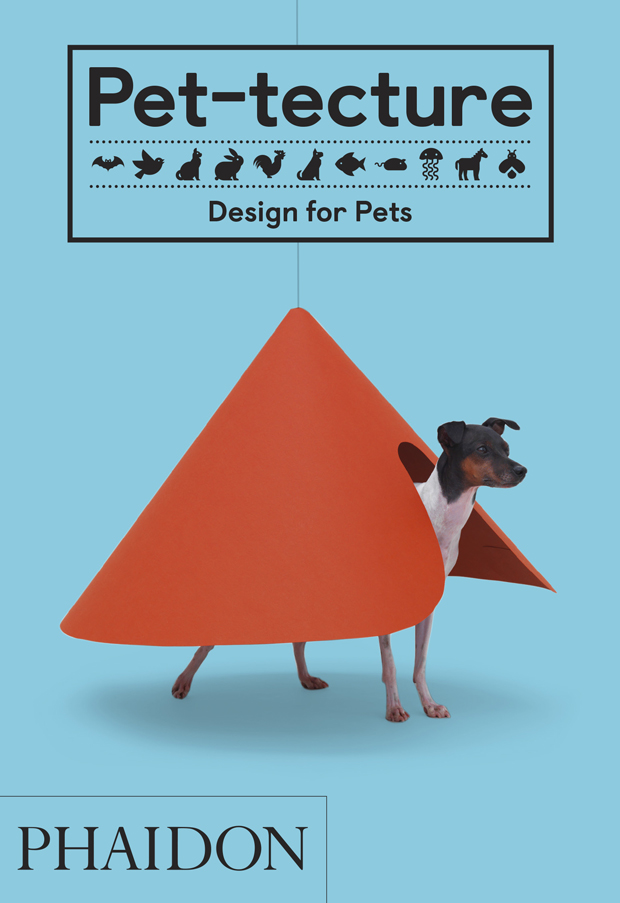 To see these and many more well-designed homes for beloved animals, order a copy of Pet-tecture here. And if you like it, check out the other books in the series too Nanotecture and Mobitecture.