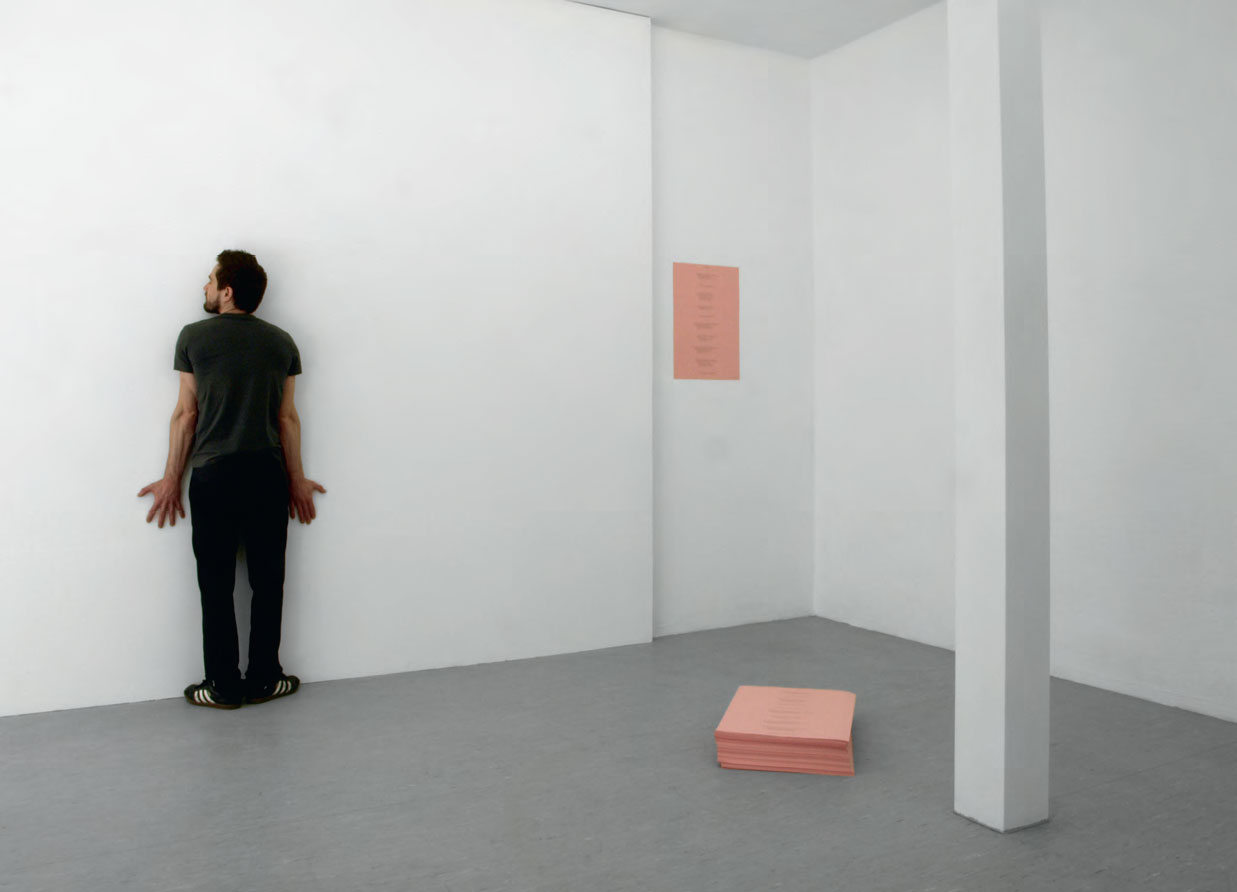 Who knew Bruce Nauman did erotica?
It wasn't quite sex but the artist still warned gallery goers that his Body Pressure work might get ...'erotic!'
Body Pressure isn't the kind of text you might expect to find in the pages of an erotic fiction potboiler. Nevertheless, Bruce Nauman's 1974 performance instructions are included in our new book The Art of the Erotic, since the artist suggests his exercise could become sexualized.
"The conceptual artwork Body Pressure consists of a list of written instructions from the artist, Bruce Nauman, and comes to fruition as an artwork when these are performed," explains The Art of The Erotic.
"The words are usually displayed on a gallery wall with additional sheets of paper available, which viewers are encouraged to take away with them. The piece invites participants to press themselves against a wall, and to consider the effect that doing so has on their body.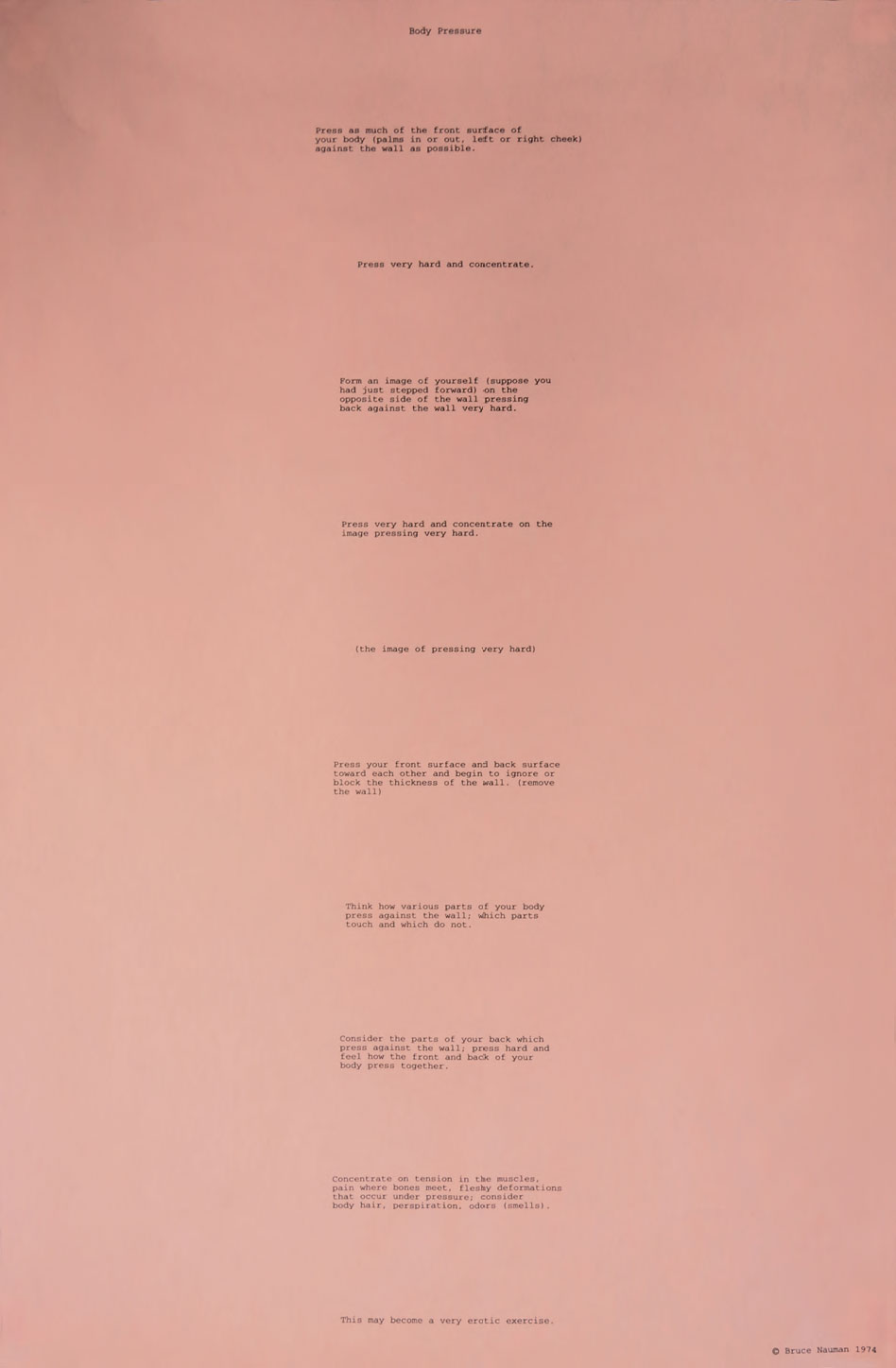 They are encouraged by Nauman's words to think about what impact the contact with the wall has on the various parts of their anatomy, and later to explore specific details: 'Concentrate on the tensions in the muscles, pain where bones meet, fleshy deformations that occur under pressure; consider body hair, perspiration, odors (smells).' The text ends with a hint about how Nauman anticipates our bodies will react when the work is performed: 'This may become a very erotic exercise.'"
Few of us would be proud of receiving sexual arousal from a gallery wall, and this odd, darkly humorous, alienated approach to erotica is in keeping with Nauman's later work, which includes bright, neon depictions of group sex and solitary masturbation. Sex here isn't for sex's sake, but rather to explore wider aspects of the human condition.
"Nauman is interested in the power and effect of language, and its ability to communicate ideas," explains our new book. "He is often playful with words, as can be seen in the text for Body Pressure, in which he emphasizes and repeats the words 'very hard', perhaps with the intention of increasing the eroticism of the piece. How erotic, or not, the experience may be, though, is of course entirely down to the individual participant."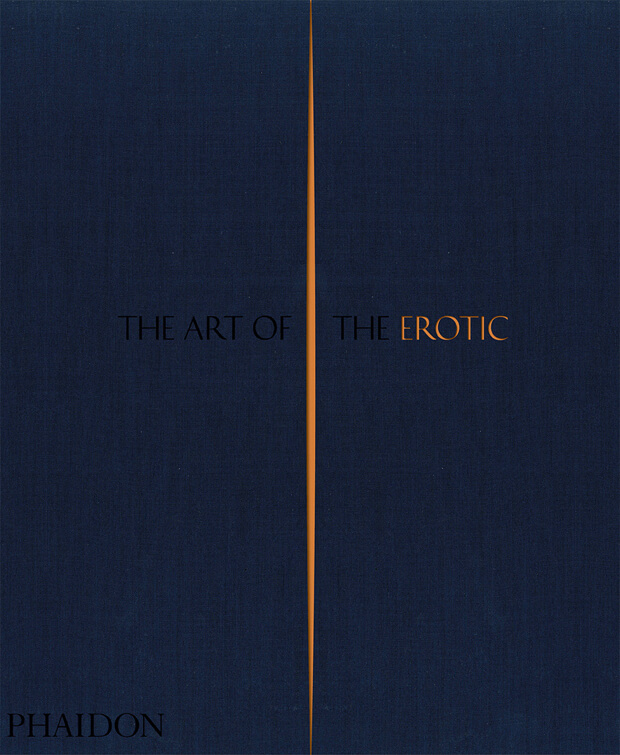 For more on sex and art, from ancient Greece to modern times, including works by Picasso, Warhol, Jeff Koons, Anish Kapoor and many others, order a copy of The Art of the Erotic here.