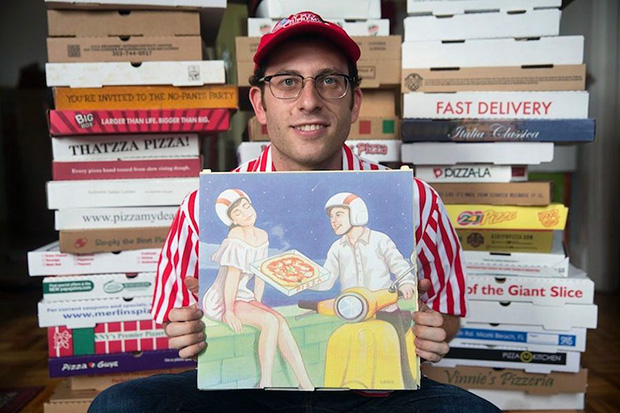 The man who sees art in a pizza box
This pizza lover says take-out boxes are the most overlooked artistic medium of the 20th century. Is he right?
When it comes to the delivery of one of the world's most popular foods, it pays to think inside the box. "In optimum conditions all pizza would be served within 30 seconds and 30 feet (9 metres) of its point of departure from the pizza oven," writes pizza expert Daniel Young in our new book Where to Eat Pizza. "Fresh is best. But most people live in houses and apartments, not ideal worlds. Many wish to receive their pizza within 10 seconds and 10 feet (3 meters) of their living-room couch. That's why the real world needs pizza boxes. They've facilitated the great luxury of warm pizza in your home, at work, or parked outside a packed pizzeria with too long a wait for a table. "If you're going to do pizza you have to have boxes," says chef-restaurateur Jon Shook, one half of Jon & Vinny's pizza restaurant in Los Angeles.
"During the 1950s take-out pizzas were delivered in paper bags and flimsy cardboard boxes. However, most pizza historians agree that the corrugated corrugated cardboard pizza box which we know and love today was developed in the early 1960s by the American pizza chain Domino's. Then, as now, they were flat packed and foldable, with air vents to release steam. Hot pizza transported in them can still suffer from sogginess over time, as moisture and cardboardy flavor are slowly absorbed. Even so, their value as conveyors of convenience is undeniable. What's maybe more difficult to swallow are claims that pizza boxes are works of art. "The surface of a pizza box is perhaps the most overlooked artistic medium of the past century," insists Scott Wiener, who, besides serving as Where to Eat Pizza's regional expert for New York, is author of Viva La Pizza!: The Art of the Pizza Box.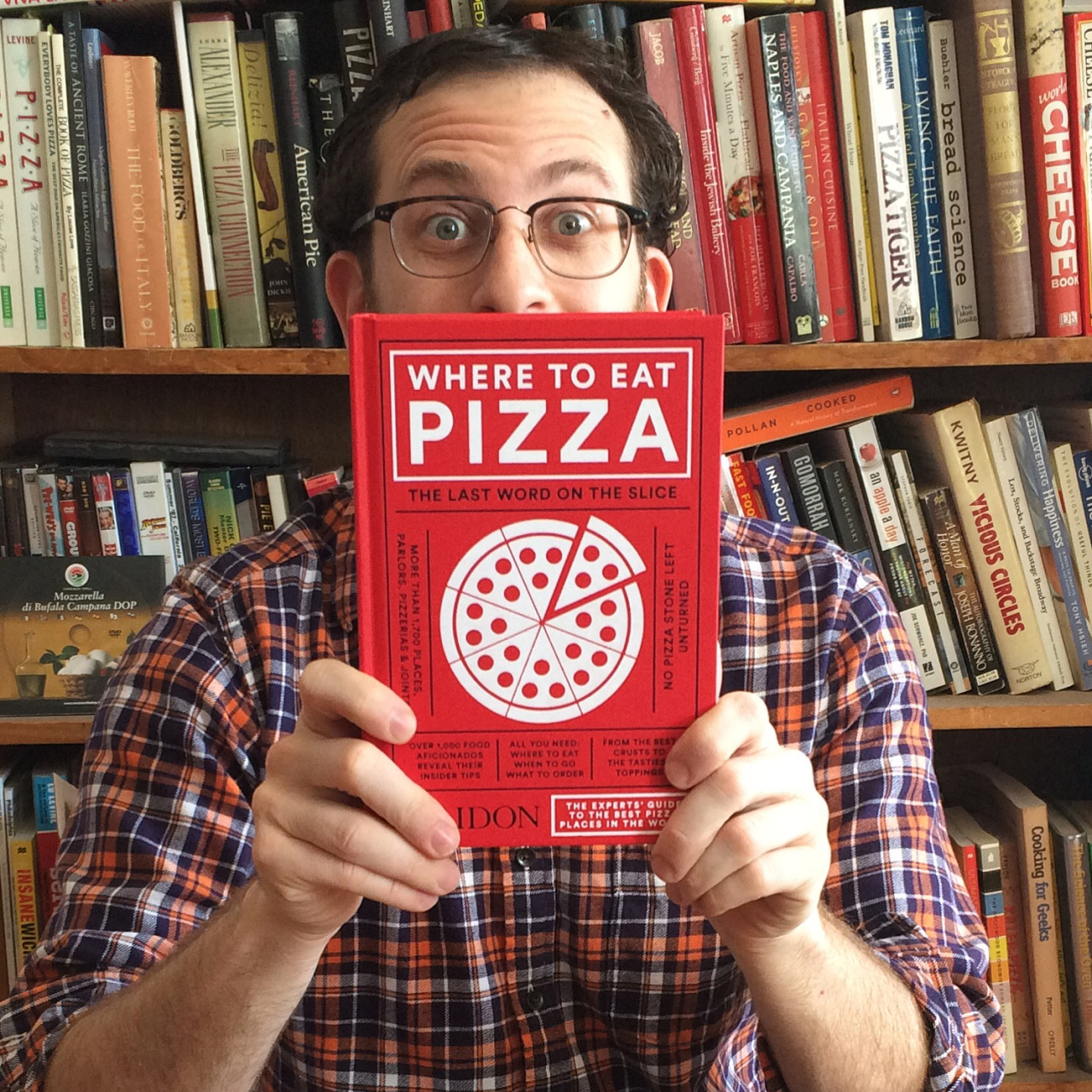 To back his words Wiener turns to his personal collection of 975 unique pizza boxes from over 50 countries. None has the remains of pizzas sitting in them, thankfully. One of his favorites is a caricature by Italian illustrator Luca Ciancio of the Neapolitan screen legends Sophia Loren and Totò in a sort of "Adoration of the Pizza" pose. The most common pizza-box motif, apart from a pizzeria's telephone number, is of a man with toque on head and mustache under nose, holding a pizza. A version of this proud chef figures prominently in a recent photographic essay on the pizza box by British photographer Luke Stephenson. He was fascinated by the triteness of the illustration and graphic, with its Italian red, white, and green. As the box's lid kept the pizza warm, the kitsch kept the box's lid frozen in time. "I do like these little overlooked things that people take for granted," says Stephenson.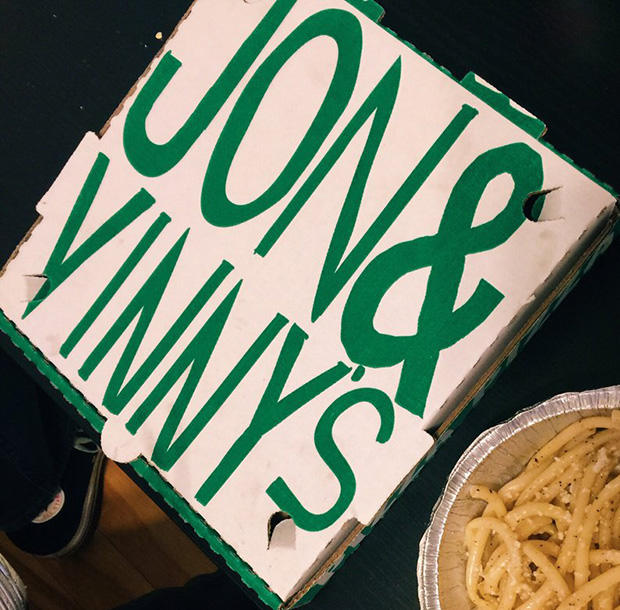 As cool as such pizza-box classics look in Stephenson's photos, or on hipster t-shirts, more style-conscious pizzerias are looking to stamp, print, or even hand draw their brand identity on boxes. Jon Shook and Vinny Dotolo, the hotshot chefs behind the LA restaurants Animal and Son of a Gun, turned to artist Ben Jones to design the box for their pizzeria. They wanted something iconic but not over the top. No illustration, no website URL, no Instagram, no phone number. Only their names would go on the box's white surface: "JON&" stacked over "VINNY's" in big, slightly uneven, green letters. "Our boxes go to meetings, homes," says Shook. "There are guys who will think about us all day!"
Read more fascinating stories on how the Detroit car industry shaped the city's pizzas, how Japan became one of the best places in the world to enjoy Neopolitan pizza, and how a Frenchman created the first pizza truck. And for more on the history of pizza and to discover the best pizza places on the planet - eat-in or take-out - get a copy of Daniel Young's Where To Eat Pizza, which features more than 1,700 pizza-parlour reccomendations, including Scott's tips for New York City.