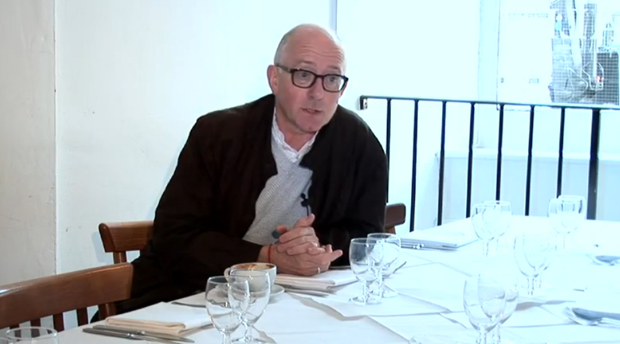 Art of the Restaurateur wins best first book award
Nick Lander's wonderfully engaging read is given Jeremy Round Award for best first book by Guild of Food Writers
Ordinarily we don't like being disturbed when we're at the theatre (especially when it's a marvellous rendition of Ibsen's Public Enemy) but last night we were very pleased to notice, out of the corner of our eye, our Twitter feed going quietly bonkers announcing the winner of the Jeremy Round Award for First Book - our very own Nick Lander who scooped the prize for his The Art Of the Restaurateur at the Guild of Food Writers Awards.
As regular Phaidon.com readers willl know, in the book Financial Times restaurant critic - and former restaurateur - Nick reveals everything you ever wanted to know about the highs and lows of the restaurant business, presenting the previously untold stories of the world's best restaurateurs - from luxurious Michelin-starred restaurants, to bustling neighbourhood bistros, to stylish fast-food cafes. Each of his stories is wildly entertaining and has imparts a crucial piece of information about the creation of a successful restaurant. It's a fantastic read - if we do say so ourselves.
Since its publication last year, praise for Nick's book has of course come from far and afield including The Economist whose reviewer astutely said: "A successful restaurant involves more than just good food. Mr Lander starts the book - and earns the reader's respect - with his own story, told in taut and self-deprecating style." The reviewer delights in the "elegant illustrations by Nigel Peake" and says it "also offers food for thought on the restaurateur's art. Mr Lander highlights qualities that almost all successful restaurateurs share." To which we can only add well done Nick. Oh, and did we tell you, you can buy it here?
Finally, a little about Jeremy Round. He was a cookery writer and journalist on The Independent newspaper. The only book he published before his untimely death in 1989 was The Independent Cook, chosen among the 50 best cookbooks of all time by The Observer Food Monthly. Before his rise as a cookery writer, Round also wrote poetry. He was a member of the group of writers meeting at The Old Fire Station in Oxford in the mid-1980s.