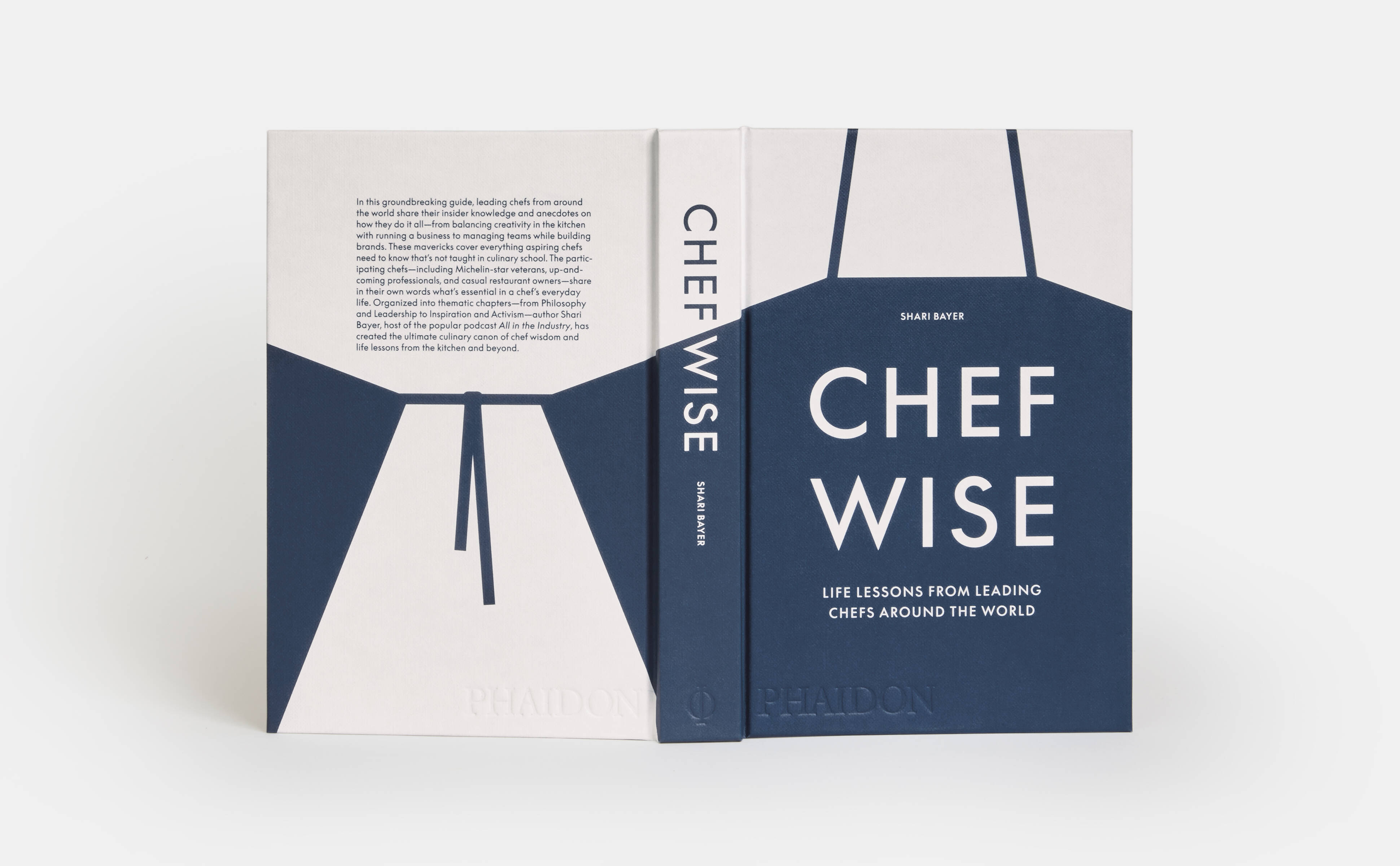 Some things we learned from Chefwise
From dishwashers to hangovers, parental influence to social media overload, our new book of famous chefs' advice tells you all the stuff they don't teach you in culinary school
Looking for that elusive recipe for international culinary success? You'll most likely find it within the pages of Chefwise. In this new book leading chefs from around the world offer inspiration, advice, and life lessons from both in and out of the kitchen. It covers the kind of things that don't often make up part of the culinary school curriculum but are essential parts of a contemporary chef's everyday job – from being a creative cook and inspirational leader to a savvy entrepreneur and social-media expert. Here are a few choice insights that caught our eye.  
For Alice Waters of Chez Panisse in Berkeley, California, skipping cooking school was a blessing in disguise. "I do wish I had had some professional culinary training before opening Chez Panisse—just training in the basics. When we first started the restaurant, we were all passionate home cooks, but we didn't really know what it meant to cook for a hundred or two hundred people in a night. If I had gone to cooking school, some things about running a restaurant would have been much easier for us. But the fact that none of us were professionally trained also freed us and helped us to operate the restaurant unconventionally. We wanted to make dishes by hand and not use machines. We wanted to bring the ripest possible food into the restaurant and use it right away. We wanted to do away with the traditional restaurant hierarchy; instead of having someone junior show up in the morning and prep the food for the cooks, we saw dishes through from beginning to end. And in the end, those so-called 'unprofessional' practices contributed to the taste of the food and the counterculture philosophy of the restaurant as a whole."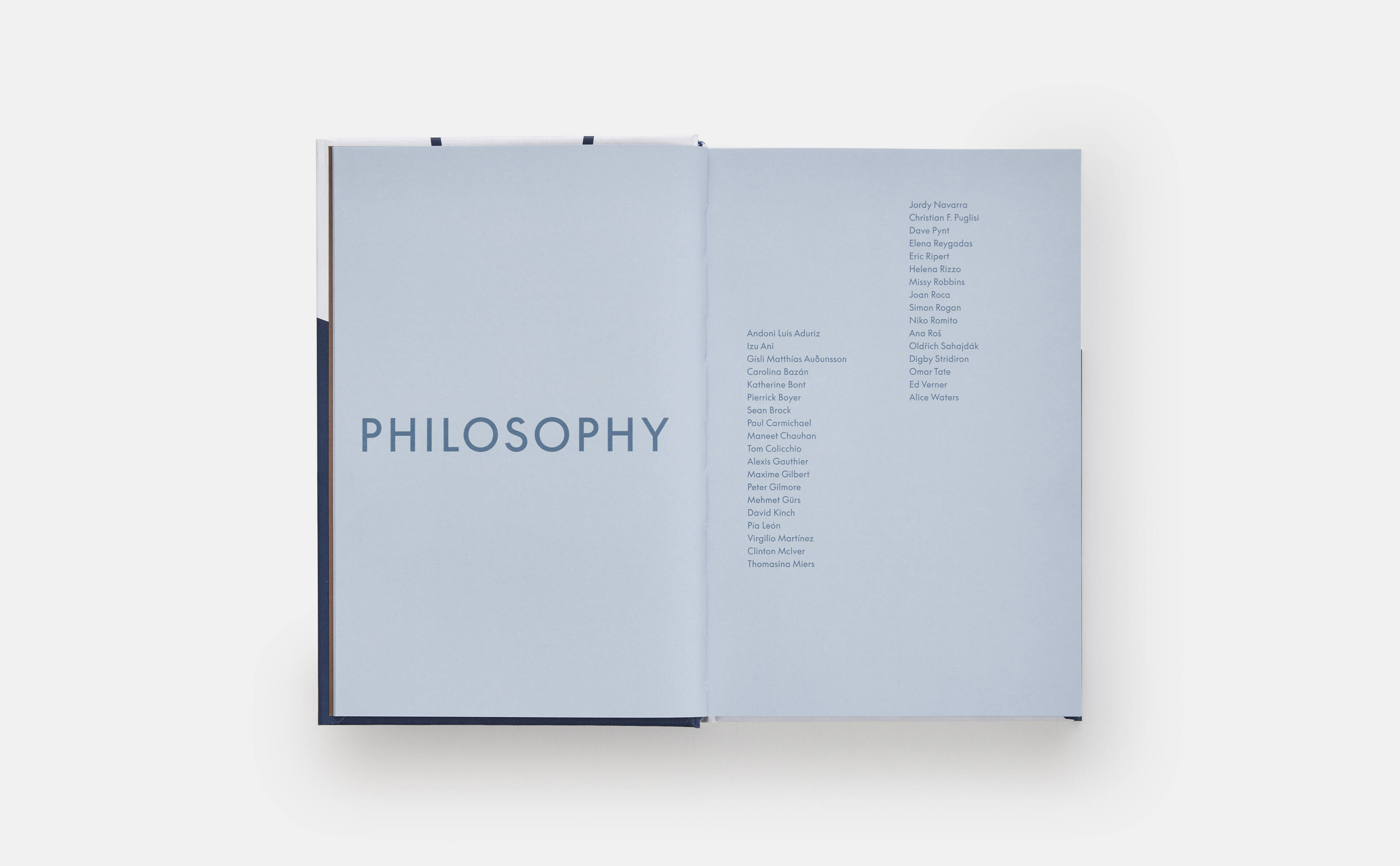 For Jeremy Chan, founder of Ikoyi in London, inspiration lies close to home. "Who inspired me and made the most impact on my career as a chef? I would say my mother and father are probably the most influential in terms of my career. My father taught me about keeping an open mind about discipline, the importance of discipline. I guess he kind of let me see within myself, my passion, and my work ethic and how discipline was the most important thing to tie everything together in my working life. My mother taught me a lot about how to observe and how to listen and appreciate the things around me."
When Mauro Colagreco arrived at Mirazur in Southern France, it was the surroundings that truly shaped his menu. "When people ask me about the origins of my work at Mirazur, about my first recipes, my first inspirations, the very first thing that comes to mind is the dazzling beauty of nature that I felt and still feel in this place. I was coming from Paris, and when I arrived, I immediately understood that I wanted to translate this strength of the landscape into my dishes. I was at the edge of the Mediterranean Sea, the mountain was at my back, and beautiful gardens surrounded me. I immediately gave up on the recipes I had made in Paris while preparing the opening of my own restaurant and set out to meet local producers, to explore markets, to walk the land. An exploration that has no end."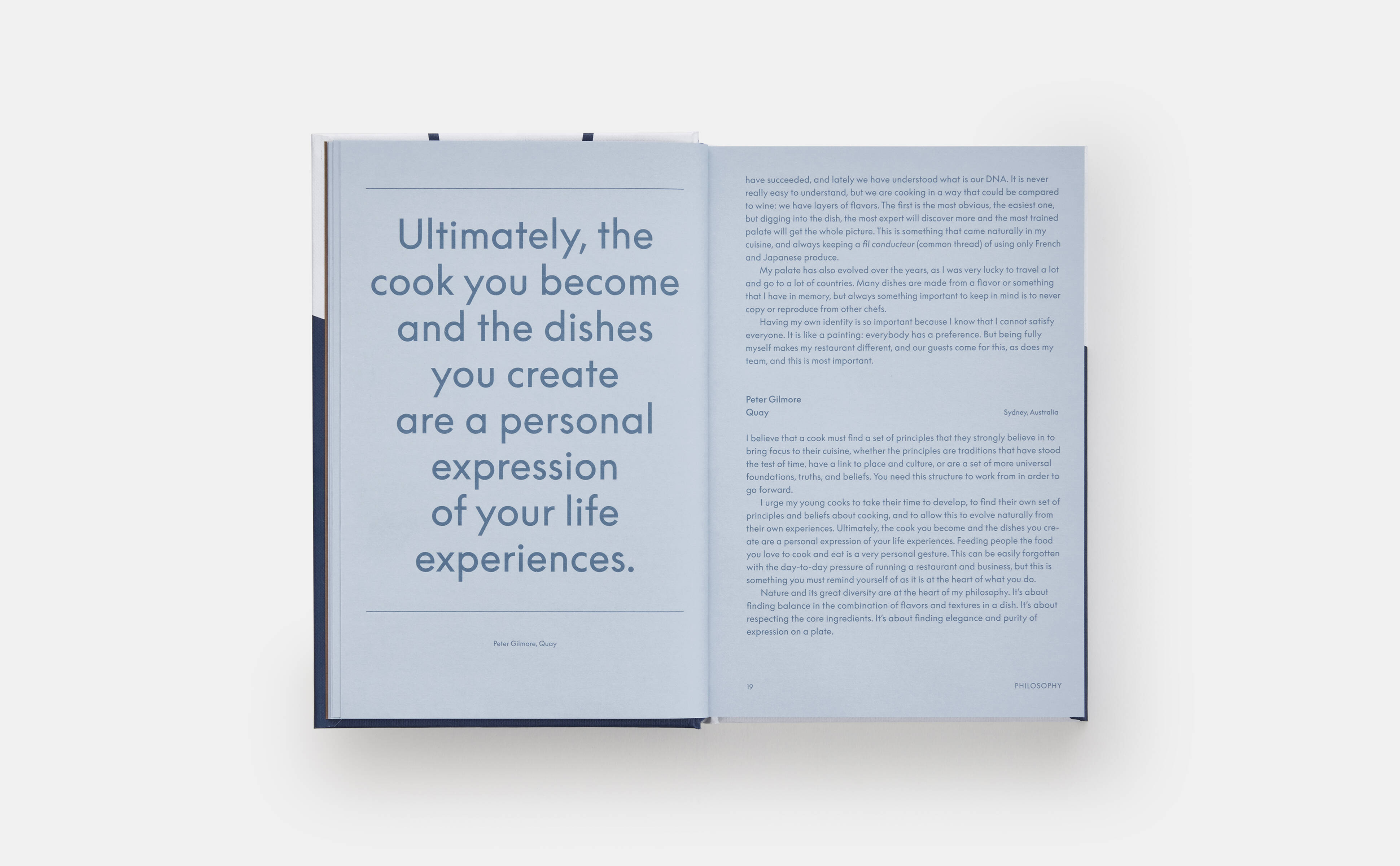 Stephen Harris of The Sportsman in Whitstable, England, understands the value of giving the front-of-house staff a free meal. "I like the staff to come and eat, and so they get their food free when they come. This means they know the dishes well and can talk about them to customers without sounding scripted."
Sean Brock of Audrey Nashville, Tennessee, has a tastily titled personal philosophy. "I created a discipline I refer to as the PIE theory: Products, Ideas, Execution. I honestly can't recall when I started thinking this way about cooking, but this allows much-needed guidance. I first spend most of my energy searching for the most delicious and important products. Products first must be insanely delicious, and they must also tell a story. I want to keep these important stories alive.
Next is ideas—this is where we get creative. I start with one very important rule: if I have already done it, or I have seen it be done, this cannot be our starting point. This pushes me to think past the obvious. The last step is examining the execution. It doesn't matter how great the product is or how smart the idea is, if you can't make it perfect for a hundred guests a night, then it's all pointless. This is usually the hardest part for young chefs to accept, and certainly was for me when I was younger."
Florent Ladeyn of Auberge du Vert Mont in France understands the value of cleaning up. "I'd rather there be three chefs in a kitchen for a full week than to be five chefs and have no dishwasher. It's easier. A dishwasher is like the lungs of a restaurant. It gives air to everyone, really. It's not an easy job, but it's a really humble and necessary position."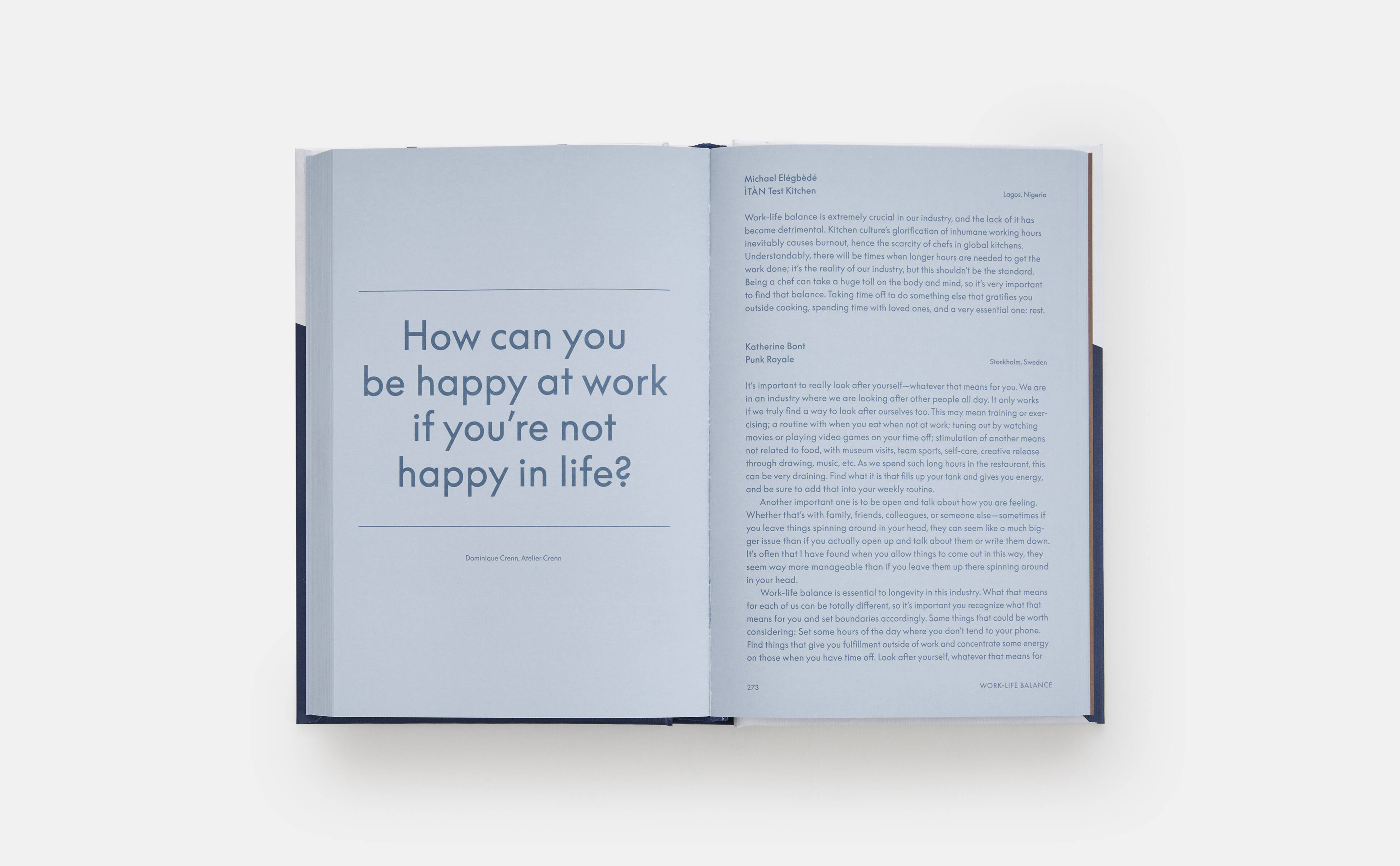 JP McMahon of Aniar in Ireland sees the shortcomings of long shifts. "There is no point having sustainable food if everyone is working over seventy hours a week. This is not sustainable."
Omar Tate of Honeysuckle in Philadelphia, appreciates the importance of life outside the kitchen (and beyond the phone screen). "Reading, traveling, listening, documenting, recording all are important to developing a style and brand. And finally, don't compare yourself to others. Get off social media and unplug. Tap into nature."
Matt Abergel of Yardbird in Hong Kong knows when you should stop pushing yourself. "Chefs have used our long hours as badges of honor and these long hours as excuses for ignoring many important things in life. Number one is our health—it is almost always the first thing to go. Coping with high stress becomes late nights of drinking and other substances, only to stumble into work the next day to do it all again. There are many important reasons to celebrate the camaraderie of kitchen life, and I think it's important to do it occasionally, blowing off steam as a team—just watch out that the hangovers don't just start melting into one another. Make time for yourself, exercise, hang out with nonindustry friends, family, drink water, and for god's sake, get some sleep."
For more sharp advice and chefly insight, order a copy of Chefwise here.