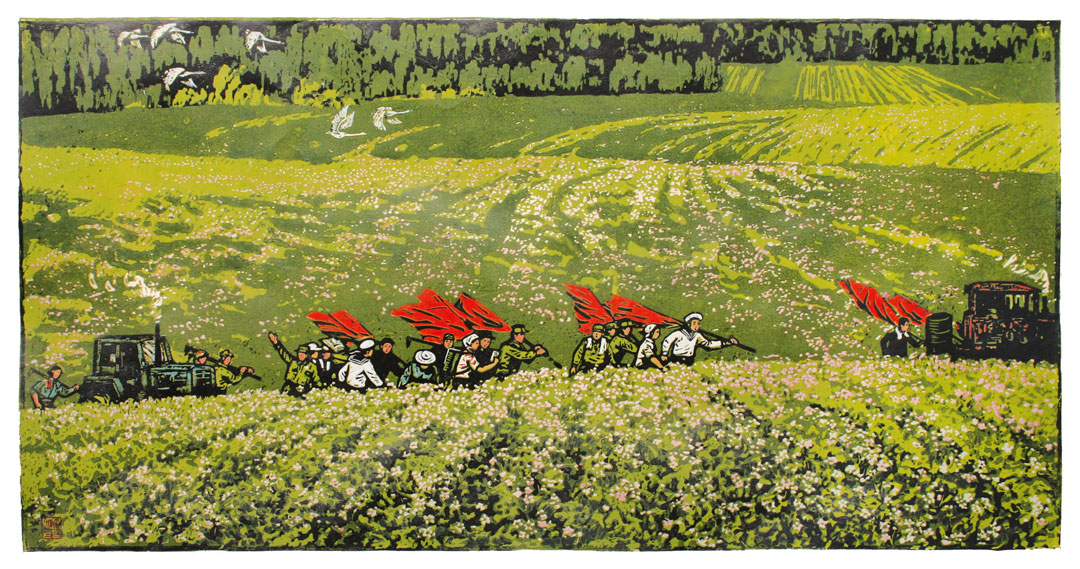 Farming in North Korea is a little bit different. . .
The country's art depicts both high and lo-tech agriculture, both of which keep the DPRK going
Why does North Korean art focus so closely on farming? The answer, partly, is because so little takes place within the country's borders that in the few regions where it does, it's a cause for celebration.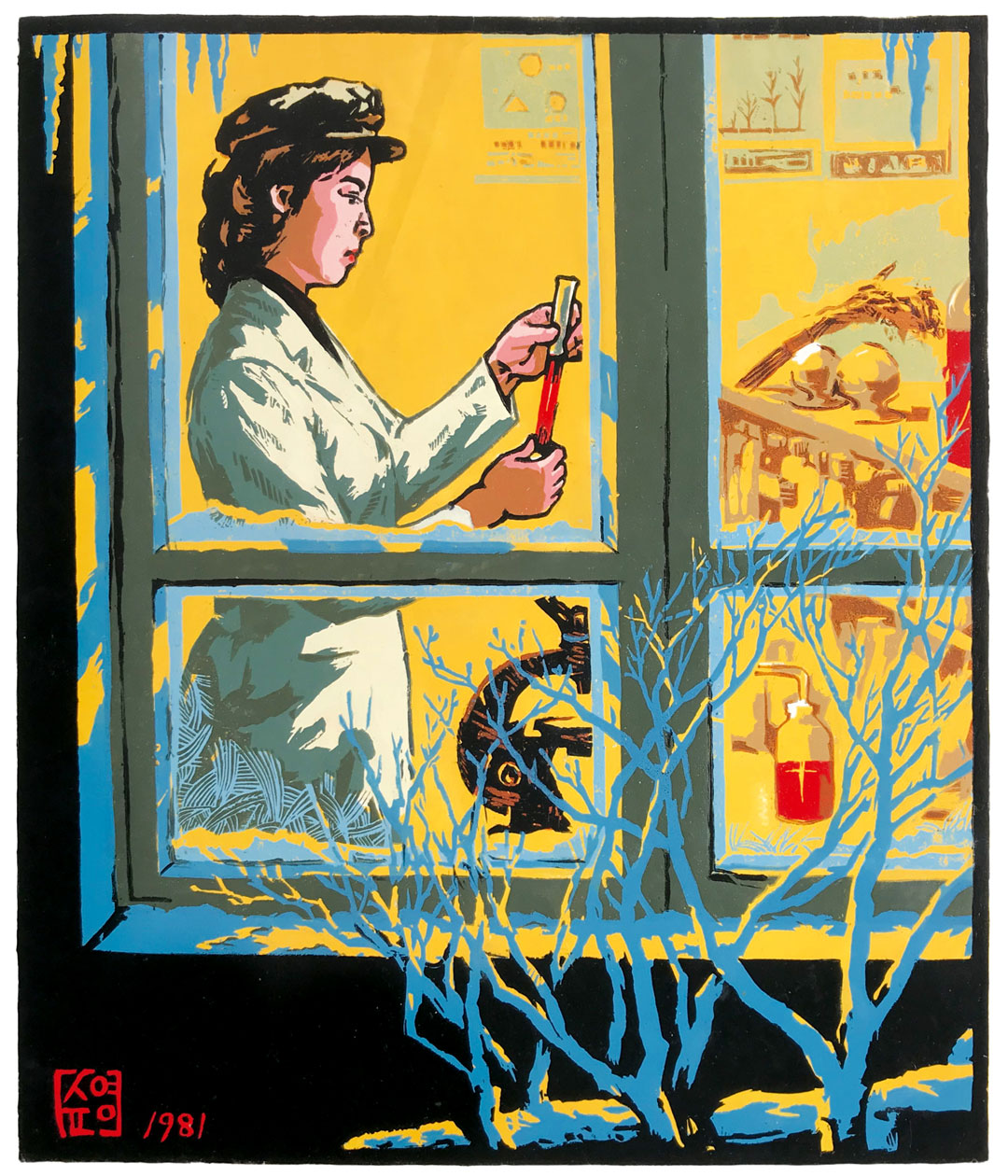 "Self-sufficiency in food is almost impossible in the DPRK," explains Nick Bonner in his new book Printed in North Korea: The Art of Everyday Life in the DPRK. "Eighty per cent of the country is cold, dry and mountainous and used primarily for forestry, while the foothills can be used for livestock grazing and fruit trees. It is only on the west coast and a narrow strip on the east coast that has level fertile land for growing staple rice and potato crops. With around twenty-five per cent of the population working in agriculture, there has always been a priority to increase land fertility and the land available for cropping."
Images of agricultural life within this dictatorship vacillate between simple, bucolic scenes, and highly technical depictions of agriculture, which might sound contradictory, but actually reflect the reality on the ground.
Commenting on Autumn in Chongsan-ri by Ri Pong Chun, Bonner writes, "'Fertiliser is Rice and Rice is Socialism!' [is written on banners] in the field, highlighting the long-established preference for industrial agriculture in the DPRK where fertiliser is chemically manufactured. However, today the majority of farming is done by hand, most fertiliser is organic and machinery is a luxury. The red flags in the field denote the presence of a work team."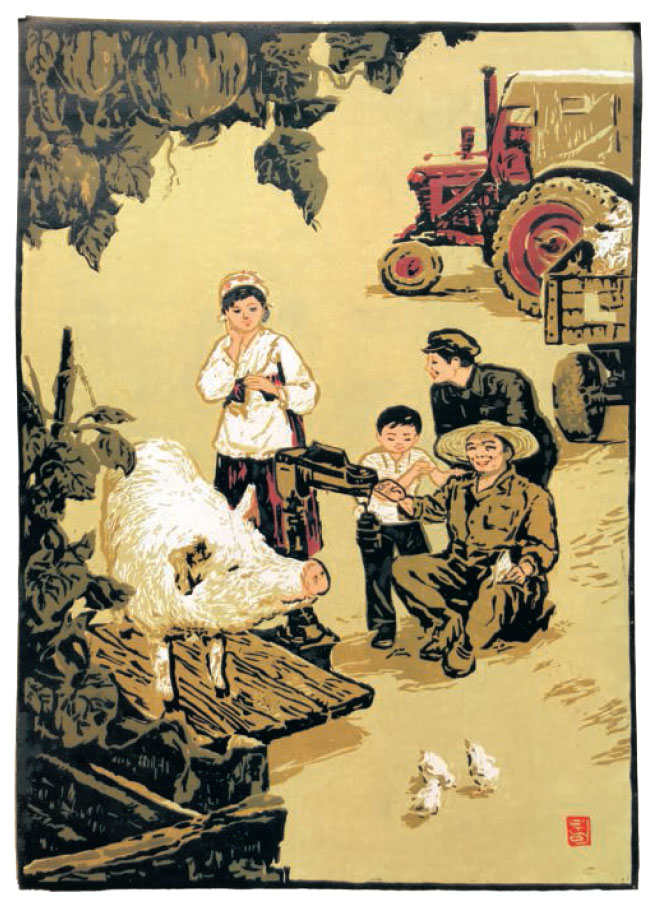 Perhaps a more realistic depiction of agrarian life appears in Joyful Farmers by Kim Pun Hui, in which the image of a fat pig on a set of scales is fringed with depictions of climbing gourds.
"Both pigs and goats are unfussy eaters and provide opportunities for providing meat where conditions are tough. Not an inch of space is wasted in the North Korean countryside. Farmhouse roofs are used for drying chillis, climbing crops such as pumpkins grow on walls and fences, and livestock is raised both in collectives as well as by individual farmers."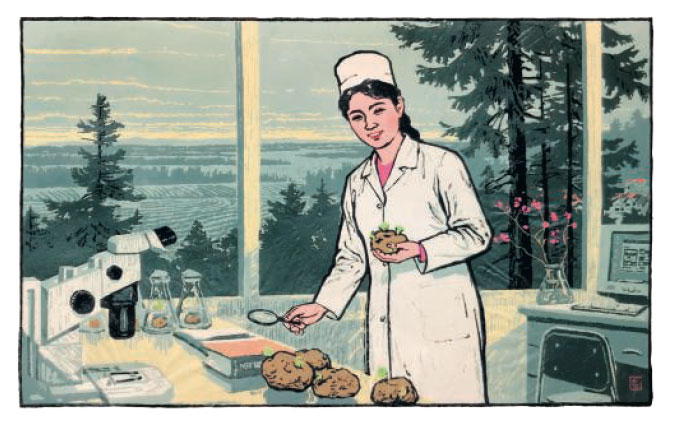 And while simple farmers do their bit, higher up the agricultural food chain, crop researchers can also be seen laboring away in North Korean art. "In the 1990s, North Korean policy focused on potato farming in order to solve the problem of the shortage of rice," writes Bonner in a caption for Research by Jon Myong Sul, and Potato Researcher by Paek Un Ju, both of which date from 2000.
"Potatoes can be cultivated on highlands less suitable for corn or rice production. The view from the researcher's window and the azalea flower indicates that she is working in Taehongdan near Mount Paekdu. Leader Kim Jong Il visited Taehongdan in 1998 to promote a large potato farm and advocated the 'Potato Revolution'." That's one way of digging for victory.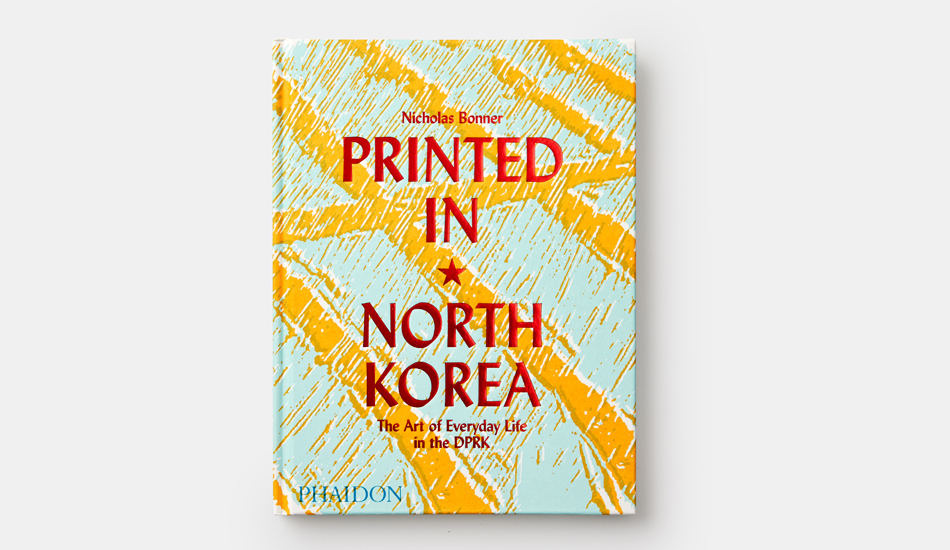 For more scenes from the fields, as well as city, seaside, factories and battlefields of North Korea buy a copy of Printed in North Korea here.