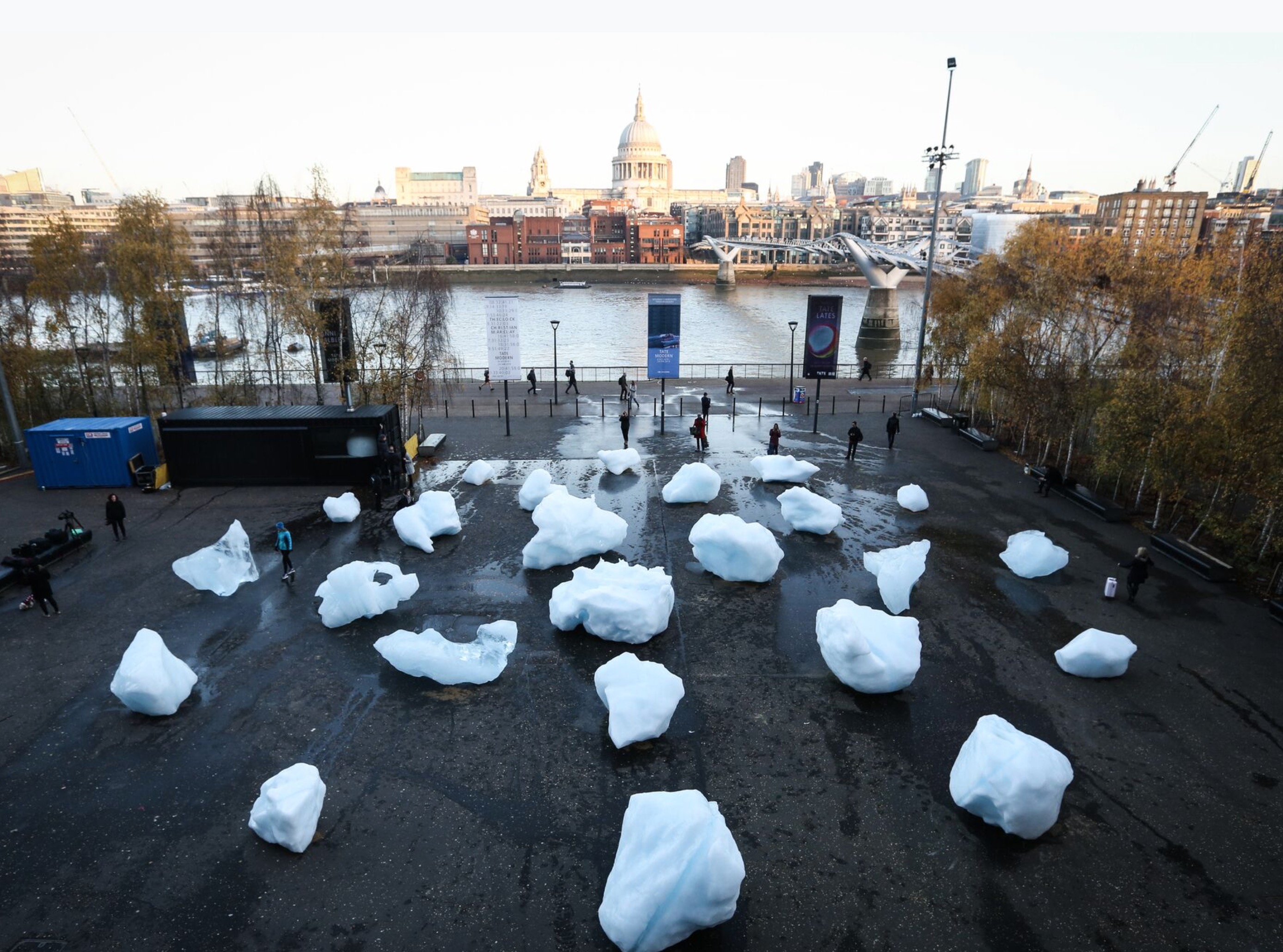 Olafur Eliasson's Ice Watch will give you a climate change chill
Eliasson says seeing chunks of the Greenland ice sheet in our city is just the experience we need to force change
Olafur Eliasson is aware of the irony that lies at the heart of Ice Watch, his new public art work. The piece consists of 30 huge blocks of Greenland ice, pulled from the waters of Nuup Kangerlua fjord in Greenland, having broken away from the adjoining ice sheet; 24 blocks have been arranged in a circular formation on Bankside outside Tate Modern; six more are on display in the heart of the City of London outside Bloomberg's European headquarters. Everyone is allowed to go up, touch, and even drink the melt water from these big bits of ancient, frozen water. The work aims to raise awareness of climate change.
As the ice gradually thaws, members of the public will have an opportunity to encounter the tangible effects of climate change by seeing and feeling the ice melt away. Depending on weather conditions, Ice Watch is expected to be on view in London until 21 December 2018. Any remaining ice will then be taken to local community and cultural institutions as part of an extended educational programme.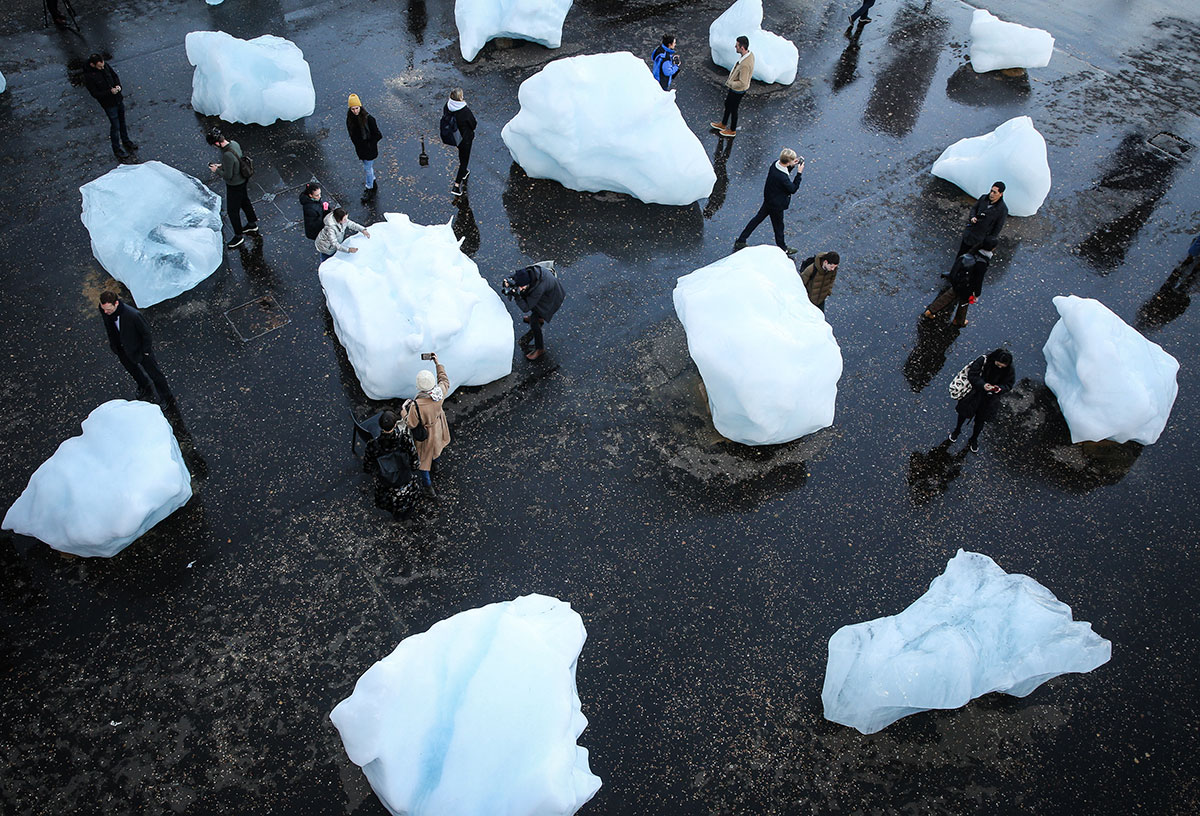 "It's clear that we have only a short period of time to limit the extreme effects of climate change," Eliasson said at the launch this morning. "By enabling people to experience and actually touch the blocks of ice, I hope we will connect people to their surroundings in a deeper way and inspire radical change."
Ice Watch has been launched to coincide with a meeting of world leaders at the COP24 climate change conference in Katowice, Poland, which follows the landmark report published by the Intergovernmental Panel on Climate Change (IPCC) on 8 October 2018, warning that we have only 12 years to limit the worst effects of climate change.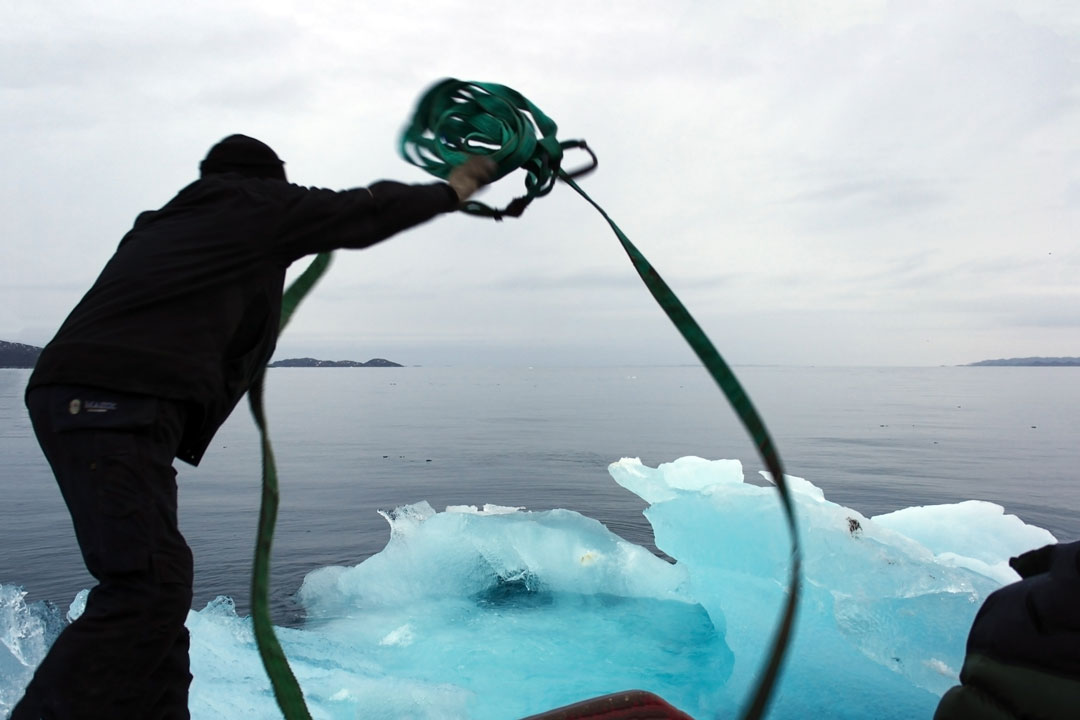 However, you can't ship tonnes of ice from Greenland to London without contributing to global warming. Eliasson has asked Julie's Bicycle, an environmental NGO also based in the British capital, to measure Ice Watch's carbon footprint. The NGO has yet to make its report, however, in 2015 Julie's Bicycle stated that Eliasson's Ice Watch Paris, a similar work staged to coincide with the UN Climate Change Summit, produced 30 tonnes of or carbon dioxide equivalent or CO2e, a standard unit for measuring carbon footprints.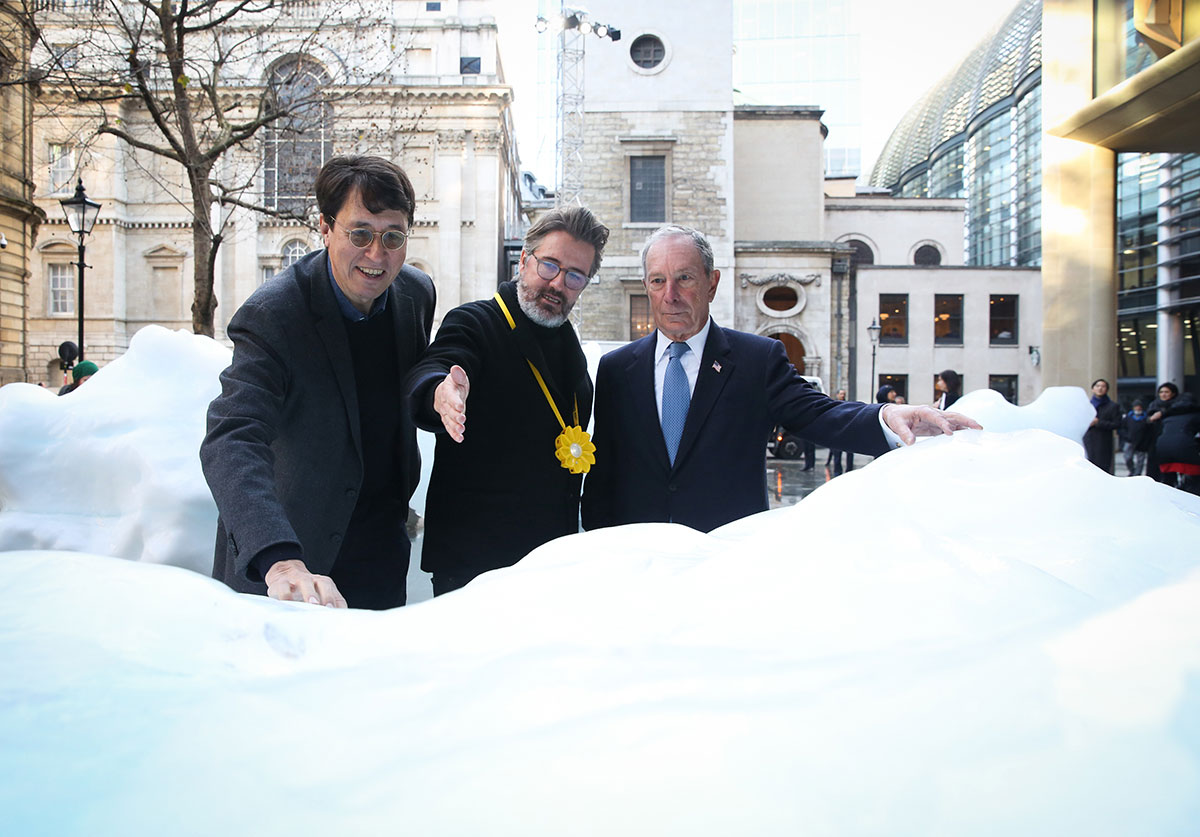 How does that compare with other activities? Well, the reports also states, "the carbon footprint of Ice Watch would be equivalent to 30 people flying return from Paris, France to Nuuk, Greenland." Doesn't sound like that much carbon. Eliasson believes it's worth it, because, while most people may understand the causes and consequences of climate change, individuals still need some direct experience, in order to change their ways.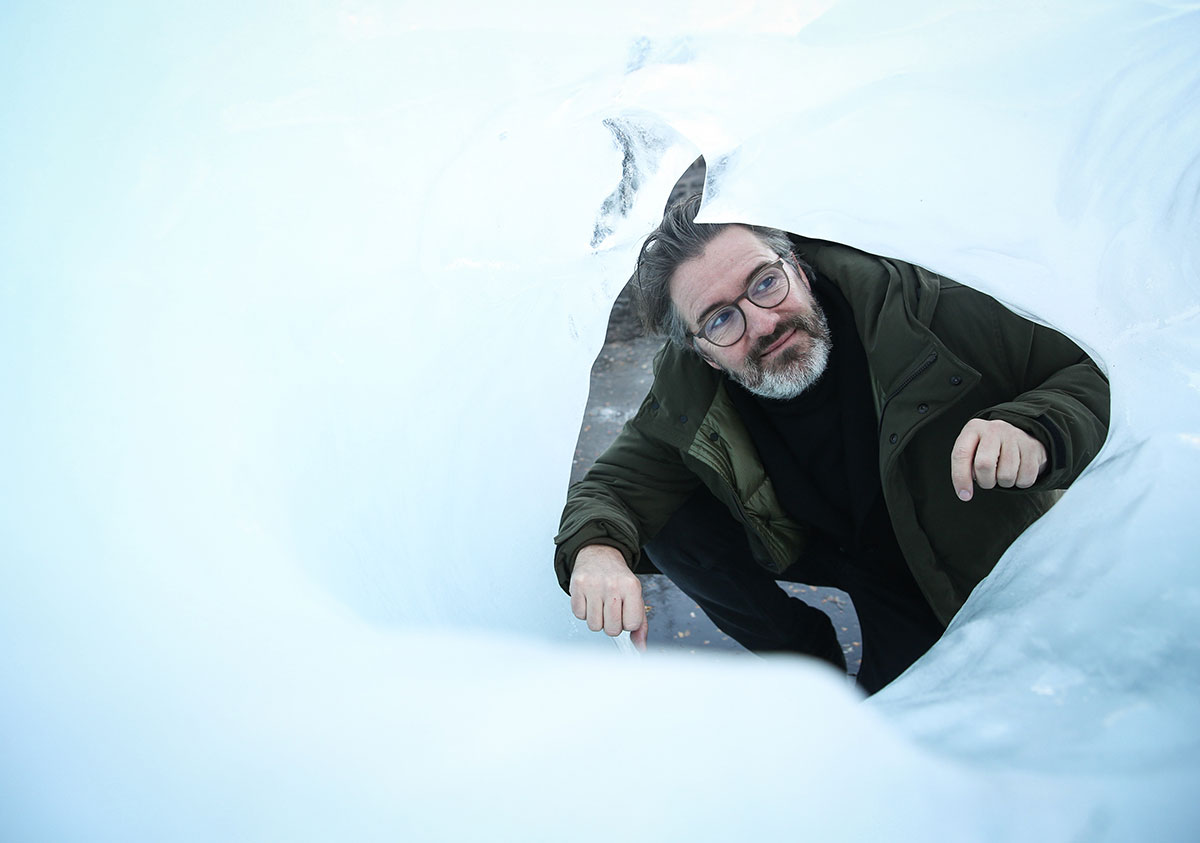 "I've been studying behavioural psychology, and looking into the consequences of experience," Eliasson said this morning. "What does it mean to experience something? Does it change you or not change you? It turns out that data alone only promotes a small degree of change. So in order to create the massive behavioural change needed, we have to emotionalise that data, make it physically tangible."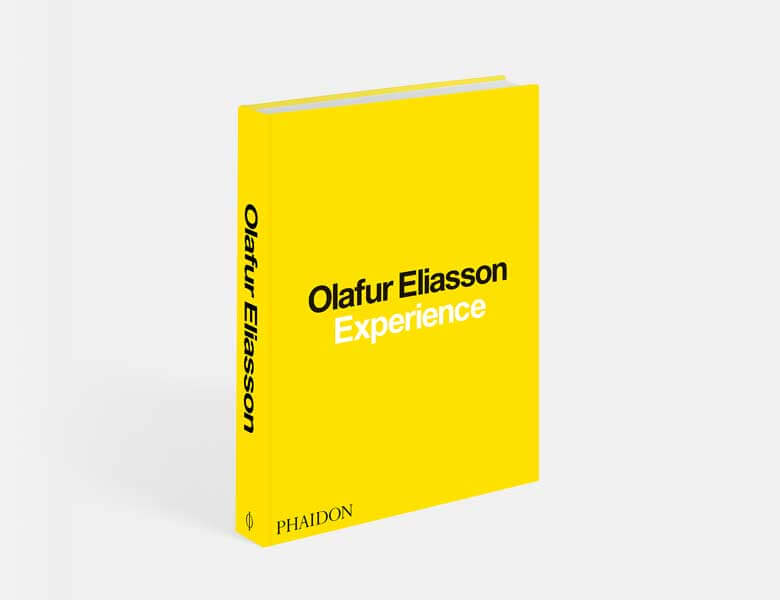 And if enough of Ice Watch's London visitors mend their ways, then, a few flights to Greenland and back might be a small price to pay. For more on Olafur Eliasson get his new book Experience, here.