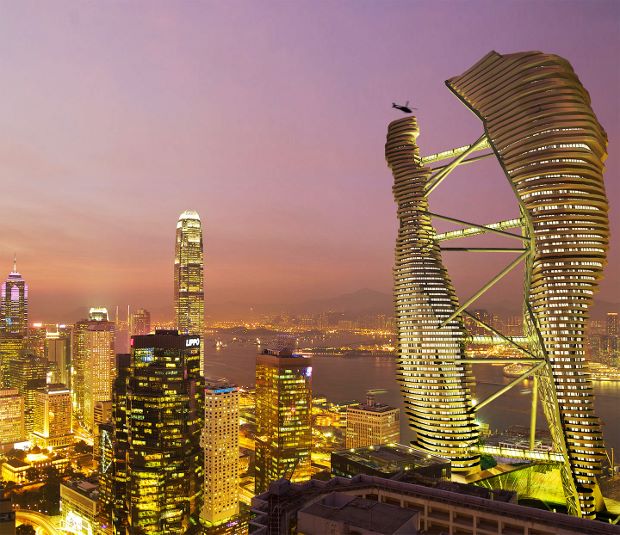 Mexican architects squeeze a city into a skyscraper
Studio Cachoua Torres Camilletti think their speculative proposal might suit a Hong Kong of the near future
The Mexico City firm Studio Cachoua Torres Camilletti have reinvented the skyscraper by slicing it down the middle and assigning different functions to each part. The practice, founded by Adrian Cachoua and Natalia Camilletti, have designed a pair of towers linked by bridges that can carry transportation as well as pedestrians.
Both structures are 92 storeys high, and together they would operate as a self-contained metropolis, complete with entertainment, living quarters, workplaces, energy production and even farms. People would travel in trains or buses encased in tubes between the two buildings.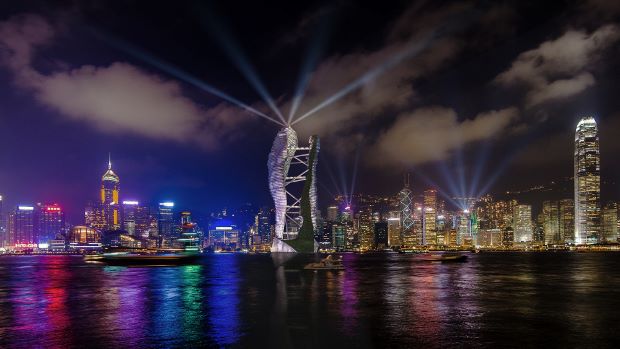 Cachoua and his team designed the building for a conceptual competition in Hong Kong. Their inspiration for the form was taken from Chinese rock formations. "We wanted the building to be able to show in the exterior its mixed-use character," says Cachoua, "So we split the two towers in their uses. This way it can actually be seen where the living spaces are and where the commercial and production happens and each can have its own character."
The slimmer tower would contain housing, and occupants would travel to their place of work and to the shops next door. In this chunkier building, the bigger terraced rooftop would support rice paddies – a Chinese staple, of course.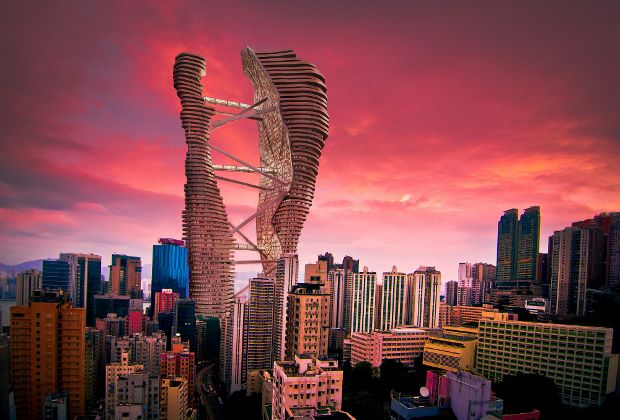 Cachoua, who ran a real estate development company before setting up Studio Cachoua Torres Camilletti in 2006, puts the concept in context. "As major cities grow, they face the same issues regarding pollution, congestion, soaring real estate prices, food production, energy production and sustainability," says Cachoua. "This could certainly apply to Mexico City, for example. We do believe this idea to be the direction in which we see skyscrapers developing to become mini cities in themselves."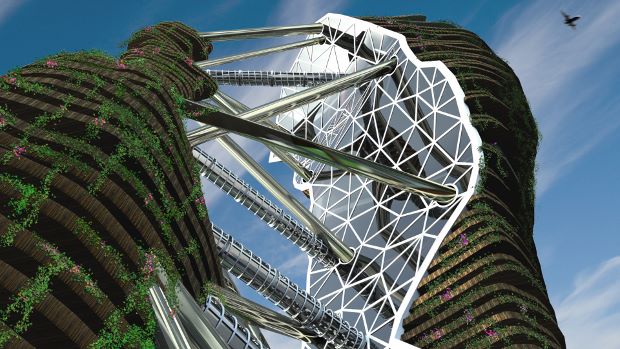 For more on this go here. For greater insight into the contemporary urban experience, buy a copy of Living In the Endless City. For a speculative view of the how our cities might look in 2050, pick up a copy of The World We Made. Meanwhile, for more on cutting edge architecture, sign up for a trial of our Phaidon Atlas.