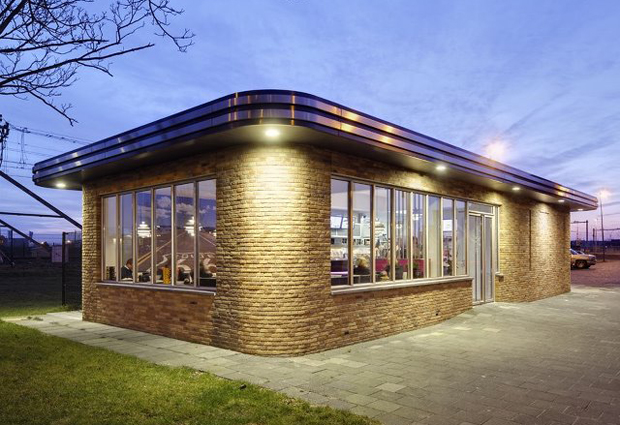 Dutch diner has American soul
Amsterdam School of Architecture meets 50s American diner in this new café from Derksen Windt Architecten
What do you get when you marry Dutch architecture with American 1950s style diners? This cafeteria in Maassluis, Netherlands, which has been revamped by Dutch studio Derksen Windt Architecten is one answer.
According to the architects, the design 'is based on a contemporary fusion of 50's American diners and the style of the Amsterdam School'. The Amsterdam School was popular from 1910 to the late 1920s and had its roots in Expressionist architecture and also borrowed elements from Art Deco design. The building material of choice for the movement was brick, which was used as both a decorative and sculptural element.
You can learn more about the Amsterdam School within our fine range of archtecture books in the store.
Here, the cafeteria's brick façade, rounded corners and mullioned windows hint at this aesthetic while the stainless steel bands that surround the flat roof, the building's long, narrow shape and its interior are more reminiscent of the archetypal American diner design.
Located on the edge of an industrial area beside railway tracks and a busy road, the cafeteria is on a thoroughfare. The architects' design acknowledges this with two large windows that enable passers by to peek inside and those inside to watch the world go by. Derksen Windt also raised part of the ceiling in order to ease the transition between building and sky and to create a feeling of spaciousness in the interior. External lighting is 
integrated into the overhang, which sees the building provide a visible contrast to its surroundings at night.